Aputure's Amaran 150c and 300c Lights are Built for Filmmakers
Aputure has announced the amaran 150c and 300c point-source LEDs alongside the accompanying Spotlight SE projection lens and Light Dome Mini SE light modifiers for them.
Amaran's First Full-Color 150W and 300W Point-Source LEDs
The amaran 150c and 300c are the brand's first full-color 150-watt (W) and 300W point-source LED lights. They combine RGBWW full-color control with Bowens Mount versatility and include integrated controls and promise high-quality light output.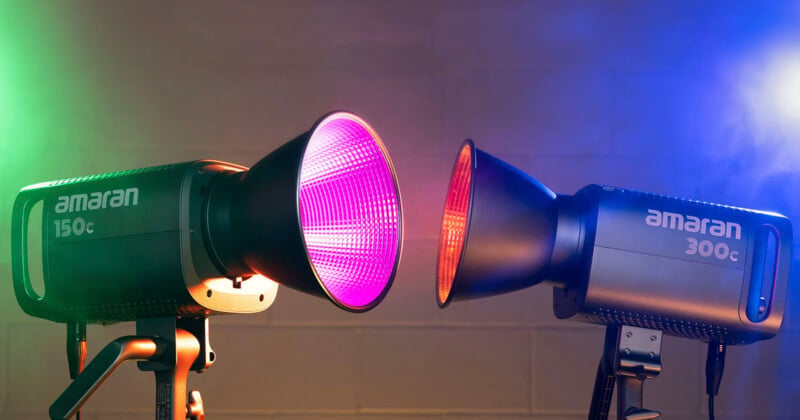 Like Aputure's professional LS 600c Pro light, the amaran 150c and 300c produce "stunning color quality" with an expanded bi-color correlated color temperature (CCT) range of 2,500K to 7,500K. The lights include green-magenta adjustment and 360-degree HIS color control with greater than 90 percent coverage of the Rec.2020 color space. The lights have high Color Rendering Index (CRI) and Television Lighting Consistency Index (TLCI) ratings of 95, promising reliable color-accurate light output.
In front of each light's LED chips is an etched-glass optical element which blends each LED's output into a "cohesive beam of light." This ensures optimal compatibility with Bowens Mount optical modifiers including Aputure's Fresnel 2X and the new amaran Spotlight SE. The amaran 150c and 300c are compatible with any Bowens Mount soft light modifier on the market, including the new amaran Light Dome Mini SE.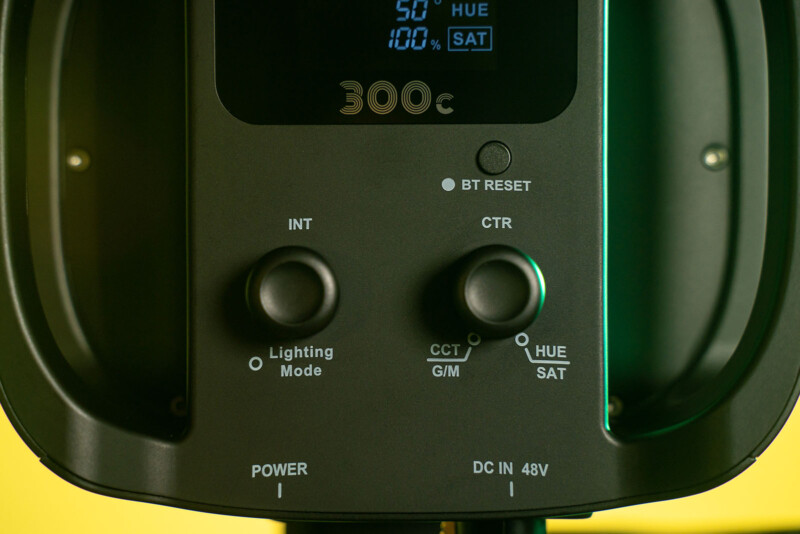 The new amaran 150c and 300c lights include a redesigned high-efficiency heat sink and silent active cooling system.
The lights feature a "minimalist control interface" integrated into the body. There's no separate control box. The fixtures can also be controlled wirelessly via the Sidus Link mobile app. The lights offer stepless control over the output from 0 to 100 percent power, and users can save up to 10 Custom FX and 10 Music FX presets.
Aputure is targeting filmmakers and content creators with its new amaran 150c and 300c lights. "With point-source color as their strength, the amaran 150c and 300c give creatives control that no other amaran fixture can," explains Aputure.
"The color control, modifiability, and build quality of the amaran 150c and 300c make them incredibly valuable additions to any filmmaker's or content creator's lighting kit."
The amaran 150c and 300c lights can run off DC power via battery solutions. They have 48V DC power inputs and can be powered using two Gold or V-mount batteries via Aputure's 2-bay Battery Power Station (sold separately).
The new lights are available for preorder now. The amaran 150c is $359 and the amaran 300c is $569. Complete specifications are available on Aputure's website.
Amaran Spotlight SE and Light Dome Mini SE Light Modifiers
The amaran Spotlight SE is its first projection lens modifier. The compact optical modifier for Bowens Mount point-source fixtures, like the amaran 150c and 300c, transforms light into a "powerful spotlight" that can extend the reach of lights. It can also shape light with built-in shutters and different lens options.
"Precision light shaping is key for filmmakers and creators who want to achieve a specific look or mood in their scenes. The Spotlight SE's interchangeable lenses and built-in shutters allow for precise control over the size and shape of the output," Aputure says.
There are 19-degree and 36-degree lenses to deliver versatile light output. The light includes an adjustable beam angle, and an 18-leaf iris (sold separately) can also be attached to adjust light quality further.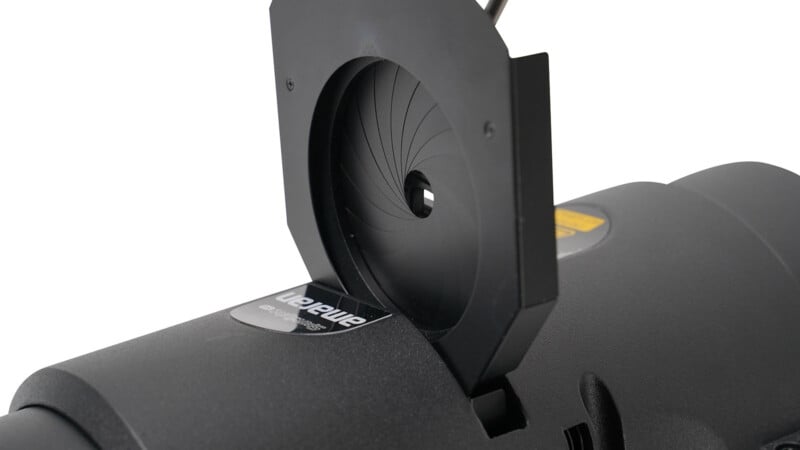 When paired with the amaran 300c and using the Spotlight SE 19-degree lens, the combination delivers a luminance of 22,330 lux at one meter and 5,600K color temperature.
The Aputure amaran Spotlight SE is available for preorder now for $335. The 19-degree Lens and 36-degree Lens are $159 and $149, respectively. Kits including the spotlight and a lens are also available.
The Aputure amaran Light Dome Mini SE is the first amaran Bowens Mount octabox soft light modifier. It has an eight-sided deep parabolic design with a reflective silver lining. The modifier promises to transform point-source fixtures like the amaran 150c and 300c into directional soft light sources.
"The amaran Light Dome Mini SE is the ideal soft light modifier for filmmakers and creators needing a lightweight, nimble softbox," explains Aputure.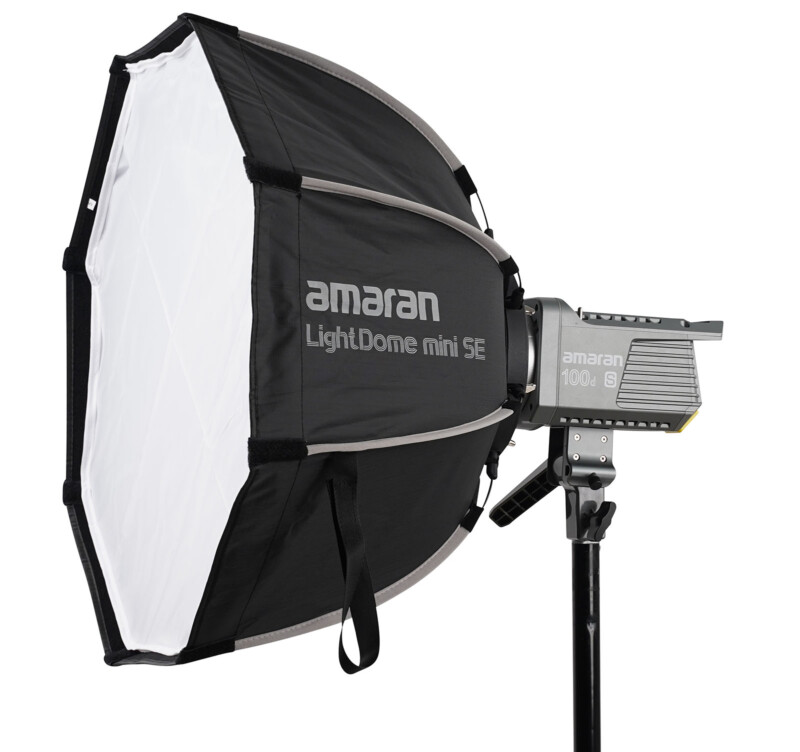 The Light Dome Mini SE weighs 0.72 kilograms (1.6 pounds) and has a quick-release support rod system. It's ideal for creators on the go.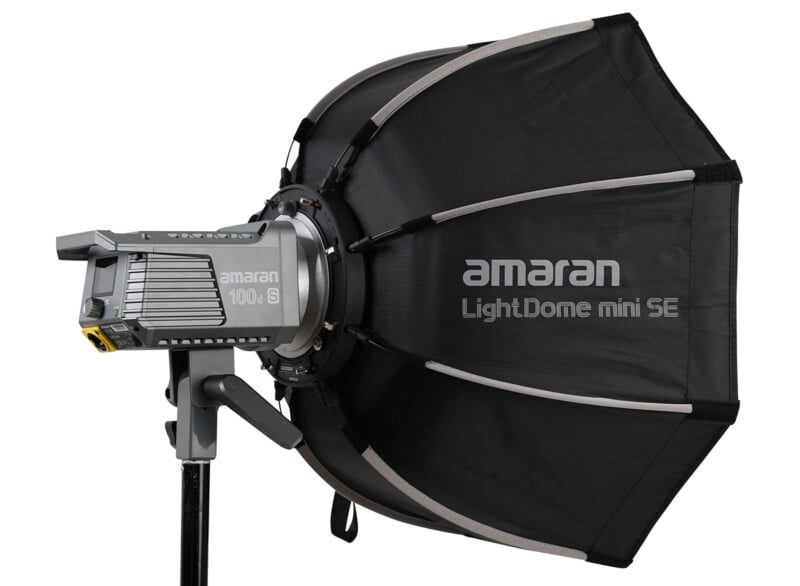 The Light Dome Mini SE's shape lends itself to round reflections and catch light in a subject's eyes.
The amaran Light Dome Mini SE is available for preorder for $69.
---
Image credits: Aputure