Teardown Shows Odd Elements in Canon RF 28mm f/2.8 Pancake Lens
Alongside the new Canon EOS R100 mirrorless camera, Canon also announced a new pancake-style prime lens for RF-mount, the RF 28mm f/2.8 STM. While announced simultaneously with the APS-C R100 camera, the RF 28mm is a full-frame lens.
Despite its compact form factor, the RF 28mm f/2.8 STM lens includes eight elements arranged across six groups, including three aspherical lenses. The lens also has Canon's Super Spectra Coating (SSC), a multi-layered coating Canon developed to reduce ghosting and flare caused by lens surface reflections.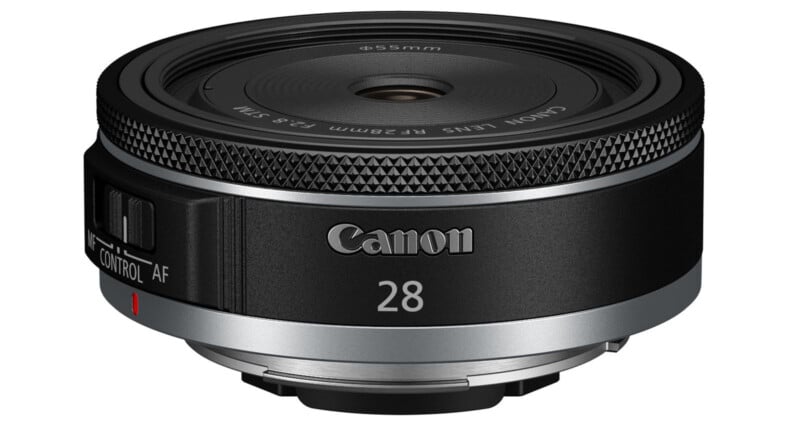 How do all these elements fit inside such a small lens? Gordon Laing of Camera Labs recently had a rare opportunity to visit Canon and see an engineer disassemble the new RF 28mm f/2.8 lens. As the engineer takes the new pancake lens apart, he explains the major components. "If you're interested in how lenses work and modern optical design, you'll enjoy this video even if you own a different system," Laing explains.
While camera and lens teardowns are not unusual, they are rarely done in cooperation with camera companies, who, as Laing points out, are often secretive and keep their cards close to the chest.
"All lenses start with a design brief, setting out not just the focal length and aperture, but also the target quality, the approximate size and weight, and of course, the desired price point," Laing explains. "For this model, Canon wanted to produce a compact and affordable pancake lens for the EOS R mirrorless system, and 28mm was chosen because it's a flexible focal length for stills photography and video on both full-frame and cropped APS-C systems."
As Laing observes, there are difficulties making wide-angle lenses for EOS R mirrorless cameras because of the shorter back focus distance of mirrorless cameras. If Canon tried to take the optical design of a lens like its EF 40mm f/2.8 STM lens and fit it to the EOS R system without adjustments, the lens would be plagued by vignette and poor optical performance.
Canon's solution to this issue requires very unusual lens elements. While Canon's marketing materials only describe the RF 28mm f/2.8's optical design as featuring a trio of aspherical lenses, as the optical diagram above demonstrates, the three aspherical elements, shown in green, are highly unusual.
The distinct wavy shape of the elements enables the RF 28mm f/2.8 STM lens to replicate the shorter incidence angle of the EF 40mm f/2.8 STM lens on EOS R mirrorless cameras. The most prominent aspherical element in the rear of the lens is only possible thanks to the RF mount's large diameter.
The plastic molding technology Canon uses to shape unusual resin-based elements, like those featured in the RF 28mm f/2.8 STM, are also included in other RF-mount lenses, such as the RF 24-105mm and RF 100-400mm, alongside many other RF and RF-S lenses.
While traditionalists may scoff at the use of resin in photographic lenses, Canon's lenses that utilize plastic elements deliver excellent results across the board. Plastic elements have also been used in some of Canon's EF-mount lenses for DSLR cameras.
As Laing explains, engineers and optical designers for all camera companies must utilize the best available technology for lenses while maintaining the desired size, weight, performance, and price point. It is not possible to feature all advanced optical technologies in every lens. However, companies can design affordable compact lenses that maintain performance thanks to clever production methods like Canon's plastic molding technology. In some cases, it would be prohibitively expensive and challenging to manufacture glass elements with similar designs.
More of Gordon Laing's excellent work is available on his YouTube channel and Camera Labs. Laing's other YouTube channel, Dino Bytes, features Laing's retro and vintage videos, including his Retro Reviews of some of the most interesting cameras from the 1990s and early 2000s.
---
Image credits: Gordon Laing / Camera Labs