Tamron Opens Up About 3rd-Party Lenses and the Transition to Mirrorless
While attending the CP+ 2023 show in Yokohama, Japan, back in February, I had the opportunity to meet with independent lens manufacturer Tamron. It had been a very long time since my last official contact with them, and a lot has changed over the intervening years. (The last time I attended a formal Tamron event was all the way back in 2015, when they introduced their excellent f/1.8 wide-angle primes.)

I spoke with Mr. Kota Misawa, Manager in the Marketing Planning Department of their Imaging Products Business Unit. Being closely involved with their marketing planning, he was a logical person to answer my questions about how they view their place in the market, the reasons behind the development of various products, and how they're being received in the market.
Tamron's Place in the Market
David Etchells: It's been a long, long time since I last met with Tamron product marketing headquarters staff; I think the last time was probably at the rollout for your SP 35mm f/1.8 and 45mm f/1.8, way back in September of 2015(!) I think the best way to start out might simply be to ask you how you see Tamron's place in the market here in early 2023, and how you would describe your overall strategy going forward?
Kota Misawa: In 2015, DSLRs were still our major lineup, but since the 28-75mm F2.8 (Model A036) was a big hit in 2018, we have shifted to the ML market. And so far, we have 16 E-mount models, 3 X-mount models, and 1 Z-mount model. As the E-mount lineup has expanded, we believe TAMRON's presence has been increasing. In the future, we would like to strengthen the development of other mounts and continue to plan unique lenses that only a lens manufacturer can produce.
Has the Market for Longer Third-Party Primes Gone Away?
DE: In the DSLR era, you had a number of primes on offer, ranging from 35mm to 90mm; now you have just three primes, a 20mm f/2.8, 24mm f/2.8, and 35mm f/2.8. Has the market for longer focal length primes from third parties gone away, or is there still user demand for them? (I realize you can't comment on specific product plans, I'm just curious what you've been hearing from consumers.)
KM: We have been developing lenses for Sony E-mount starting in 2018, focusing first on a zoom lens that many of our customers have requested. And we also receive many requests for our 90mm macro lens because of its smooth and beautiful bokeh, so we will consider it.
Tamron has always been known for their zoom lenses, and it appears that's still where the majority of the market demand is for them. Besides zooms, though, they've also historically been known for their 90mm macro lens, versions of which date back to 1979, with the first 90mm f/2.5 lens in Tamron's Adaptall-II mount. (The Adaptall mount was a Tamron-developed bayonet mount with a long flange focal length that allowed it to be adapted to many different camera mounts by way of adapters. You could thus use the same lens across multiple different camera bodies just by changing the adapter. It was a boon for dealers too, who could stock a single lens model and then a range of adapters, rather than having to stock versions of the lens for each body type.)
The last 90mm f/2.8 macro (the 90mm f/2.8 Di MACRO 1:1 VC USD SP) was introduced in 2016 but has since been discontinued, as have many of Tamron's other lenses for DSLR mounts. As Misawa-san noted, they began producing mirrorless lenses for Sony's E-mount system in 2018, and their line of mirrorless products has expanded greatly since then.
Why So Few X-Mount Lenses in Tamron's Lineup?
DE: Looking at your mirrorless product line, there's a very heavy focus on Sony E-mount, with 16 different models, vs 3 for Fujifilm's X-mount and only one for the Nikon Z-mount. I understand that there are a lot of Sony mirrorless cameras out there, but am surprised that there are only three X-mounts and just one Nikon Z-mount. Why is that, and can users expect more models supporting X- and Z-mount in the future? How do you view the other mounts strategically, in the current market?
KM: As you mentioned, yes. The first reason why we have focused our development on E-mount models is that the E-mount market is larger than that of other mounts. Secondly, we were able to sign a licensing agreement with Sony Corporation at an early stage. As mentioned earlier, we will continue to expand the Z-mount and X-mount as well as consider other mounts.
From the beginning, Sony has been a strong supporter of third-party lens manufacturers on their E-mount platform. This probably stemmed from the fact that in the early going, the paucity of available lenses was a major obstacle to people adopting the platform. Here in 2023, the mirrorless market is becoming increasingly open to third-party manufacturers, with Fujifilm and just recently Nikon opening their mounts to third parties. As I write this, Canon is the only major camera brand with no third-party autofocus lenses available for their RF mount.
What Led to the Development of the New 20-40mm F/2.8?
DE: Your recent 20-40mm f/2.8 lens is a very interesting design. It's a bit of an in-between range of focal lengths, but also unusually small and lightweight, with excellent optical quality at a very affordable price. What was the thinking that went into arriving at that particular combination of focal length range and size?
KM: This lens is the result of the passion of a staff member from the product planning team. He recognized that the existing "fast-aperture standard zoom lenses" are very convenient because of their versatility. But he often felt that even the length of Model A036 was too long. [The A036 is Tamron's 28-75mm f/2.8] We decided to establish three main principles and planned an "ideal lens" that we can attach to the camera all the time and use anytime. There were three main points:
1. We did not want to compromise on the "fast F2.8 aperture across the entire zoom range."
2. We wanted to narrow down the focal length to a "more convenient focal length.
3. We wanted to make the lens "more compact" by shortening the focal length.
The new 20-40mm f/2.8 Di III VXD lens (Model A062) is indeed a very compact yet versatile lens. It's surprisingly small for its focal length range and aperture, offers great optical quality, and focuses down to an incredible 6.7 inches (17 cm) at the 20mm end.
I love wide-angle macro personally, it gives an entirely different perspective on the world. I used to think of wide-angle lenses for landscape and interior shots but had an epiphany a few years back when I first played with a wide-angle lens that focused very close. Tiny foreground objects could loom enormous in the frame against distant backgrounds, it was a whole different look. If you haven't tried it yourself yet, I encourage you to pick up a lens like Tamron's new 20-40mm and experiment a little; I think you'll be as surprised as I was!)
A Super-Handy Zoom Range, How is Tamron's New(ish) 35-150mm Selling?
DE: While slightly older (2021 release), your 35-150mm f/2-2.8 also strikes me as an interesting and very useful range of focal lengths. Shooting with the usual 24-70mm/70-200mm lens combo, I often find myself hopping back and forth between the two, to the extent that I'm forced to carry two bodies if I'm dealing with fleeting subjects. The 35-100mm range seems nicely between the two. I know that you had a similar lens back in the SLR era. How popular has this focal length range been for you historically?
KM: Yes, our Model A043, released in 2019, has a focal length of 35-150mm. [This earlier model has an f/2.8-4.0 aperture design] As you said, the concept of this new project was to cover the convenient zoom range of 24-70mm and 70-200mm and also prime lenses of 35mm, 50mm, 85mm, 100mm, and 135mm with a single lens. And this focal length of 35-150mm was highly evaluated by users. On the other hand, we had requests for ML, bright F-number, and faster AF, which led to the basic specs of the 35-150mm F2-2.8.
As noted, the 35-150mm zoom range is unusual and as far as I know unique to Tamron, and one that I've often found myself wishing for. I suspect I'm not the only photographer who finds themself constantly swapping between 24-70 and 70-200mm lenses and missing shots in the process. I'm not a Sony E-mount shooter myself, but anyone on that platform should take a look at the Tamron 35-150mm f/2-2.8 zoom; it covers a very handy focal length range.
How Has the Market Responded to the 35-150mm?
DE: While you certainly have a number of "pro"-grade lenses, Tamron's traditional position has been to offer quality lenses at an affordable price. The 35-100mm f/2-2.8 is a dramatic departure from that; at a price of $1,899 US, although of course the optical quality and performance justify it. How has the market responded to that price point?
KM: As a result of aiming for high optical performance, starting at F2, we had to set the price quite high. We were very concerned about the price because we had never set such a high price before. But the product was well received by customers and has become a hit.
A price of $1,900 is far from cheap and would give me pause on my current semi-retired budget, but if I was on the E-mount platform, I'd happily spring for it.
Shouldn't It Be Easy to Convert E-mount Designs to Other Mounts?
DE: Given that you have the ability to communicate with both X-mount and Z-mount cameras, and the flange focal distances for both are shorter than for Sony's E-mount, I'd think it would be a relatively simple matter to adapt existing E-mount lens designs for the other platforms. Is that the case, or is it more complicated than I'm thinking it might be?
KM: As you may know, the flanges are 18mm for E and X-mount and 16mm for Z-mount, so it is physically possible to develop the E-mount to X and Z-mount. However, since each camera has a different telecommunication system, the lens control system must be constructed from zero-base, which is a complicated development task. At the same time, it is necessary to design new parts required for each mount.
This was interesting to me: I knew that there are pretty profound differences in camera-lens interfaces these days but hadn't realized that it would require entirely different internal construction. I had thought that some of the difficulty of developing lenses for new platforms was that the camera makers actively play a cat-and-mouse game with the third-party lens companies. Tamron told me that this isn't the case though, and that it more had to do with communications differences between platforms that made it "necessary to make various adjustments for each lens specification, such as the focal length." I was surprised to learn that even a lens's focal length spec could be impacted by communications differences.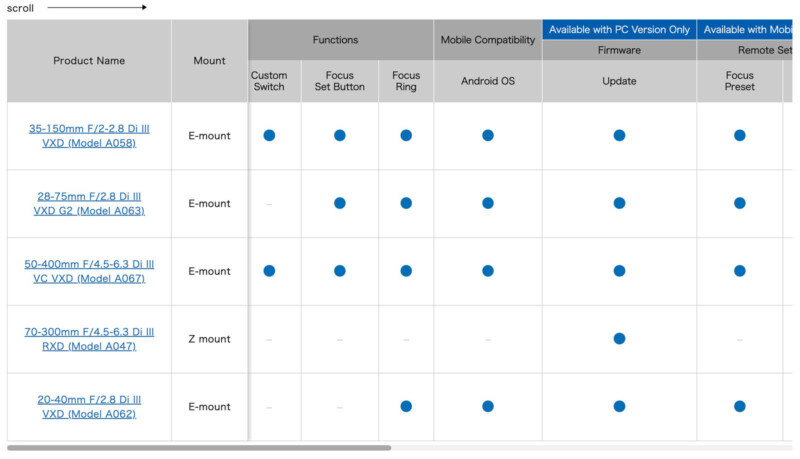 USB-C Programmability and the Tamron Lens Utility
DE: I find the USB-C connectors on some of your lenses and the associated Lens Utility software very interesting, especially the A-B focus function. (For the readers, this is an option you can program via the Lens Utility software program on a host computer, to let you select two focus points using buttons on the lens, and then have the lens automatically rack focus between the two at a predetermined rate. There's also an option called Focus Preset that among other things lets you automatically rack from in-focus to a set out-of-focus setting at a configurable rate.) How long has this capability been available in your product line, and what's the user response been to it?
KM: Starting with the 28-75mm G2 and 35-150mm f/2-2.8, released in 2021, a USB Type-C connector port is installed on the lens, and going forward all new models will have that connector port. We have received positive feedback from users about the A-B focus and customization of the Focus Ring and would like to continue promoting this TLU [Tamron Lens Utility] function so that more people will become aware of this software. We would also like to add new functions to the TLU as we receive function requests from the users.
I like anything that lets you customize your gear to your specific needs, and Tamron's USB-C port and the associated Tamron Lens Utility software are a nice step in that direction. At a very basic level, there's always the issue with third-party lenses of what direction you want the focus ring to turn (which direction do you turn it to focus from nearby to infinity.) The ability to go from in-focus to out-of-focus or between two preset focus points at a programmable rate is also super-nice for video recording. Here's hoping we'll see more lenses with this kind of functionality in the future.
Better Fly-by-Wire Manual Focus Control: Popular With Video Shooters?
DE: The ability to control the operation of the lens when manually focusing also seems very significant to me. (For the readers, you can choose between linear or rate-sensitive focus adjustment, and also choose the amount of rotation needed for a full focus rack between 90 degrees and 360 degrees.) I've personally often found "fly by wire" lens focusing to be annoying, sometimes having a hard time hitting the exact setting I want. Do you think this feature helped you sell lenses, particularly to video shooters?
KM: We believe that the Focus Ring setting should be useful for both still and video users.
I guess this is kind of obvious, and also the sort of non-committal answer I often get from manufacturers. While I haven't had a chance to use this lens yet, the option of either linear or rate-sensitive focus adjustment is very encouraging. Hopefully very slow rotation of the focus ring will permit very tiny adjustments to the focus point. We've often been frustrated by "fly-by-wire" lenses in our testing, trying to get them to an exact focus setting for testing purposes. Sometimes we've had to resort to using the crank on the horizontal arm of our big focus stand to make tiny adjustments in the camera position to nail the setting exactly.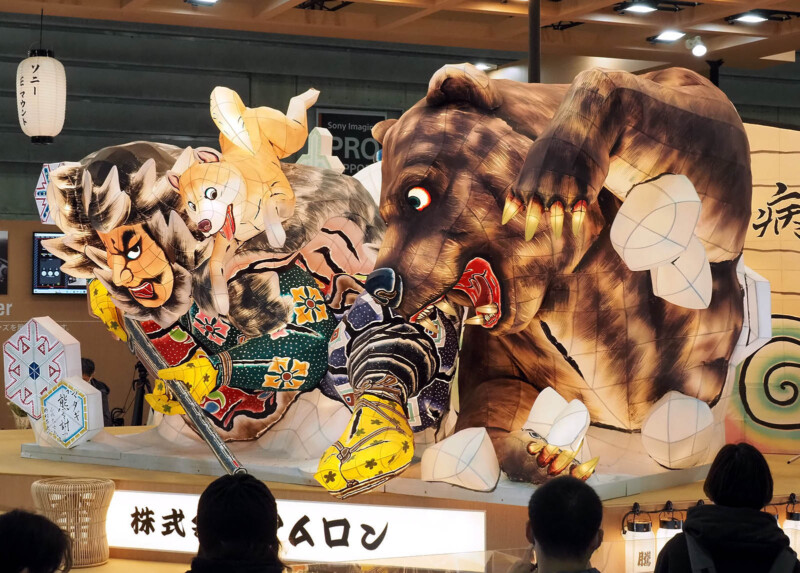 To What Extent Do They Design Lenses for Video Shooters These Days?
DE: Speaking of video, to what extent are you consciously designing lenses to fit video shooters' needs, and do you have a sense of what percentage of your user base is primarily video-oriented?
KM: Since the number of video users has been increasing, we develop products by paying attention to the quietness of the actuators, smooth operation of the focus and zoom rings, and minimal focus breathing.
Basically, yes, like most everyone else, they're paying attention to the needs of video shooters these days. From my discussions with various lens designers, focus breathing is particularly tough to minimize.
Summary
As the market has shifted and demand has decreased, Tamron has slowly been discontinuing their lenses designed for DSLRs and focused more on the mirrorless market.
From the beginning, Sony was very open to having others make lenses for their E-mount system, so that's an area of particular strength for Tamron. Subsequently, Fujifilm opened their X-mount and most recently Nikon has opened their Z-mount as well. Currently, Canon is notably the only major camera maker that hasn't opened their RF-mount system to include autofocus lenses. (They do permit manual-focus lenses though, and a number of third parties currently make them for the RF mount.)
Tamron has always been known for their zoom lenses, and despite their great optical quality, their line of f/1.8 primes never really took off in the market (only the 35mm f/1.8 for Nikon F and Canon EF mounts remains). These days they're mainly focusing on zooms for mirrorless platforms, although there appears to be a chance to revive their historic fast 90mm macro lens. (As noted above, the series Tamron 90mm f/2.5-2.8 macros have been famously good performers ever since they were first introduced in 1979.)
Probably the biggest news is their new 35-150mm f/2-2.8 Di III VXD zoom. (I still count it as "news", since it was introduced during the COVID era, and this is the first chance I've had to talk about it. Tamron's generally been known for making mid- to lower-priced lenses, and their midrange products are quality optics. The new 35-150mm is a departure from that trend, selling for $1,899 US and sporting what I'd call a high-end optical design, with 21 elements in 15 groups, including three aspherics and four made from LD glass. The result is top-notch optical performance, fast autofocus, and supporting in-camera lens correction (shading, chromatic aberration, distortion) on Sony's cameras. It represents a significant investment, but speaking for myself, the combination of focal length, aperture, and other features would have me saving my pennies if I was an E-mount user.
Overall, Tamron has gone through the same doubtless-painful transition from DSLR to mirrorless mounts as other manufacturers but now seems well-positioned for the future. They have no fewer than 15 lenses for Sony's E-mount, three for Fujifilm's X-mount, and as of this CP+, one lens for Nikon's Z-mount platform. They're thus covering three of the most important camera systems on the market with plenty of room to expand and I think good prospects for the future as the world finally exits the COVID era.