The Laowa Ranger Series is a New Set of T2.9 Compact Cine Zooms
Venus Optics has announced the Laowa Ranger Series of compact, full-frame cinema zoom lenses. The series currently includes the 28-75mm and 75-280mm T2.9 lenses, with the promise of a 16-30mm T2.9 coming next.
The company says that the Ranger series is designed to work for a range of professional shooters, from run-and-gun style filmmakers to full-size production houses. Venus Optics is particularly proud of the compact and lightweight design of the lenses, and says that despite the wide zoom range, each weighs only around 3.08 pounds allowing them to be easily integrated into a gimbal or car rig, or used hand-held.
As is required by many cinema shooters, the Ranger series is also parfocal, which means the optics will hold their focus point even when the lenses are zoomed in and out. Additionally, Venus Optics promises that the lenses have "virtually invisible" focus breathing, which ensures smooth focus transitions and maintains the same frame in shots without "visual disturbances."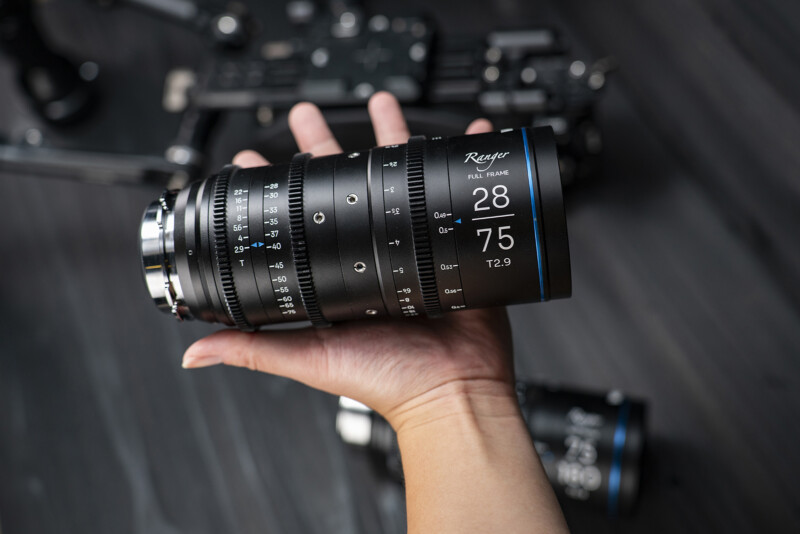 The lenses also feature a back focus adjustment mechanism that Venus Optics says will eliminate "redundant shimming" processes.
"The compact lenses are designed to fit a professional production setup. They both come with 0.8 mod gears, threads for mounting lens support and other utilities. Dual scales with Feet and Meters are both displayed on the lenses," Venus Optics says.
"Both the 28-75mm and 75-180mm have a 77mm filter thread and 80mm outer diameter. Filmmakers can choose from using screw-in filters or a matte box."
The company also says that, of course, the image quality out of these lenses is "exceptional." Each of the Ranger series lenses promises to bring natural color rendering and maintain sharpness and contrast regardless of what aperture they are set to.
Venus Optics says that the whole lens series, when complete, will allow filmmakers to cover a huge range without needing too many lenses, which saves time on set since the optics will have to be swapped out less frequently.
The lenses are available in PL mount but feature an interchangeable EF bayonet. Additionally, Venus Optics says it offers additional mirrorless mounts that can be purchased separately that allow the series to work with Canon RF, Nikon Z, and Leica L mounts.
Both Laowa Ranger 28-75mm T2.9 and 75-280mm T2.9 Compact Cine Zoom lenses are priced at $2,999 and can be bought together in a two-lens bundle for $5,799 directly from the Laowa Cine website.
---
Image credits: Venus Optics