OptiCull Uses AI to Assess, Sort, and Rate Your Photos
DopeAI has released OptiCull, an AI-powered app designed from the ground up to help photographers quickly sort through and cull their photos.
OptiCull enables manual and automatic culling and offers numerous features to speed up a photographer's workflow. For example, using artificial intelligence, OptiCull can automatically sort duplicate and similar images together, reject blurry photos and images with people blinking, and select the best "keeper" images based on selected user preferences.
For manual culling, which can be assisted by OptiCull's AI technology, the app includes side-by-side comparison and zooming modes to help photographers pick the best shot to keep.
OptiCull builds upon one of DopeAI's prior app, CullAi, which focused on helping photographers filter out "bad" images using AI.
This new solution is more powerful and faster than CullAi, which promises "lightning-fast RAW previews and AI analysis." OptiCull can analyze 1,000 photos per minute, depending upon a user's hardware.
A collection of similar images can grow quickly for portrait and event photographers. OptiCull groups duplicate and similar images to allow users to quickly flip through similar photos and pick the best. The app enables users to adjust the precision of the "similar image" function, swapping between identical, similar, and "similarish" photos.
When trying to pick the best shot of a group of people, the sharpness and expression on individual faces matters considerably. OptiCull allows users to select a specific face and then zoom in and compare that individual across multiple images. This "synced zoom mode" can also be used to view all faces or a selected region of an image. In "face zoom mode," users can quickly swap between different faces.
Magi-Cull and Auto-Rate modes use AI to automatically find and reject blurry and otherwise bad photos, similar to the functionality offered by CullAi. However, OptiCull takes this further by picking a diverse set of "best" photos for users to browse. Users can also designate their ratings for "keepers," which OptiCull will automatically apply to the images the AI picks.
Importantly, when using magi-cull, users always have the final say and can override the AI-generated results. The AI is there to make things faster and more convenient, but not at the cost of user control. As DopeAI says, "AI doesn't know everything just yet," so the app is designed to use AI to reduce the work a user must do but doesn't prevent the user from seeing their photos.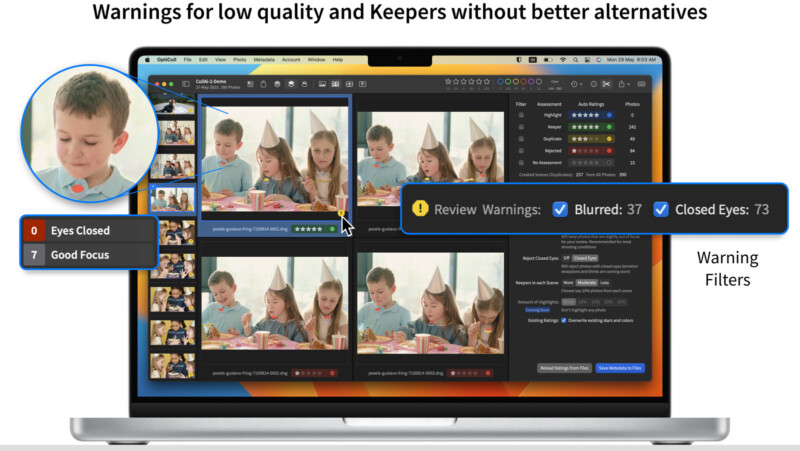 OptiCull easily integrates into an existing photography workflow. Users can import thousands of images, including their RAW images, into OptiCull by selecting a source folder. The app then uses AI to speed up the culling process while providing manual culling tools for photographers who want complete control. Once final selects are made, OptiCull can ship the "keepers" to a photo editing app like Lightroom or Capture One in a single click.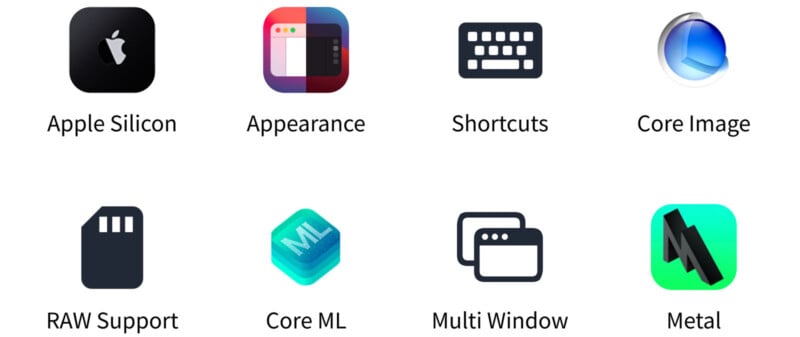 OptiCull's AI doesn't require a cloud connection — it's all performed locally. OptiCull doesn't send a user's data or photos to any external servers. The macOS app works alongside many of Apple's native features, including Apple silicon compatibility, Mac-friendly shortcuts, support for all RAW files supported by the host version of macOS, native macOS Light and Dark modes, Core Image and Image IO, and Core ML and Metal.
Pricing and Availability
OptiCull comes in free and pro versions. The free version enables manual culling, ratings, and assessments. It includes the synced zoom mode, side-by-side comparisons, metadata support, and the ability to ship keepers to an editing app.
OptiCull Pro is $59.99 for a lifetime license. It includes everything available in OptiCull's free version plus face closeups, scenes and scene layout modes, focus and eye assessments, magi-cull and auto-rate, and all of OptiCull's sophisticated AI tools.
OptiCull is available now on the Mac App Store.
---
Image credits: DopeAI / OptiCull