AP Adds AI-Powered Search to its Photo and Video Licensing Platform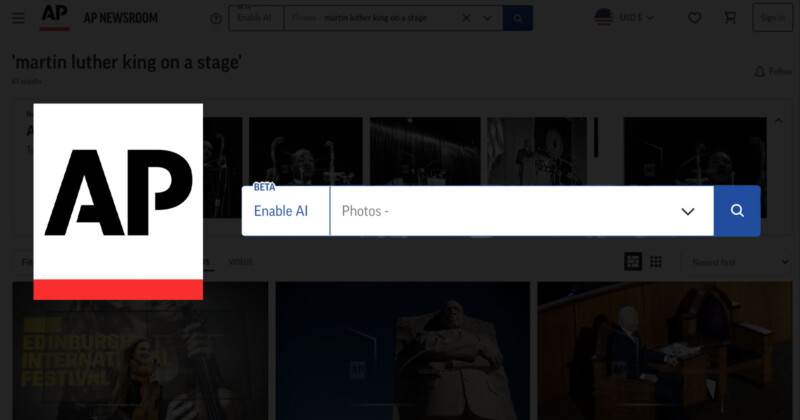 The Associated Press (AP) has announced a new artificial intelligence (AI) powered search capability through AP Newsroom, the news agency's platform for multimedia content.
The AI-powered search provides a new way to peruse the organization's catalog of photos and videos. Instead of relying only on metadata, the tool understands descriptive language and produces search results based on the description a user provides.
AP says that it adds new content every minute of every day from every corner of the world and has a library of more than 60 million photos, which are now easier to search through thanks to the AI tool.
Perhaps more impressive for video, the tool is powerful enough to understand and find individual moments in a clip regardless of length. If AI search is not something a user is interested in, it can be toggled off.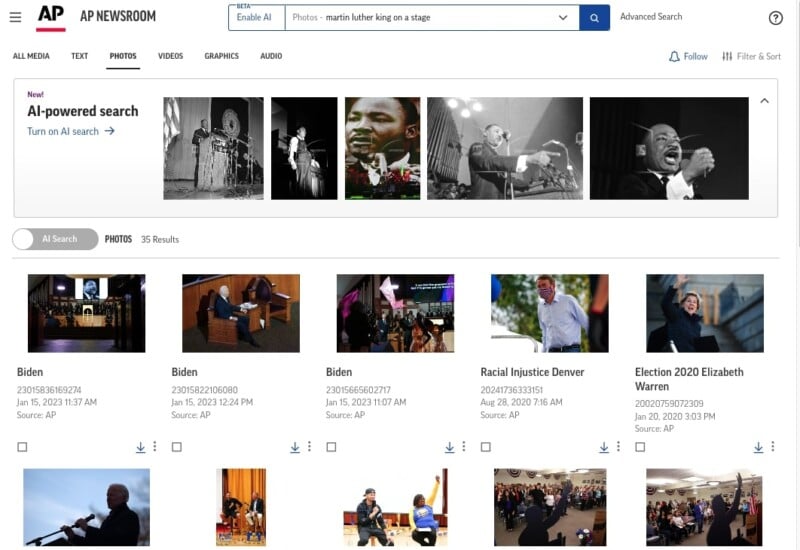 The intelligence at the core of the search tool is an engine called NOMAD from MerlinOne, a software company that focuses on digital asset management and discoverability.
"Merlin updates the NOMAD AI model periodically in an automated process to keep up with new developments. Especially in a news environment, accuracy is critical, so relying entirely on automated learning is not sufficient," AP's vice president of global products, Paul Caluori, tells PetaPixel.
AP says that the addition of this tool makes it easier for people to find the best photos and videos that fit their search criteria and is another example of how AI tools are changing how people interact with the internet and archives.
"This is a real sea change in finding content within our ever-expanding archives," Paul Caluori, AP vice president of global products, says.
"Suddenly we have the ability to find very specific things within images or videos – even if they have never been tagged or captioned. The addition of AI-powered search unlocks AP's unmatched visual archive."  
In addition to the AI search tool, AP has also updated its platform to offer what it is calling e-commerce capabilities. The portal is now more conducive to those who don't have a subscription or aren't member news organizations and is easier to use to make one-off purchases.
"With easy-to-navigate self-serve licensing and pricing models, users can seamlessly license images and video, including for ad hoc usage," AP says.
Why AP is Embracing AI
AP tells PetaPixel that it is integrating AI into its platform because it is a better experience for end users.
"This is a powerful new tool that makes AP's visuals easier to find — especially where there is little or no metadata. AP's visual archives stretch back to the beginnings of photography, comprising tens of millions of photos and videos. Across that history and volume, the amount and kind of descriptive information varies widely, and sometimes that information is not as complete as we'd like it to be," Caluori explains.
"Since traditional search depends entirely on that descriptive information, many visual assets are less visible and difficult to find. Our AI-enabled search doesn't rely on descriptions or metadata; instead, it 'recognizes' elements within photos and videos and it also is able to 'understand' more specific search terms and concepts to find those elements. This yields some dramatically improved search results and we are very excited to make this available to our customers. We believe it will speed their searching time, get them more useful results and ultimately, help them be more successful with their projects."
AP Newsroom now replaces the AP Images and AP Archive platforms. The AI search tools are available immediately to non-subscription users and traditional customers will gain access to it "later this month."
---
Image credits: AP