Free Photo Organizer Mylio Photos Adds AI Features to Improve Searching
Mylio Photos relaunched as a free app in May. The free-to-start photo management application has received new artificial intelligence (AI) tools to help photographers cull and search their photo libraries even faster, all while keeping with Mylio's promise that a user's images are 100% private and cloud-independent.
As described in PetaPixel's coverage of Mylio's transition to free-to-use software, "Mylio Photos allows all images to always be stored locally on all devices and doesn't require an internet connection to view or edit them. The service optimizes RAW images to what the company claims is less than 5% of their original size, which makes them more convenient to edit on a variety of devices. Mylio says the service offers significant speed advantages through the use of a local network and peer-to-peer connections. Photographers can then download the original files on any device at any time."
Among the new features aiming to make Mylio Photos even more convenient for photographers is QuickFilters, a tool that enables photographers to search for images and videos based on "visual properties, image quality, lens type, categories, time values, and other metadata."
Mylio says that QuickFilters was designed with photographers with extensive media libraries across multiple devices in mind, including cameras, hard drives, memory cards, and cloud storage platforms.
"Photographers can quickly find the perfect photo using EXIF data and visual properties (details about images, cameras, lenses, and more) and filter using customizable range controls for most camera settings," promises Mylio.
For example, photographers can peruse an extensive photoshoot looking for any images captured in portrait orientation using a specific lens with selected camera and exposure settings. If users are subscribed to Mylio Photos+, the optional premium plan, they can even search like this on a mobile device, even if the original photos are on a hard drive somewhere else.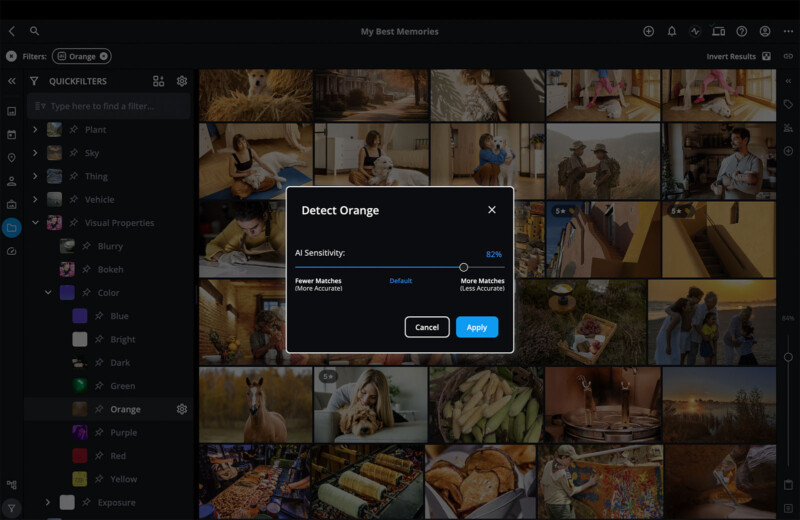 Within QuickFilters, users can also view a timeline tree view of all their photos. Mylio offers an illustrative example of the utility of this "By Date" category view. "Using this feature, finding all photos with fireworks taken during the evening on the Fourth of July over the last 20 years happens nearly instantaneously, no matter the size of the library," writes Mylio.
Alongside QuickFilters, Mylio Photos now includes additional SmartTags categories. SmartTags within Mylio Photos use computer vision to recognize more than 1,000 activities, objects, and visual properties. The AI data processing happens locally on photographers' devices rather than within the cloud.
QuickFilters enables photographers to quickly search for specific photos, such as a wedding photo with balloons that are overexposed.
Another culling tool, QuickReview mode, is designed for mobile devices and uses swipe gestures to keep or mark images for deletion. QuickReview also works on computers, where trackpad gestures or keyboard shortcuts can be used.
"Trying to find images by going through a date, typing a keyword, or even looking in specific folders doesn't give you much help if your collection spans decades," says David Vaskevitch, Mylio Photos' CEO and Founder. "With Mylio Photos, photographers can find and rediscover any image instantly without storing anything in the Cloud. Access to your photo collection anytime on any device without sacrificing privacy and overpaying for Cloud storage is a game changer."
Mylio Photos works alongside other photo apps and uses industry-standard metadata to track file changes. A new guided import tool simplifies adding media to Mylio Photos from multiple sources, including easy importing tools from Instagram, Facebook, and Flickr. Photos all go to a single, universal Mylio Photos library.
Pricing and Availability
Mylio Photos is available to download for free for macOS, Windows, iOS, iPadOS, and Android. A premium add-on, Mylio Photos+, allows users to connect unlimited devices and syncs all original image files to local storage. Mylio Photos+ is $99 per year.
Mylio Photos also tells PetaPixel that the next major update will release in mid-September. It is poised to deliver significant new features to Mylio Photos.
---
Image credits: Mylio