What Canon Thinks About Third-Party Lenses, AI, 8K, and More
It might come as a surprise to many readers, seeing my byline on an industry-interview article here on PetaPixel, not to mention one from the CP+ 2023 show in Yokohama, Japan. It's now been no less than three months since that, but I'm only just now getting this and several other articles posted.

Most of you reading this will know about the recent
purchase of the Imaging Resource site by The BeBop Channel
, and
the ensuing chaos
.
(After being offline for a couple of weeks, the site appears to be back online again; before anyone asks, I have no idea what might be going on with it.)
That whole situation ended up throwing a wrench into my content work, starting almost as soon as I returned from Japan in early March. I thought I'd worked through most of that, but the first indication I had of further problems was when I couldn't log onto the site's news system when I went to post this very article over there. There followed a period of frantically switching my nearly 200 online registrations (everything from banking to hobby newsletters) to personal email accounts before my old Imaging Resource email address was disabled. I made it without a day to spare, just last week.
That's all by way of both excuse and apology to all of you reading this and to the executives who took the time to meet with me at CP+. Fortunately, the information is all still current, with the minor late-breaking exception of the announcement of the entry-priced EOS R100. The rest of this is as I wrote it and was prepared to publish on Imaging Resource more than three weeks ago.
Table of Contents
I spoke with executives from Canon Inc. on my recent trip to Japan to attend the CP+ 2023 trade show. I had quite a sense of deja vu as I sat down to meet with them; they've used the same elegant meeting room for as long as I've been attending CP+, tucked around the back of the convention complex, and many of the meeting participants were the same. As with all my other meetings, it was good to see all of them again.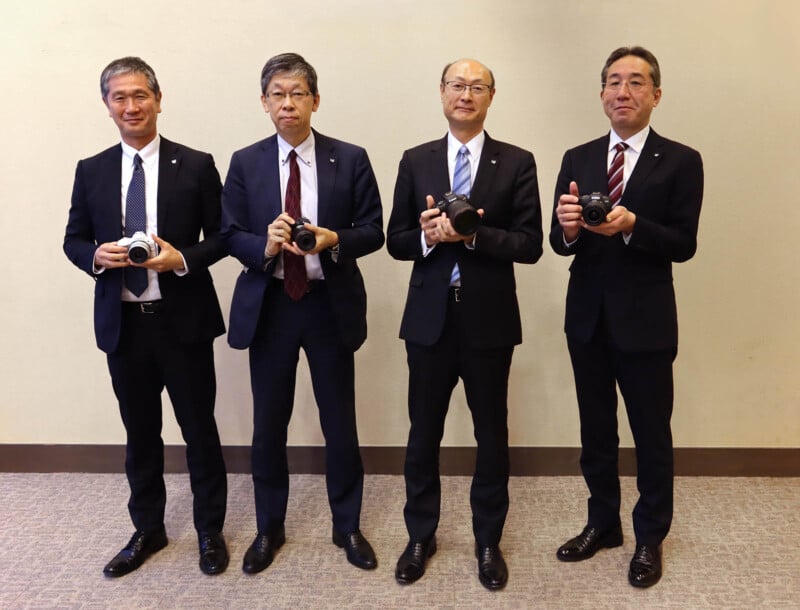 I met with the following people:
Go Tokura, Head of Imaging Group, Chief Executive, Image Communications Business Operations
Tetsuji Kiyomi, Unit Executive, ICB Products Unit, Image Communication Business Operations
Tetsushi Hibi, Unit Executive, ICB Optical Business Unit, Image Communication Business Operations
Yasuhiko Shiomi, Unit Executive, ICB Development Group, Image Communication Business Operations
I took notes during the meeting to identify who was speaking and have tried to label the transcript below with each speaker's initials, but my identification may not be 100%: Apologies to the executives for any misassignments I might have made.
Let's dive right in; I've included observations along the way and will summarize some of the key points at the bottom.
Where Are the True Entry-level Cameras?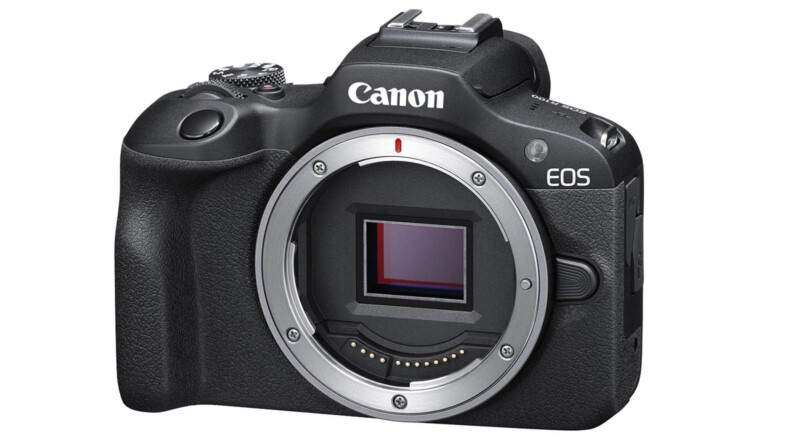 David Etchells: My first question is about entry-level models and how the industry has changed, such that there aren't any really inexpensive entry-level cameras anymore, and whether we need true entry-level cameras to entice people away from their smartphones.
Tetsuji Kiyomi: When we compare SLRs to mirrorless, it is true that mirrorless are more expensive because the parts that are being used for them cost more. As you just mentioned, there are many users who prefer low-price cameras, and that is the reason why we have equipped ourselves with a full lineup, starting with the entry-level all the way to the professional level. This is something that we continue to work on.
DE: So you can try, but at some point, you hit the bottom (the lowest price possible), and can't do any more.
Go Tokura: Well, our camera business is made up of technology plus the evolution of the devices themselves. As part of that, we also have high-end products within the entire lineup. By having a high-end product, we can try to deploy [the technology from it] or adapt that to the entry-level models as well. So if we think of that flow, there is still room for expanding the entry-level by adopting the high-end technologies there.
DE: I'm surprised to hear you say that mirrorless components are more expensive. I would have thought they'd be less so because you don't have the mirror assembly, so it seems they should be mechanically simpler. What is it about mirrorless that makes it more expensive?
GT: Well, a very characteristic feature is the electronic viewfinder. So the electronic parts are more expensive than the mechanical ones in an SLR.
DE: Ah, yeah – a silly question, I wasn't thinking of that.
Note: The long delay between my interview with the Canon execs and finally publishing this article (see the note at the top about the reasons for this) meant that a very relevant product dropped just prior to publishing. The new APS-C EOS R100 qualifies as a true entry-level camera, priced at just $479.99 body-only or $599.99 in a kit with the RF-S18-45mm f/4.5-6.3 zoom lens. It has a very basic feature set, missing things like a tilting or touch-panel rear LCD screen, but it gets people onto Canon's RF platform for a very affordable price. I've left my other comments below as I originally wrote them, but it's encouraging to see Canon offer such a low entry point for their mirrorless system.
My question about the difference in cost between SLRs and mirrorless was a little embarrassing, but I left it in because I think a lot of people might have the same misconception. Actually, I remember when mirrorless cameras first came out, a lot of pundits said that the technology would lead to lower-cost bodies because they'd be so much simpler mechanically. As it turned out, SLR technology was so mature that the cost savings on the mirror and prism assembly were outweighed by the cost of the tiny LCD or OLED screen for the electronic viewfinder (EVF).
I asked this general question of other manufacturers as well because I've been struck by the high cost of entry these days for people wanting to step up from smartphones to using actual cameras. In the SLR era, there were plenty of options in the ~$400 price range, but now the cheapest mirrorless "entry-level" kit is $650 to $700. – Although a quick check as I'm writing this shows that Panasonic is currently offering some "instant discount" deals that drop the price for several kits based on their Micro Four Thirds bodies to only $550. (It's interesting to note that Canon is the only manufacturer offering a true entry-level DSLR, the Rebel T7, for $399 US including a kit lens.)
In fairness though, today's smartphone users have much higher expectations of a camera than photo beginners did years ago, and would thus be very disappointed with what passed for an entry-level camera 5 or 10 years back.
On the other hand, maybe we're not actually doing so bad when you take inflation into account. Going back just 10 years to 2012, $500 then is equivalent to ~$650 today, so the current low-end mirrorless cameras aren't really so far from the "entry-level" pricing I've been looking for.
What's in the Cards for the EOS M Series?
DE: I just saw the R50 for the first time and I was amazed by how small it is. It's actually a little smaller than the M50 Mark II. I'm wondering now that the R50 is out, is it going to replace the EOS M series, or will the EOS M series continue into the future?
GT: If we talk about the EOS M series, there are demands from the customers … so we will continue to respond, looking at these demands.
DE: Ah – so what can you say to reassure EOS M series customers to make them feel more comfortable?
GT: For EOS M series, you can use either EF/EF-S series or M-series lenses. As long as the need or the customer requirements are there, we intend to continue to sell the product.
DE: That's a good point, that you can adapt EF lenses, and there are many, many EF lenses, so there's a path for people to continue to expand their systems.
Note: Here again, the EOS R100 appeared on the scene just as I was about to publish this piece. It doesn't have the feature set of the EOS M50 Mark II, but it is a very compact body. The EOS R50 likewise is very svelte. It's safe to say at this point that the M series has been completely replaced in Canon's lineup. As before, though, I've left my earlier comments below for anyone who's interested.
Canon's EOS M series cameras have been wildly successful; we've heard season after season that the M50 Mark II was the highest-selling body of any in Canon's portfolio. It's an undeniably pleasing system with small bodies, compact lenses, and a nice feature set. As noted, though, the recently-announced R50 is actually a little smaller than the M50 II body, taking away the size advantage, at least when it comes to bodies. RF lenses are generally larger than EOS M mount ones though, so an RF mount system won't be as compact overall as an EOS M mount one.
Canon says they'll continue selling EOS M series products as long as there's demand for them, but it seems clear that their R&D efforts will be directed at the RF mount rather than the EOS M series. Looking at retail stock, it appears that the point of insufficient demand for new production may already have been reached. EOS M series lenses are in very short supply, with few models available, and the same seems to be true for the bodies as well: I only found solid inventory for the EOS M200, and while there are EOS M50 Mark II bodies to be had, inventory levels are low.
Manufacturers are always extremely cautious about declaring that production of a product has stopped, as long as their dealers are still sitting on inventory for it. Given that, the vanishing stock levels, I feel safe in saying that the EOS M series is at the end of the line, or at least very close to it.
Unfortunately, there's no practical way to adapt EF-M lenses to RF-mount cameras because the EF-M mount flange distance is shorter than on the RF mount. Stepping up from the EOS-M to EOS R system thus requires selling all one's existing lenses.
Tokura-san does make a good point though, that EOS M owners ultimately won't lack for lenses, as it's easy to use EF lenses on EOS-M bodies with an adapter. That does make for a more unwieldy setup, but there's a vast array of EF glass available, whether new or used.
Speaking of used, that will also be a great option for EOS M owners for some time to come. There's already an abundance of EF-M lenses on eBay at good prices for good condition units – and as existing EOS M series owners upgrade to RF, there's likely to be a steady flow of used gear coming onto the market.
Still, it's sad to see the EOS M series coming to the end of its production; they're great little cameras, loved and used by many.
Stance on Third-party Lens Licensing
DE: I'm not sure to what extent you're able to answer this, but in the past, Canon always licensed its lens mount to third-party manufacturers, but so far you've only allowed manual focus third-party lenses on the platform. I understand the desire to capture all of the lens revenue for the platforms, but I've also heard some users speak of it as being a negative point when considering the platform. Is there a possibility that this policy might change in the future? (I think Canon's excellent optics would compete very well with ones from third parties, and opening the platform would allow for types of lenses that Canon itself isn't interested in making.
Tetsushi Hibi: We recognize that there are various opinions from various users, and when any kind of requests are made by a third-party manufacturer, we will always consider them based on our business strategy. It is true that we are already communicating with some companies about this, and even at this CP+ event, I believe that you have noticed that Cosina has announced about the RF mount?
DE: Ah, I hadn't seen that yet. Will Cosina make autofocus lenses or manual focus only?
TH: Manual.
DE: So still no autofocus, ah.
TH: Maybe not in the market as yet, but this is something we'll be considering in the future. It is true that we're communicating with a few third-party manufacturers.
DE: Hmm, good. Personal opinion: I think it would be good for Canon, but of course you have to consider your own business model, so I understand.
As noted, Canon has been very reluctant to grant licenses for the RF mount to third-party lens manufacturers. They've recently begun opening up a little, allowing third parties (Cosina among others) to produce manual-focus lenses, but there's so far no sign of them allowing third-party AF models.
I do understand their desire to capture as much of the market for compatible lenses as possible, but as I said in the interview, I've heard from a number of photographers who see the manufacturer-only restriction as a negative point for a platform. With the recent announcement by Sigma that they'll be making autofocus lenses for Nikon's Z-mount, Canon is the only major manufacturer I'm aware of who's so strictly limiting third-party licensing.
I take encouragement though from their statement that third-party autofocus lenses are something they'll be considering in the future. Here's hoping that "in the future" will mean "in the near future."
AI Subject Recognition in the R8 vs the R6 Mark II, R3 and R7 Updates?
DE: I noticed that the EOS R8 has the same AI subject recognition from the EOS R6 Mark II, in a body that sells for less than a thousand dollars, which is very impressive. I see they have the same DIGIC X processor, are the subject recognition features the same on the R8 as the R6 II, or will they be less powerful?
Yasuhiko Shiomi: I would definitely say that the R8 and R6 II will have the same or equivalent capabilities for recognizing any kind of subject. Also, the number [of] types of subjects that can be recognized has been increased from the R3 and R7 because they were developed prior to the R8 and R6.
DE: Do the R3 and R7 also use the DIGIC X or do they have an earlier processor?
YS: Yes, they also use the DIGIC X processor.
DE: Will it be possible for the R3 and R7 to receive firmware updates to support the new subject types?
YS: Unfortunately, I would like to refrain from mentioning any specific firmware update plans. Generally speaking, for our products, the features at the time of sale are not necessarily the final features of the product. We will strategically add features in the firmware update while considering the customer's request. That might include subject detection.
DE: Ah, so you wouldn't necessarily bring complete feature parity to the older models. Hai, hai.
It's highly impressive that a $1,500 body like the R8 has such sophisticated and wide-ranging subject recognition ability. And Shiomi-san's comments will be encouraging to EOS R3 and R7 owners; since they use the same processor as the R8 and R6 Mark II, they can be upgraded to at least some extent to gain the capabilities of the newer models, and Canon is actively planning on this. Whether by business decision or hardware constraints (see the next question), they might not end up getting all the same abilities, but it's great to hear that updates are planned.
Many Bodies Use the DIGIC X – Are They Actually All the Same Processor?
DE: I was surprised to see that even the R50 uses the DIGIC X. Is that actually physically the same chip as the R6II and R8, or does "DIGIC X" just mean a particular architecture and there are different actual processors within that?
YS: Both R8 and R50 are using the same type or the same processor, however the memory size is different. Because of that, the processing power will be different.
DE: So the actual CPU is the same?
[Yes]
This was interesting to me. The DIGIC X is a powerful processor, far more so than would normally be required in a lower-end body like the EOS R50. The economics of semiconductor manufacturing mean that it's vastly more cost-efficient to just use the same processor across a broad product line vs trying to save a little in by using two different chips, though. The only difference between the processing circuitry in the R50 and R8 or R6 II is the amount of working memory (RAM) that's built-in. Working memory provides buffer memory to allow for longer continuous-shooting bursts but is also used by the processor when running various algorithms such as those for subject recognition. More memory could provide for more complex processing as well as the longer bursts we usually associate with it.
Are Videographers Buying a Lot of R8s?
DE: I was impressed with the R8's video specs, things like 4K 60p 10 bit, 4K downsampled from 6K, and Canon log3. Do you see a lot of R8s being sold to strongly video-focused users?
GT: There are more and more customers who prefer to shoot videos, and we as Canon also place importance on such customer needs. Therefore, we intend for the R8 to compete in that market as well.
DE: So you'll be specifically marketing the R8 in part to videographers?
GT: Actually, we highlight the video capabilities or video functions of all of our cameras. So it's not just to say that we have made a specific role for R8 for video users.
DE: Ah right, it's part of a complete portfolio for video.
GT: For video users, we do intend to enhance the R series lineup, and by doing so we also intend to enhance the functionality in those products. From that respect, you may be correct that the R8 is a part of the portfolio.
Video has been a huge part of Canon's product strategy, ever since they introduced the EOS 5D Mark II back in 2008. They released the first of their dedicated Cinema EOS cameras, the EOS C300 in 2011, and the EOS 5D Mark III in 2012, and haven't looked back since.
The EOS R8's specs make it seem particularly well-suited for video shooters, so it seemed like a natural to market to videographers, whether as a primary body at the low end or a second body for higher-end users.
Rather than viewing it as a camera aimed at video shooters though, Canon's position is that video is an integral feature for their entire lineup, and the R8 is just the latest instance of that. The technology let them produce a top-notch still camera with very advanced video capabilities for just $1,500.
The R8 and Canon's comments above led me to realize this: Sensors and particularly processors have advanced to the point that there's no longer a need to trade off between video and still capabilities. A body can be a top-flight stills camera and a supremely capable video camera at the same time and for an affordable price. Landscape shooters may want super-high pixel counts, and video shooters might want noise-free footage under candlelight, but for a huge majority of users, there's no tradeoff anymore. We can have it all and for surprisingly little money.
Are Other Affordable Zooms Coming? How About Primes?
DE: I was pleased to see both new lenses (the RF-S 55-210mm F5-7.1 IS STM and RF 24-50mm F4.5-6.3 IS STM) both come in at such attractive price points and also both include image stabilization. You have several inexpensive RF-mount lenses, but the range is somewhat limited. I know you can't discuss details, but what would you say is your general strategy in terms of the range of lens offerings for the entry- to mid-level market vs higher-end users?
TH: Thanks for your compliments regarding our 55-210 and 24-50mm and about the inclusion of IS in them. By doing so, what we are trying to do is to expand the range of users' shooting. On your question about entry-level vs advanced level, we will be trying to enrich the products which may be easier to purchase aside from the single focal length lenses, and at the same time expand and enrich the high-end models for professional use as well. But in any case, we always try to listen to the opinions and comments from customers and respond in terms of development.
No manufacturer would want to say that their products are "cheap" and certainly not "low end"; Canon went with "easy to purchase" whenever we were talking about lower-cost models.
Canon announced two affordable RF zoom lenses a couple of weeks before CP+, the RF-S55-210mm F5-7.1 IS STM and the RF24-50mm F4.5-6.3 IS STM, both at very attractive prices, especially given that they include image stabilization. These are a great combo for photographers on a budget, and the 24-50mm will be bundled in a kit with the R8.
In more good news for those of us with thin wallets, it sounds like Canon plans to further extend their line of affordable zooms for the RF mount.
DE: I'm curious, do you see demand from the lower-end users for primes, or is that something associated more with the higher-end market?
TH: Actually, we see strong demand from both ends of the market. Entry-level or low-end models which are easier to purchase have a high demand. And at the same time, professionals have a high demand. For instance, the 135mm for professionals was developed based upon user requests.
DE: That's interesting to me; even the R50 users are interested in prime lenses?
TH: Correct
While it sounds like Canon is more immediately focused on affordable zooms, it's interesting that they're also seeing a lot of demand for inexpensive primes as well.
They mentioned the RF135mm F1.8 L IS USM several times during our conversation. Apparently the development of this lens was driven strongly by user requests. Want Canon to make a new lens? Band together online and make your voices heard!
Which Lenses Can Keep Up With Modern High-Speed Bodies?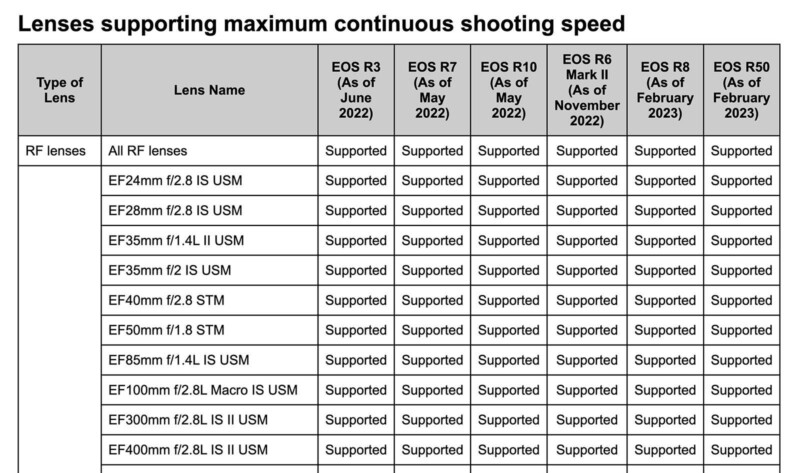 DE: Especially when using their electronic shutters, Canon's RF-mount cameras can now shoot very quickly with full autofocus. Obviously, though, not all lenses are able to keep up with that speed. Two questions: 1) Is there any easy way for users to tell whether some (especially older) designs are able to keep up with 40fps shooting?
TH: This table is from our Japanese website, we'll send you a link to the English version. This shows which older lenses are able to keep up with subjects like a train approaching at high speed. This is public information on the website to guide users.
The example of fast focus tracking mentioned here (trains) amused me: Westerners may not know that Japan has a very large and *fanatically* devoted community of train photographers. We certainly have railroad buffs here in the US, but I don't think anywhere compares to the number, enthusiasm, or dedication of Japanese train shooters. The Japanese train system is on another level than that of any other country you might care to mention (yes, even in Europe or China), so it's no surprise that the train enthusiasts are too. Here's an article about the "Densha-Otaku" (loosely, "train nerds").
It turns out that basically all RF lenses are able to support the maximum shooting speed of any EOS R system body, it's only when it comes to the older EF-mount lenses that you may encounter some limitations. There's nonetheless a surprisingly large number of EF-mount lenses that can keep up. Click on the illustration image above to go to the English-language page with the full information on EF lens compatibility.
BTW, there's lots more useful info in that same area of Canon's website, such as Lens/flash compatibility, verified compatible CFexpress cards, lenses compatible with slow focus transitions in movie recording, lenses compatible with focus breathing compensation, etc, etc.
DE: Are you also seeing requests from users to update some older lens designs to be able to track faster subjects? (Basically, requests to update older designs with faster focus actuators.)
GT: Let me go back to the starting point and say that even if you try to technically improve an EF lens, it will never become an RF lens. However, once you go into the real RF lenses, in the second generation, the performance may be upgraded compared to the first generation.
DE: Ah, yes, that was what I was asking about, specifically the RF lenses. – So currently all of them are capable of keeping up with the current camera bodies but basically, whenever you make an updated version of a lens, all of its characteristics are upgraded.
Are More 'Easy-to-Purchase' Superteles Coming?
DE: Tokura san said in an interview in the summer of 2021 that more affordable super telephoto lenses like the 600/11 and 800/11 "definitely" would be coming, but we haven't seen any yet. Are more affordable long telephotos still on the drawing board?
There was some amusement at my reference to that interview, I got the impression this was a question they'd heard quite often before.
GT: Actually the 100-400mm f/5.6 – 8 is a lens that we've thought of as affordable. However, we still think that our lens lineup needs to be bigger, and we naturally intend to release more lenses in the future – so this is something you can expect.
Canon took advantage of their Dual Pixel Autofocus technology's ability to reliably focus at small apertures to develop a pair of very inexpensive super-telephoto lenses, the 600mm f/11 and 800mm f/11. They'd promised more inexpensive long teles back in 2021, and it turns out that the 100-400mm f/5.6-8 was probably what they were referring to at that time. At a US list price of just $599, it certainly qualifies as affordable.
What About AI for Image Enhancement? Does It Have a Role?
DE: This is a question I'm asking all of the manufacturers, it's a bit of a long one. This is a question I'm asking all the manufacturers: In the camera market, we're seeing AI-based algorithms used for subject recognition, and to some extent scene recognition, but not for manipulating the images themselves. I'd characterize all these as "capture aids", in that they more or less assist the photographer with the mechanics of getting the images they want, but they don't affect the character or content of the images themselves. (HDR capture being an exception.) In contrast, smartphone makers have used extensive machine learning-based image manipulation, strongly adjusting image tone, color, and even focus in applications like night shots, portraits (adjusting skin tones in particular), and general white balance. I think it's going to be critical for traditional camera makers to meet the image quality (or perhaps more accurately "image appeal") offered by the phone makers. This feels like a distinct disadvantage for the camera manufacturers in the competition with smartphones. What can you say about Canon's strategy and work in this area?
YS: In terms of image appeal, that's something that camera manufacturers are also pursuing or trying to achieve. However, as a camera manufacturer, our policy is to convey or transmit the reality, to tell the reality or help a photographer create a piece of work. It isn't the policy of camera manufacturers to create unrealistic images or to process images such that that may not exist in reality. What camera manufacturers are trying to do is to recreate the truth by utilizing AI, and that is through the means of high resolution or reducing image noise or maybe improving the color. I believe that this may be a policy or philosophy of all camera manufacturers.
DE: Yes, it clearly seems to be a policy, I get very much the same answer from everyone.
DE: Just commenting personally, I do want the "truth" available to me, but sometimes I want the camera to help a little. I can go into Photoshop and do whatever I want, but sometimes I want just a quick capture, without needing to spend time tweaking the photo.
YS: Technically speaking, I think this is something that is a reality and that could be achieved.
DE: Maybe it's just because it's me, I'm not such a good photographer.
This was almost universally what I heard from all the camera makers. "Phones take away your creativity of expression, cameras support it."
There's certainly an element of truth to this; the "look" of a smartphone photo has much more to do with whether it's an iPhone or Samsung product (or even which generation of either you're using) rather than the person tripping the shutter.
You're certainly free to compose the shot however you like, and many phones provide both pre- and post-capture adjustments but it's definitely the case that phones take on much more of the responsibility for what the image looks like.
Speaking for myself though, while I often do want to have full control over every detail of an image, there are also a lot of times when I'd like the camera to get me part of the way there. Particularly in difficult or mixed lighting, modern smartphones do an amazing job of balancing tone, color, and contrast. It would be great to have a partly-processed, smartphone-like image to use as a starting point, rather than a completely unadjusted image.
Just like shooting controls that let us choose options contrast, sharpness, white balance, saturation, and hue pre-capture, why can't there also be AI-driven modes that we can then choose how much or how little we want to apply to the photos we're shooting? Why not have an "AI Night Scene" parameter that we could choose settings ranging from -2 to +2 when shooting?
And it's not like having these adjustments for JPEG images would remove our ability to work from the unadulterated raw image either: After all, that's what RAW files do relative to the just-mentioned adjustments for contrast, sharpness, etc.
Given that we'd presumably always have original RAW files to go back to, I don't see any downside to AI-based image adjustments, and doubt many of my fellow photographers would see them as anything but a positive.
Camera makers are in a tough spot with this sort of deep-learning application though, in that the smartphone makers have R&D budgets two or more orders of magnitude bigger than anything conventional camera makers could dream of. Camera makers are doing an excellent job with subject recognition and focus tracking, as they have huge libraries of images to work with, from years of work on AF algorithms. AI-based image tweaking is another whole area though, needing every bit as much R&D effort as is currently being applied to AF advancement.
Despite the manufacturer's current reticence, I think that AI image enhancement will have to come at some point and I predict it will happen sooner rather than later. Despite their strong line about leaving all creative control to the photographer, I'd be very surprised if most camera makers aren't also exploring computational image enhancement as well…
Where Does 8k Fit? Is There Really a Use Case for It Yet?
DE: Something I'm very interested in is what you think of 8K video, and where it fits in your product strategy. It's clearly important to professional videographers and filmmakers, and the EOS R5 already offers it at a price point of $3,500 in the US. (Which I see as an affordable price for that capability.) What about other parts of the market though, such as enthusiasts, advanced amateurs, and amateur content creators? 8K video is a lot of resolution, with very large file sizes and requiring very high-end computers to work with it. Do you think there's really a need for 8K anywhere other than the high-end professional market?
GT: Regarding 8K, as you said, it requires high-end computers to manipulate it, and therefore the handling itself or the processing requirement is very heavy. And at the same time, the viewing environment isn't really ready yet. However, such tools and perhaps the environment to view or watch them is going to be made better in the future. Given that, since the viewing environment and tools are going to be evolving from now on, what is necessary for these devices, the shooting devices, is that they have to be equipped with the functions that will be required when such an environment actually emerges. As a manufacturer, we need to be investing in advance so we can be prepared once that time arrives. The reason why I say this is that once the user or customer purchases a camera, they're going to possess it for a long time. We will be releasing or producing 8K [viewing devices] down the road, and hopefully at that time, the customer may also want to purchase the new device as well.
DE: Canon would be producing 8K display devices?
GT: We are preparing for industrial use. [Canon PR staff interjected that Canon actually already produces 8K reference monitor displays.]
DE: Yeah, that's very high end.
DE: So to make a very concise summary of that, 8K is really about future-proofing.
GT: Of course, because you first move to digital 4K and then 8K down the road, but whatever high resolution is produced by those high-end devices can always be down-converted [I think brought down to lower-end hardware].
DE: Yes, yes. Of course, 8K will also let you crop into the frame and still have plenty of resolution to produce high-quality 4K output.
GT: So yes, based on 8K, you can also downsample to the currently adopted 4K, and you get higher quality.
This makes so much sense that I'm a little embarrassed that I hadn't thought of it myself. I've been viewing 8K as a spec-sheet checkbox that very few people actually cared about. There isn't really any way to view 8K yet, and the files are enormous and painful to edit without massive computer power.
But of course, the future will look different, and even now, some users will want to shoot 8K to crop or downsample it to 4K, the same way people shoot 4K to crop/downsample to HD.
On balance, then, faced with the option to buy a camera that can shoot 8K vs one that tops out at 4K for roughly the same price, it makes sense to go for the 8K model. 8K is thus both a competitive advantage and a form of "future-proofing" for Canon and its users.
DE: Excellent, that's all my questions. Thank you very much for your time!
Too Long; Didn't Read (TL;DR)
Once again, my interview with Canon covered a lot of ground, with a lot of information shared by the executives who met with me. Let's quickly sum up what we've heard:
Mirrorless cameras are inherently more expensive than DSLRs, thanks to the electronic viewfinders being more costly than mirror mechanisms. That said though, especially with the release of the EOS R100, Canon has a very viable entry path for novices on a budget to buy into the RF mount system.
While you can still find the EOS M50 Mark II here and there in the market, it seems clear that its days are severely numbered. Canon said that they'll continue to respond to user demands, but my take is that the EOS M line is essentially over with at this point. That said, though, as Canon pointed out, they have a very wide range of lenses that will work with it, thanks to the EF-mount adapter. (And given that Canon hit the 100-million unit mark for EF lenses way back in 2014, there's an enormous number of them on the market for very affordable prices.)
Third-party lens licensing is still a significant limitation for the RF mount. While Canon pointed to third-party manufacturers like Cosina, they've so far been steadfast in refusing to license third parties to make autofocus lenses for the platform. They said that they've been talking with a few third-party lens makers, but so far there's no external sign of progress on this front. I personally hope they'll open the door to third parties like Sigma and Tamron; the lack of third-party options is the only significant weakness when comparing the RF mount to its competitors.
Pretty much all of Canon's current full-frame RF cameras use their powerful DIGIC-X processor, and it appears that it's actually the same version of the chip in the different bodies – at least in the R3, R6 Mark II, R7, and R8. While these four bodies share the same processor chip, the AI subject recognition capabilities of the R6 Mark II and R8 are more sophisticated than those of the earlier R3 and R7. Since the processor is the same, I wondered if some of the more advanced algorithms could be brought to the R3 and R7 via firmware updates, but Canon was noncommittal as to whether that might happen or not. My personal opinion is that at least a partial update would do a lot to make existing users feel that they're being cared for, even if it didn't bring full feature parity with the most recent models.
Its video capabilities make the EOS R8 a very capable tool for video shooting. So much so that I wondered if it had been designed with videographers specifically in mind. Canon's response was that they view video capability as an integral part of their cameras, so it's not a matter of deciding "ok, this model will be for videographers and that one for still shooters". They are in fact highly focused on enhancing video functionality, and the R8 can be viewed as a result of that effort, but they were reluctant to characterize it as being "video-focused".
In the run-up to CP+, I was feeling that the RF lens lineup needed a broader range of affordable options. As it turned out, Canon announced the very attractively-priced RF-S 55-210mm F5-7.1 IS STM and RF 24-50mm F4.5-6.3 IS STM models. From their comments, it seems that Canon plans to continue expanding this part of its lens lineup.
As cameras and AF systems have advanced, AF speed has increased dramatically. This led me to wonder how users could tell which older lenses would be capable of keeping up with modern AF systems. In what's probably the most useful answer I received from the entire interview, Canon shared with me an extensive table that laid out lens/body compatibility for maximum performance. All RF lenses are well-matched to RF bodies, including lower-end models. It's only some older EF-mount lenses (mounted via an adapter) that will deliver less than optimal AF performance.
After they released the surprisingly affordable 600mm and 800mm f/11 superteles, Canon said that they intended to expand their line of smaller-aperture, affordable long telephoto lenses. It turns out that the RF 100-400mm f/5.6-8 IS USM is a recent addition to that lineup, selling for the (amazingly) affordable price of just $649.99 US.
Like most camera makers I spoke with, Canon views AI-driven image enhancement with some skepticism, feeling that their responsibility is to deliver the best possible approximation of reality, rather than some improved version of it. To that end, they see AI as being helpful in improving resolution, reducing noise, and to some extent assisting accurate color rendering, but not the sort of drastic modifications we see in many smartphone photos. As always my personal view is that while I do want my camera to faithfully reproduce reality, I also at times would like it to improve on it somewhat, particularly under very challenging lighting conditions. Perhaps out of politeness, Canon agreed that this "could be achieved", but their mainstream inclination is to remain firmly rooted in "reality reproduction", for lack of a better term.
I have to confess that this round of conversations with camera makers changed my view of 8K video somewhat. I'd come into these meetings feeling that there wasn't a lot of point to making 8K-capable cameras for the general market. High-end videographers could certainly crop into or downsample 8K material, but it didn't seem to me like a feature that 99% of users would care about enough for to sway their purchasing decisions. More than others, Canon actually convinced me that it does make sense even in the current environment. Reasonably-capable computers these days are capable of editing 8K, and if you're editing to 4K final resolution, you can pick up additional image quality and detail by starting with 8K footage. Likewise, you can crop 1:1 into an 8K frame and still have full 4K footage. And if you're not doing this now, there's a pretty good probability that you'll want to within the next several years, making 8K capability an important "future proofing" feature when considering which new camera body to buy.
All in all a fascinating discussion as always; many thanks to the Canon executives and staff who made the time to speak with me.
Let me know in the comments below if you have any thoughts or questions you'd like me to respond to; I'll try to monitor them for a week or so after this piece goes live, and answer whatever I'm able to.