Incredible Composites Blend Data from NASA's Chandra, Webb, and Hubble
Scientists have once again combined X-ray data from NASA's Chandra Observatory and groundbreaking James Webb Space Telescope to create stunning composite images that showcase the incredible capabilities of each telescope.
Alongside the data from Chandra and Webb, astronomers have also included optical light data gathered by the Hubble Space Telescope and infrared information from the now-retired Spitzer Space Telescope.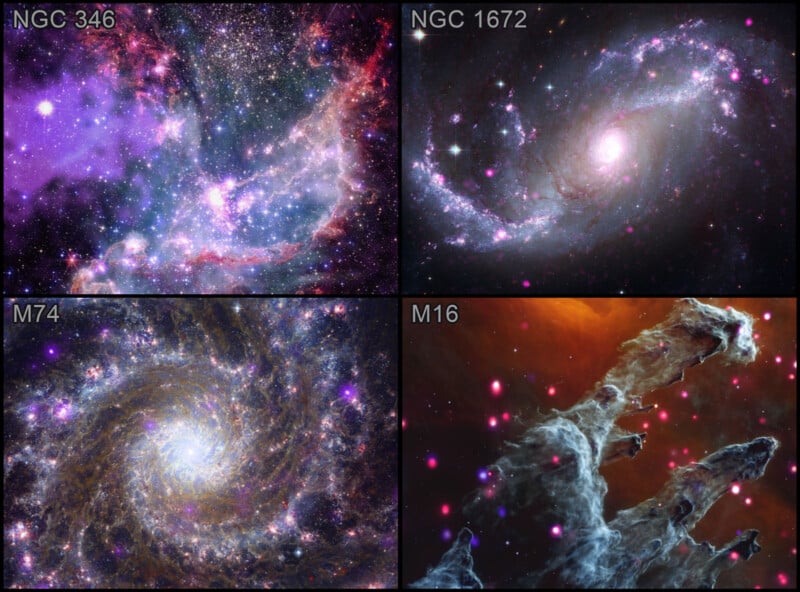 There are four new composite images to enjoy, and they are spectacular.
NGC 346
The first image focuses on NGC 346, a star cluster in the Small Magellanic Cloud. The nearby galaxy is about 200,000 light-years from Earth and is a popular target for astronomers.
"Webb shows plumes and arcs of gas and dust that stars and planets use as source material during their formation. The purple cloud on the left seen with Chandra is the remains of a supernova explosion from a massive star," NASA explains.
The included Chandra X-ray data reveals "young, hot, and massive stars that send powerful winds outward from their surfaces."
Additional data contributed by Hubble and Spitzer add additional wavelength information to the image. The purple and blue areas are created from X-ray data, while the red, green, and blue colors result from infrared and optical observations. The image also includes data from XMM-Newton and ESO's New Technology Telescope.
NGC 1672
NGC 1672 is a beautiful spiral galaxy that astronomers consider a "barred" spiral. A bright central region is surrounded by arms and smaller bright stars.
"The Chandra data reveals compact objects like neutron stars or black holes pulling material from companion stars as well as the remnants of exploded stars," writes NASA.
Data from Hubble helps show the dust and gas in the spiral arms using visible light, while Webb's data adds even more dust and gas.
Like the NGC 346 image above, the purple areas are built using X-ray data. Red, green, and blue areas are derived from optical and infrared data.
M16 (Eagle Nebula)
Messier 16 (M16), also known as the Eagle Nebula, is home to an area known as "Pillars of Creation." This area was one of Webb's first targets, and can even be viewed by amateur astronomers using a small telescope.
The area shown in this image is a relatively small area of the entire Eagle Nebula, and the "Pillars of Creation" are only about four to five light-years wide. The entire Eagle Nebula is 70 by 55 light-years.
M16 is 7,000 light-years from Earth and was first observed in 1745 by Swiss astronomer Jean-Philippe Loys de Chéseaux.
In this composite image, Webb contributes the "dark columns of gas and dust shrouding the few remaining fledgling stars just being formed," while Chandra's X-ray data delivers the red and blue dots throughout the image. These are "young stars that give off copious amounts of X-rays," per NASA.
M74
Rounding out the quartet is a stunning composite image of Messier 74. It's a spiral galaxy located 32 million light-years from Earth.
Nicknamed the "Phantom Galaxy" due to its relative dimness, M74 is rather difficult to spot using a small telescope. However, Webb's powerful optics handle it with ease.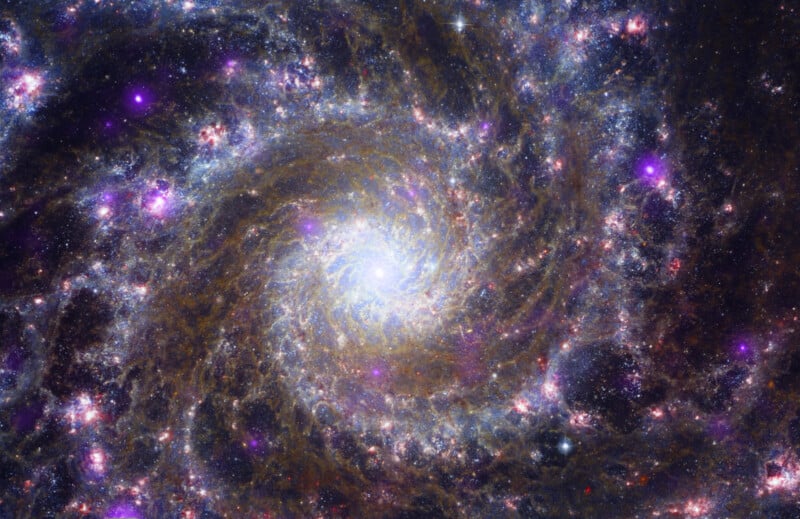 "Webb outlines gas and dust in the infrared while Chandra data spotlights high-energy activity from stars at X-ray wavelengths. Hubble optical data showcases additional stars and dust along the dust lanes," explains NASA.
In this image, purple is X-ray data, while optical information is orange, cyan, and blue. Infrared observations are green, yellow, red, and magenta. It's a wildly colorful image.
More Details
Chandra's website shows the full breakdown of observation data, coordinates, wavelengths, and image scales. The individual source images are also available in this gallery.
---
Image credits: X-ray: Chandra: NASA/CXC/SAO, XMM: ESA/XMM-Newton; IR: JWST: NASA/ESA/CSA/STScI, Spitzer: NASA/JPL/CalTech; Optical: Hubble: NASA/ESA/STScI, ESO; Image Processing: L. Frattare, J. Major, and K. Arcand