Pentax's Two New 50mm Lenses Look Similar But Take Different Photos
Ricoh has announced two new 50mm f/1.4 lenses that look very similar on the outside but are designed to produce distinctively different image renditions.
The HD Pentax-FA 50mm f/1.4 and the smc Pentax-FA 50mm f/1.4 Classic are both designed to be used with the company's K-mount DSLR cameras and while they look very similar from the outside, Ricoh says that they don't produce the same type of photo.
Both are based on the legacy of the smc Pentax-FA 50mm f/1.4 lens that was launched in 1991 for Pentax's film SLR cameras and in response to that model's rising popularity in recent years because of its distinctive image rendition that is quite different from those produced by today's digital-specific lenses, the company decided to bring it back.
The HD Pentax-FA 50mm f/1.4 is more akin to what a digital photography probably expects out of a modern lens. It uses Pentax's latest high-grade, multi-layer HD Coating that it says ensures high-contrast images have edge-to-edge sharpness. While it retains the physical dimensions of the classic 1991 50mm f/1.4, it uses a new exterior design that is akin to the company's latest DA- and D FA-series lenses so that it matches aesthetically with Pentax's DSLRs like the K-3 Mark III.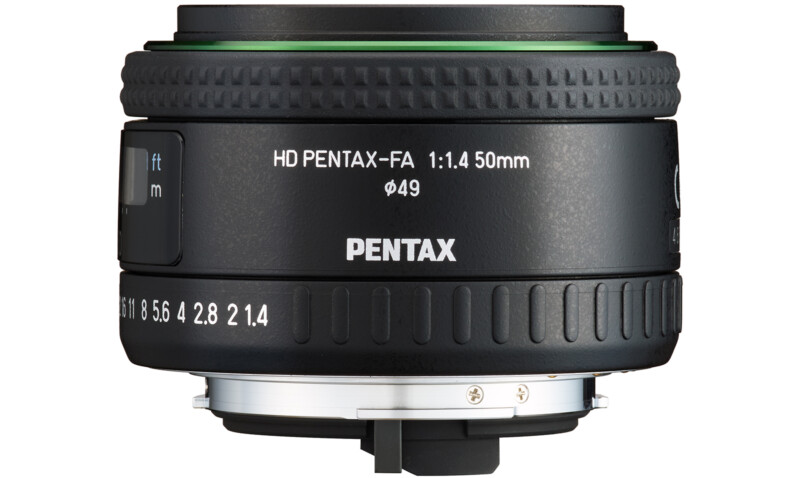 The smc Pentax-FA 50mm f/1.4 Classic was designed to replicate the look of images created by lenses that were originally designed 50 years ago. Ricoh says that when the aperture is set wide open and a subject is photographed with a strong backlight, this Classic lens produces a visual effect commonly known as rainbow flare.
"The photographer can change the position and size of the rainbow flare by shifting the relative position of the subject and light source, creating a one-and-only visual expression not available with the latest lenses," Ricoh explains. "By closing down the aperture to f/4 or smaller, the photographer can capture sharper, crisper images that are free of not only rainbow flare, but also ordinary flare and ghost images."
The lens keeps the exterior design of the original 50mm f/1.4 as well, which means it has a black matte finish and a matte-black focus ring. The green ring, a design symbol of Pentax's more recent digital-specific lenses, is absent so that it keeps a visual design philosophy more in line with Pentax's cameras from the film SLR era.
Both lenses feature the same seven element in six group optical formula and both also share an aperture range of f/1.4 through f/22 via an eight-bladed diaphragm. Basically everything else about the performance and capabilities of the two lenses is identical except for the HD Coating on the HD Pentax-FA 50mm f/1.4, which as mentioned is absent from the smc Pentax-FA 50mm f/1.4 Classic.
"Designed to be fully compatible with older K-mount digital SLR cameras and film-format AF SLR cameras, these lenses allow the photographer to retain all camera functions, thanks to the aperture ring installed on the lens body, and the mechanism designed to couple the lens with the camera's motor-driven, in-body AF system," Ricoh adds.
The two lenses are set to be available mid-June. The HD Pentax-FA 50mm f/1.4 will retail for $350 while the smc Pentax-FA 50mm f/1.4 Classic will cost $380.