Pentax Announces Development of 'Star-series' 85mm f/1.4 Lens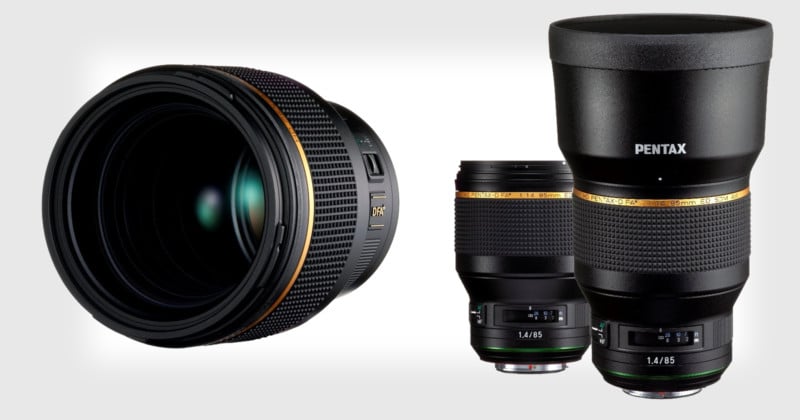 Ricoh has announced the development of its third "Star-series lens" and second Prime in the lineup: the HD Pentax-D FA* 85mm f/1.4 SDM AW. Like previous FA* lenses, this 85mm promises to deliver "perfect image quality" and "high quality workmanship" for users of Pentax DSLRs.
The FA* 85mm f/1.4 is still in development, but its optical formula and build quality promise a "no compromises" design.
Inside, you'll find three Super ED elements, one aspherical element, and a "newly-developed developed Supersonic Direct-drive Motor (SDM) to handle autofocus. Aperture is controlled by 9 rounded blades, and the whole thing is wrapped up in a weather sealed design that will keep your glass safe from dust and moisture.
According to Pentax, this lens will match the optical performance of the FA* 70-200mm f/2.8 and the FA* 50mm f/1.4—which is to say: premium. All lenses in the Star series are said to boast the following three characteristics:
Best possible image quality with uniform sharpness from the center to the edges of the image.
Large aperture with a particularly expressive image effect.
High quality workmanship and materials with high robustness and easy handling.
Of course, this combination of performance and build quality doesn't come cheap, if the 50mm FA* lens is anything to go by. While there is no official price or release date yet for the FA* 85mm f/1.4, the 50mm f/1.4 costs a whopping $1100, so we don't expect to describe this lens as "affordable" once it's officially released.
To learn more about the upcoming lens, head over to the Ricoh UK website and stay tuned for more details in the coming months.
(via DPReview)