Peak Design's New Micro Clutch is a Minimalist Camera Hand Strap
Peak Design has launched its 11th Kickstarter campaign, offering photographers the Micro Clutch, a new minimalist hand strap designed for mirrorless cameras.
"The Micro Clutch is the perfect balance of comfort and security," promises Peak Design. It also represents a return to Peak Design's roots, delivering a product to help photographers carry their cameras.
Peak Design's prior campaigns, ranging from the Capture v1 (and later v2 and v3) to the company's Travel Tripod, have raised fundraising support from $215,000 to a mind-boggling $12.1 million for the Travel Tripod.
The new Micro Clutch isn't Peak Design's first "clutch." The original Peak Design Clutch launched in 2014 alongside the Slide thanks to 9,455 backers and about $860,000 of fundraising.
Solving Ergonomic Issues Prevalent in Modern Mirrorless Cameras
The Peak Design Micro Clutch aims to solve a common issue among modern mirrorless cameras: they often lack the large front grip that was common among digital SLR cameras. This can make it more challenging for photographers to get a secure hold on mirrorless cameras, especially when using larger, heavier lenses.
The Micro Clutch supposedly solves this problem by delivering a hand pad with rotating pivot points that helps photographers keep a firm grip on their cameras while reducing the pressure of carrying a heavy setup.
Another ergonomic issue with many mirrorless cameras is that they are relatively short, and the Micro Clutch makes the camera feel a bit taller, providing more surface area for a photographer's hand.
Ease of Use
While PetaPixel's review of the Peak Design Micro Clutch is in progress, early hands-on impressions are positive.
A major potential issue with the Micro Clutch is that its requisite base plate blocks the battery compartment on many cameras. However, Peak Design has, unsurprisingly, considered this. The Micro Clutch plate has a built-in hidden magnetic tool that can loosen the base plate so that it can swivel on its axis, exposing a camera's bottom battery slot. It takes a single 360-degree turn to loosen the plate sufficiently, so it's quite swift.
Installation is also relatively easy, a process that will be covered in greater detail in PetaPixel's review.
Micro Clutch's Comfort
In limited hands-on time, the Micro Clutch strap has proven to be comfortable, thanks to its clever design and stitch-less Hypalon hand pad. The strap offers a wide range of adjustability, ensuring that photographers can dial in the perfect fit regardless of the size of their camera and hand.
"Our original Clutch hand strap has been a perennial favorite amongst our core photo customers but it's been clear that the photography industry as a whole is moving towards the use of powerful, smaller-bodied mirrorless cameras. Micro Clutch strikes the perfect balance between minimalist design and optimal comfort and grip. Not only are we excited about the product but we're happy to reconnect with our endemic photo community through a new product and our 11th Kickstarter," explains Peak Design Founder and CEO, Peter Dering.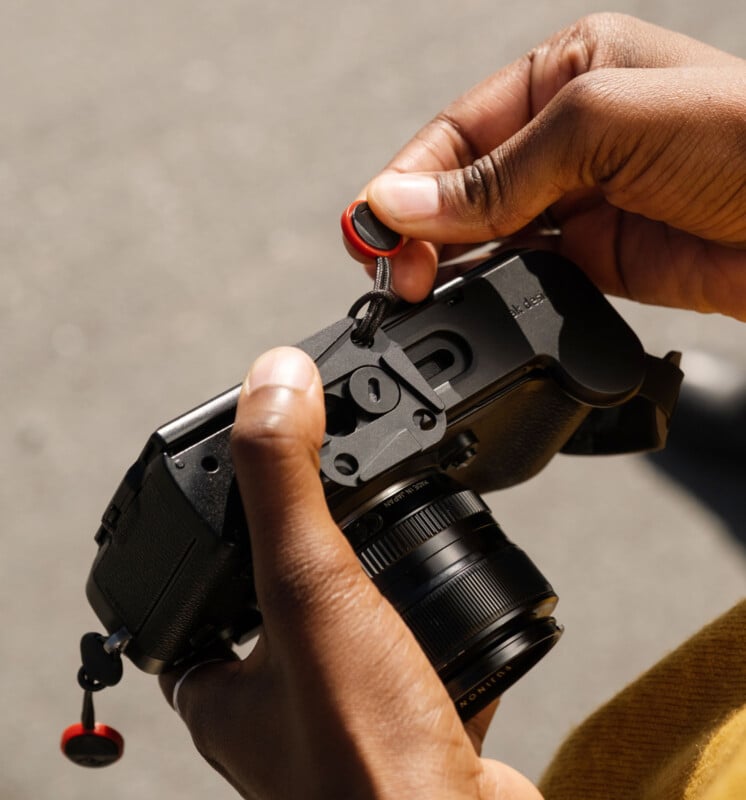 Two Different Base Plates for Photographers
Photographers can choose between two different models of Micro Clutch depending on the make and model of their mirrorless camera. An "L" style base plate is available for bodies with a built-in front grip, while an "I" base plate is available for cameras without a grip.
In each case, the Micro Clutch comes with an optional Arca-Swiss tripod plate that can be attached to the base plate to allow the use of a tripod.
Price and Availability
The Peak Design Micro Clutch is available now with a 23 percent presale discount on Kickstarter, allowing photographers to nab the new strap for $50. The eventual MSRP for direct-to-consumer sales will be $64.95. The Micro Clutch will begin shipping in early July.
---
Update: An earlier version of the article had the MSPR for the Micro Clutch listed at $70. However, a revised press release has disclosed that the MSPR will be $65.
---
Disclaimer: Make sure you do your own research into any crowdfunding project you're considering backing. While we aim to only share legitimate and trustworthy campaigns, there's always a real chance that you can lose your money when backing any crowdfunded project.
---
Image credits: Peak Design