Peak Design Strap Failures Causing Dropped Cameras for Some Photographers
Update on 3/15/17: Here's a statement provided to PetaPixel by Peak Design regarding the issue reported in this article:
The product issue described in this article was limited to a single batch of products sent out to a subset of Peak Design's Kickstarter backers in October, 2014. Upon discovering this defect Peak Design immediately halted production until they fixed the manufacturing error. No defective units ever hit retail shelves or peakdesign.com. Peak Design offered their Kickstarter backers free replacement straps, as well as a DIY fix-it-kit.
---
When you're in the business of keeping photographers' cameras secure and safe, having your product fail can lead to disastrous results. This past weekend, San Francisco photo gear company Peak Design sent out an email to some customers warning them about a newly-discovered issue with their straps.
Apparently a small percentage of straps have a component that can disengage without the photographer wanting it to, potentially leading to dropped cameras.

Reddit user SickSalamander experienced this failure first hand recently. While hiking with his Nikon D600 attached to a Peak Design Slide strap, the clip on the strap that holds the anchor in place suddenly popped out and allowed his camera to fall onto rocks. Although the camera still works, the SD card door is now badly damaged: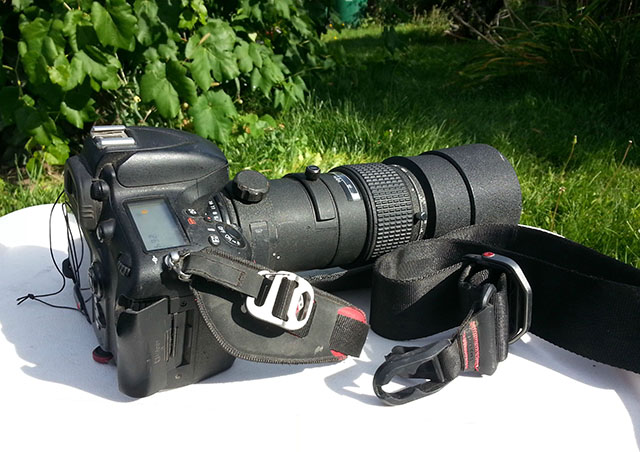 After similar reports were sent in by other photographers, Peak Design sent out an email and posted a message on its Kickstarter campaign acknowledging the problem.
The company says that the issue is when a spring in the anchor link housing is "falsely" in place when the photographer believes that it is fully locked. If this happens, the spring could pop out of place and cause the strap to disconnect.
Unfortunately for Peak Design, the company says that this nylon Anchor Link housing is the connector used at the end of ALL Peak Design straps. 50 people have reportedly filed a complaint about this failure so far, which the company claims is roughly 1% of the people who have received potentially affected straps.
If you use Peak Design's camera straps, here's what the company recommends: make sure that the hook on the spring is fully engaged in its recess when you are attaching the Anchor Links (shown above). If it's fully engaged, then you should be good to go (the only risk is if you think it's engaged but it's actually not).
Until Peak Design figures out this issue, the company is pausing fulfillment of orders. They're calling this issue their "top priority," and write,
If you're one of the ones with the issue, we will never leave you high and dry. That's simply not how we operate. We are doing, and will continue doing everything we can to fix this problem for everybody.
The first step could be to help SickSalamander get his Nikon D600 repaired.
---
P.S. If you're interested at all in the mechanical reason behind why this problem is happening, Peak Design has published a writeup with details.
---
Update: SickSalamander offers us a closer look at what happened to his clip and his description:
When the little metal clip shown in the most recent PD update pops out, the metal swings freely. It's a minor error, but it results in a complete failure of the clasp because when that little clip pops out the whole things disassembles itself and everything falls out. In my picture, the metal is out of place, but that doesn't contradict the PD story. […]

I'd say they have identified the problem that caused my failure and identified it very well. Nothing on the clip "broke", but it certainly won't stay properly assembled or hold a camera in current condition because the retaining clip is misshapen and doesn't hold.
---
Update on 11/02/15: Peak Design announced a fix and solution to this problem in October 2014, and all affected units have since been recalled and replaced.
---
Image credits: Photographs by SickSalamander and used with permission