TTArtisan's New Full-Frame 100mm f/2.8 is Both a Tilt-Shift and 2x Macro
TTArtisan has announced a full-frame 100mm f/2.8 tilt-shift 2x ultra macro lens for Sony E, Fujifilm X, Canon RF, and Nikon Z mounts.
Tilt-shift lenses are uncommon among first-party lens manufacturers especially since the transition to mirrorless. For example, Canon's line of tilt-shift lenses were considered by many to be the best out there for full-frame cameras back in the age of DSLRs, but the company hasn't produced any new ones since the transition to its mirrorless RF mount. Even back then, macro tilt-shift lenses were uncommon. Canon did make three: a 50mm f/2.8L, 90mm f/2.8L, and a 135mm f/4 L, all of which had a maximum magnification of 0.5x.
TTArtisan's new lens is a 100mm that increases the maximum magnification ratio beyond what Canon offered to 2:1 (2x), making the lens not only rare in that it is a tilt-shift for mirrorless cameras but also that it's what the company is calling an "ultra macro."
The new 100mm f/2.8 2X Ultra Macro Tilt Shift lens supports full-frame sensors on Sony E, Canon RF, and Nikon Z mount cameras and is also available for Fujifilm X-mount where it has an equivalent focal length of 150mm.
The lens allows for a +/- shift of 6mm and a +/- tilt of eight degrees — both of these movements can be applied independently. That's not a huge level of tilt and shift, but because of the focal length, it should still more than usable to correct for distortions or to apply selective focus. Additionally, both the tilt and shift functions can be rotated +/- 90-degrees to allow photography to apply the movements in a variety of directions. The lens also features a tilt-locking mechanism to ensure it stays in place during shooting.
Optically, the lens is constructed of 14 elements arranged in 10 groups, which includes five high refractive index elements which TTArtisan says are employed to help control distortion and spherical aberrations, resulting in improved sharpness. It features an aperture range of f/2.8 through f/22 via a 12-bladed aperture diaphragm which the company says contributes to a "pleasing out of focus quality that benefits the use of shallow depth of field techniques."
The front filter size is 67mm and the lens overall measures 72mm by 149mm (about 2.8 by 5.9 inches). It weighs between 836 and 854 grams (between 29 and 30 ounces) depending on the selected lens mount. It features a minimum focusing distance of 0.25 meters (about 9.8 inches) which, when combined with the 100mm focal length, allows photographers to get very close to subjects.
The front of the lens features four screw holes that are designed to hold cold shoe mounts to allow for mounting external devices like LEDs. Brackets are included with the lens.
Below are some sample photos captured with the lens: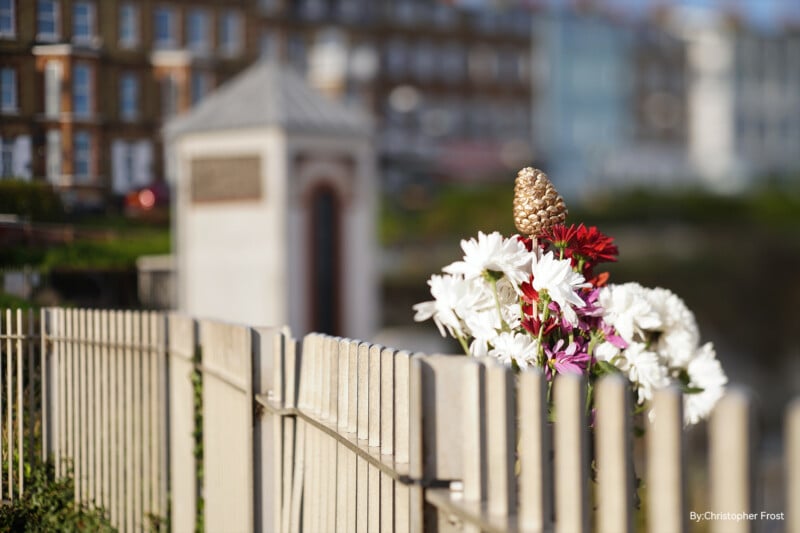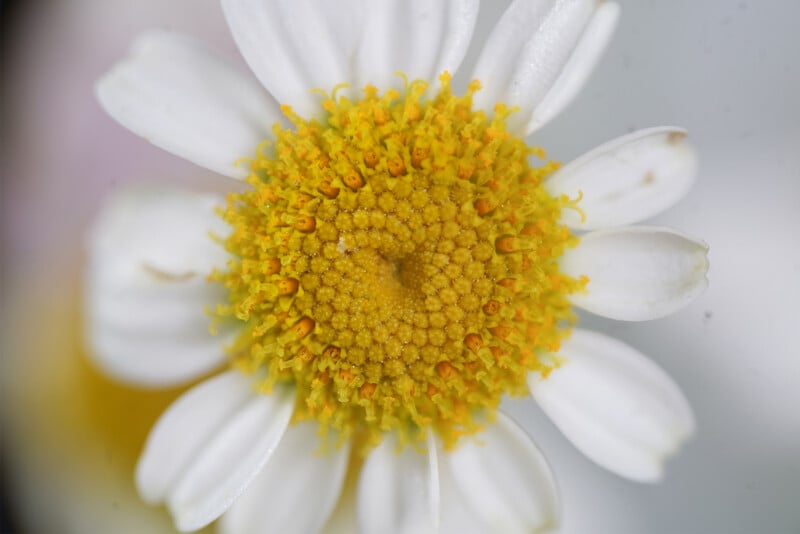 The TTArtisan 100mm f/2.8 full-frame 2x Ultra Macro Tilt-Shift lens is available for $389 — an extremely low asking price for the performance the company promises considering first-party tilt-shift lenses typically cost around $2,000.
---
Update 5/15: The original version of this story incorrectly stated Canon only made one tilt shift macro lens for its DSLRs when it in fact made three. We apologize for the error.
---
Image credits: TTArtisan