Insta360 X3 Gets a Webcam Mode and Improved PureShot Photo Quality
Insta360 has published a firmware update for its flagship action camera the X3 that adds the ability to use it as a webcam, improves the PureShot mode to allow for better and clearer photos, and makes it possible to import framing edits to a computer.
WebCam Mode
The company's most hyped addition to the X3 is Webcam Mode which, as the name suggests, enables users to use the X3 as a webcam. Insta360 says that it is ideal for conferences or online meetings since the camera has two cameras that can create a full 360-degree view of a space by mounting the X3 in the center of the table.
Users can choose from three different camera angles including either side of the X3, or a full 360 image split in half horizontally on the screen.
"Whether connecting with colleagues, clients, or friends, Webcam Mode is sure to make your meetings more engaging. Simply plug in your X3 to your PC via USB, and X3 will be registered with the PC and selectable as a webcam when using software such as Skype or Zoom (it will display as "Insta360 X3" under "Video")," Insta360 says. "Using the front buttons on the X3 toggles between Front Lens, Rear Lens, or Split-View."
PureShot Update
Insta360's firmware update also improves PureShot mode which the company says is now optimized for crisper photos with less noise and better colors. Photographers can now capture higher-quality scenes in up to 72 megapixels, and the update is supposedly most visibly improves images captured in low-light.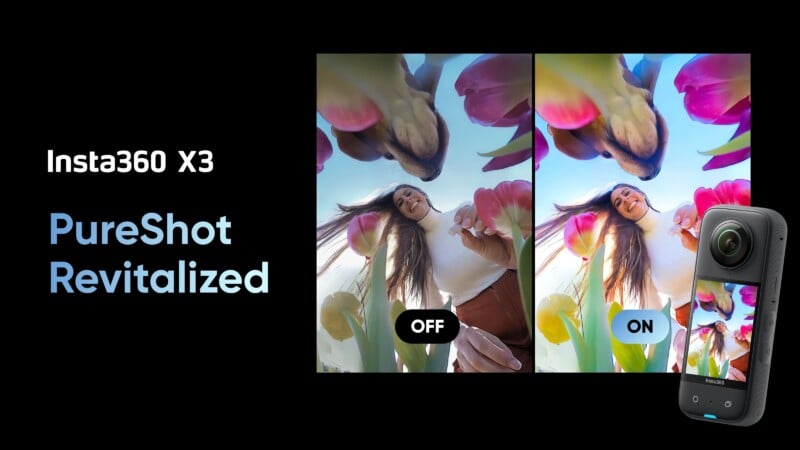 App to PC Reframing
Finally, the update adds the ability to import reframing edits from the Insta360 mobile app to Insta360 Studio, the company's desktop editing software for Mac and PC. Positioned as a "long-awaited" addition, users can now easily reframe on mobile if desired but still access higher-quality exports through the desktop software.
"This feature now unlocks popular mobile editing features, including ViewFinder, Keyframes, and Deep Track, for PC exports," the company says. "ViewFinder allows for unique keyframing by physically moving the phone and swiping the screen, easily allowing for zooming and panning of your 360 footage."
The feature works in the album editor as well, allowing editors to easily transfer projects to a computer.
"To edit, make sure your X3 stays connected to the app (rather than downloading the footage), so that the files can be transferred back to your camera's storage when you're done. Once you're happy with your mobile edits, under the 'Edit' tab, click the three-dot menu, then 'Edit data,' finally hitting 'Export to camera storage.' Once your X3 is connected to your PC, simply open the newly-made .insdata file, and continue editing in Studio."
Pricing and Availability
The latest Insta360 X3 firmware update is available for free for all owners of the camera today from the company's downloads page.