Insta360 Makes Webcams Now, Unveils AI-Powered 4K Link Camera
Insta360 is expanding its camera portfolio with the announcement of the Link, a 4K-equipped and artificial intelligence-powered (AI) webcam.
The company says the new camera is equipped with a three-axis gimbal and built-in AI algorithms that support 4K video through what Insta360 calls an "industry-leading" Type 1/2 sensor (8mm x 6.4mm x 4.8mm, 30.7mm2, 4:3 aspect ratio, 5.41x crop factor) — as a note, PetaPixel has changed its editorial guidelines with respect to how it labels sensor sizes. The one Insta360 is using here is the same size as the one found in the DJI Mavic Air 2.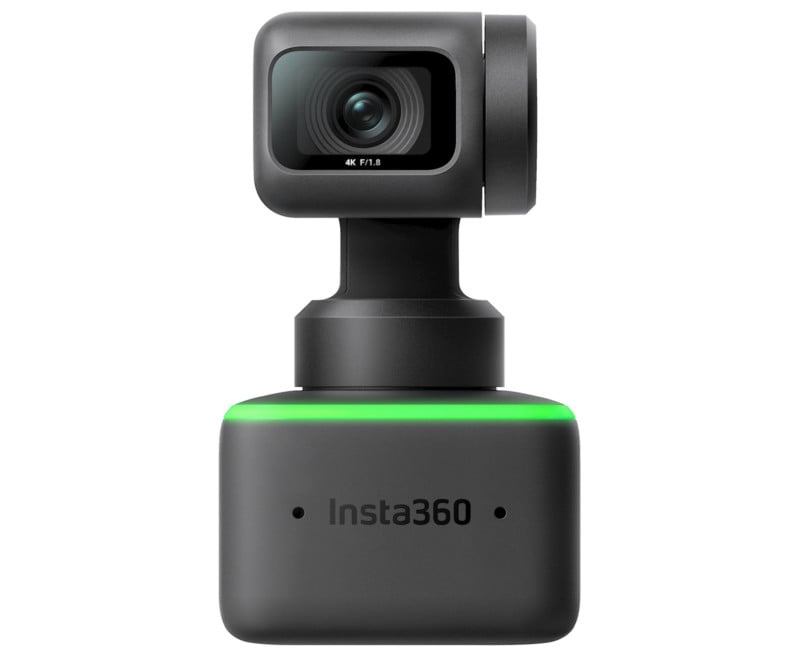 The Link has a folding "foot" that allows it to balance on top of laptops or monitors, but it also has a 1/4-inch mounting point for tripods on its base.
The company says that the AI features built into the camera allow it to go above and beyond the typical webcam. The three-axis gimbal lens allows the AI software to track a user's movement and keep them centered at all times, similar to Apple's Center Stage. Link also responds to gestures, which can be used to enable AI tracking, zoom in and out, and activate other camera modes.
Insta360 is putting particular emphasis on the quality of the 4K at up to 30 frames per second video, which the Link captures behind the f/1.8 lens. The company says there are multiple resolutions and framerates to choose from and the Link also supports full settings customization for brightness, exposure, white balance, and the like in the included Link Controller companion software.
The company says that the Type 1/2 sensor is "head and shoulders" above many other webcams on the market with similar resolutions, and says the use of the larger sensor here allows the Link to capture more detail, work better in low light, and exhibit better dynamic range than other webcams on the market.
The camera also supports a "specialized" HDR mode that Insta360 says gives greater balance between highlights and shadows in an image, which ensures that the background isn't blown out by a nearby bright light source like a window.
Insta360 says that the Link also combats missed focus with its "True Focus" technology, which uses phase detection autofocus and auto exposure technology to produce "near-instant" focusing.
The camera comes equipped with multiple specialized modes, such as a Whiteboard Mode that enhances a designated whiteboard area to give students or meeting participants a much clearer view (which is designated by whiteboard recognition markers), a Portrait Mode that allows users to live stream with an uncropped 9:16 view for optimal mobile viewing and better image quality, and an Overhead Mode that is designed to capture top-down views with the Link mounted on a table stand.
The Insta360 Link is compatible with Zoom, Microsoft Teams, Skype, Google Meet, and various other platforms on both macOS and Windows computers. It is available to order starting today for $300, which includes the webcam, four reusable whiteboard recognition markers, and both a USB-C cable and USB-C to A adapter.