The Insta360 X3 Takes 5.7K 360-Degree Video and 72MP Photos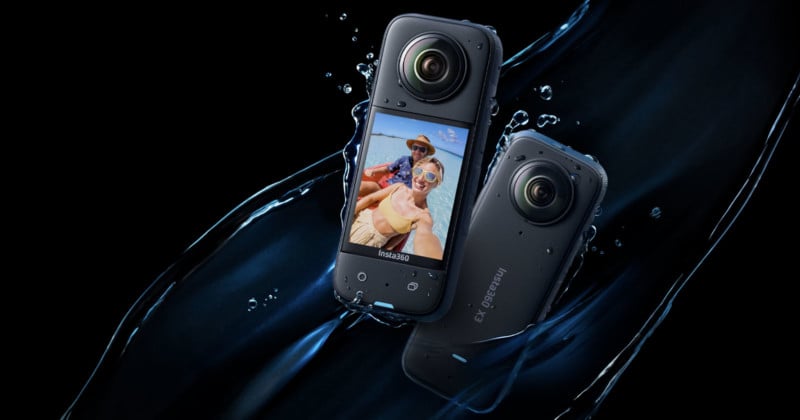 Insta360 has announced the X3, a 360-degree camera that features a larger sensor and bigger touchscreen than its predecessor as well as the ability to capture 5.7K 360-degree video and 72-megapixel photos.
The X3 boosts the size of both the sensor and display over the previous model, the One X2. Firstly, the display on the X3 is dramatically larger than its predecessor. The X3 features a 2.29-inch touchscreen that makes it much easier to see what is being captured.
Secondly, The Insta360 X3 has a dual camera system that features two Type 1/2 sensors (8mm by 6.4mm by 4.80mm, 4:3 aspect ratio, and a 30.70mm2 area) — the same size that is found on the DJI Mavic Air 22. That's an increase over the Type 1/2.3 that the X2 used and is able to capture better quality 5.7K 360-degree video as well as massive 72-megapixel photos.
Insta360 positions the X3 as a camera that works like a 360-degree capture device but also can function like a traditional action cam thanks to its ability to go down to single-camera mode and shoot sharp, ultra-wide 4K video. It can also use an ever wider 170-degree maximum field of view mode that can record at up to 2.7K resolution.
The camera comes with what Insta360 calls Active HDR mode, which uses an algorithm to stabilize action footage, minimize ghosting, and provide higher quality details over other action cameras while avoiding underexposed areas.
When in 360-degree capture mode, the X3's dual lens design enables the "invisible" selfie stick look where the stick or tripod is automatically stitched out of the footage.
Insta360 says that the X3 has the most megapixels ever in a 360-degree action cam and because of that it can capture 72-megapixel stills as well as 8K 360-degree timelapses. It also supports "bullet time" effects which has gotten a boost to its resolution and frame rates to 4K at 120 frames per second (FPS) and 3K at 180 FPS.
The X3 is waterproof down to 33 feet (10 meters) out of the box, but lens guards are available for additional protection.
As has become expected of Insta360 cameras, the company's mobile app allows for AI editing that makes it easy to create content with footage captured on the X3. It allows creators to shoot a full 360-degree video and edit it down to specific angles and looks after the fact, streamlining the process and making it easier to create unique camera effects.
The Insta360 X3 is available to order starting today for $450.