The Vertigo Lens Turret Lets You Mount Three Lenses at the Same Time
The Vertigo Lens Turret is an adapter that fits onto a camera's lens mount and allows a filmmaker to effortlessly switch among three different attached lenses, a design that is set to "get the cinema world spinning."
The Lens Turret is actually a variation of a design first introduced in 2019 as the MultiTurret. Four years of prototyping and development later, and the strange rotating device's founder Ian Kerr says it's finally ready for prime time.
This new version allows cinematographers to easily switch between up to three EF or PL lenses that are mounted onto "select" cinema cameras. Unfortunately, the system will only work with non-mirrorless optics but that still leaves filmmakers a lot of choice. The company says that this makes it a perfect addition for documentary or factual filmmakers who would find that level of flexibility useful. Being able to quickly zoom in on an area while using exclusively prime lenses is, otherwise, impossible.
The concept isn't entirely new. Similar designs have been used on cameras before, including from Leica.
Kerr says he's tested the system on a large number of cameras, although only a select number will be supported in mass-produced versions at launch (more on that below). On E-mount cameras, the Vertigo Lens Turret can be mounted or removed within five seconds. On Arri and Red cameras, the system is bolted to the camera, and installation or removal is closer to two minutes (via four screws).
"I've spent the past four years beating the s*** out of the prototype," Kerr says.
The company says that the Vertigo Lens Turret has been used to capture scenes on The Amazing Race (CBS), Modern Marvels (Discovery), and The Nature of Things (CBC) as well as several unnamed documentaries.  
"Cinematographers are a grumpy, demanding bunch (I should know) so it was important to find out where the Vertigo works at its best," Kerr adds.
"I've tried and failed to destroy our prototype and have been delighted with the results, particularly in low light and in demanding factual scenes where I want a cinematic look. It's time to share the Vertigo with our very patient supporters and take it to the next level together, tweaking its features and then releasing turrets into the wild." 
The actual turret unit itself, sans any lens, isn't particularly heavy and comes in at a reasonable 2.6 pounds. Vertigo also notes that the lens, even when equipped with three primes, is smaller than one long cinema zoom lens.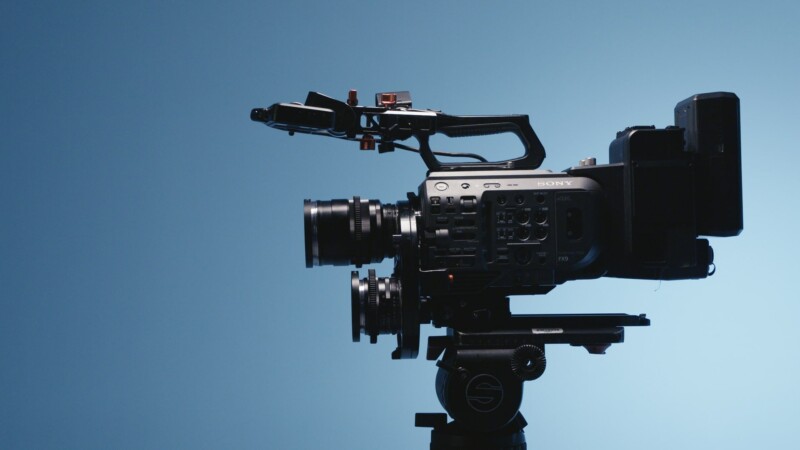 Additionally, it allows filmmakers to customize the zoom lengths and gives the opportunity to use wider focal lengths than are typically found on high-end filmmaking zoom optics.
Vertigo says the first Lens Turret will work with the Sony FX9, the Venice, and the FS7 Mark II cameras, but when the Kickstarter launches in June, there will be options for backers to help decide the next compatible model, which will be a choice between the FX6, an ARRI, a RED, or Canon RF cameras.
The Kickstarter launches on June 2 and the company did not provide any information on how much it intends to charge for the Lens Turret nor how soon it thinks it can deliver to backers — that info will likely have to wait until the crowdfunding campaign goes live.
---
Image credits: Ian Kerr, Vertigo Lens Turret