The Barely Two-Year-Old Fujifilm X-E4 Appears to Have Been Discontinued
Fujifilm appears to have discontinued the X-E4, the mirrorless 26.1-megapixel compact camera it brought to market in March 2021.
The camera was announced in January 2021 but didn't hit store shelves until the following March when it was available for $850 as a body only or paired with a 27mm f/4 R WR lens for $1,050. At the time of publication, Adorama still listed the camera at full price despite not having any stock.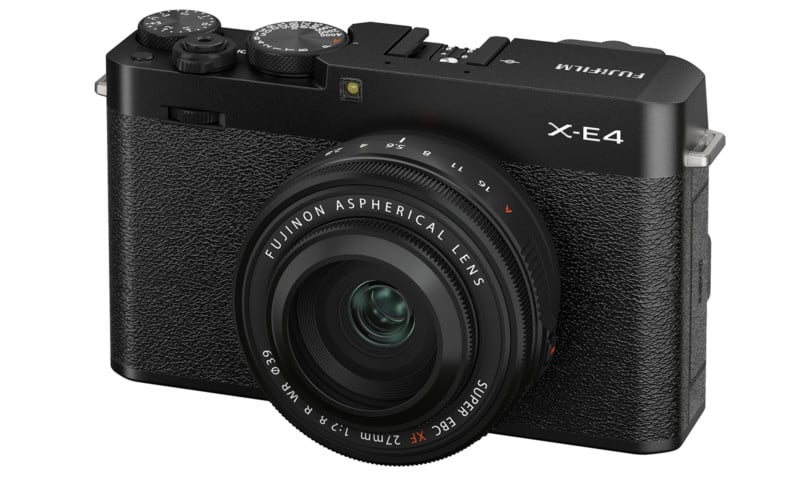 Speaking of dealers, while Fujifilm still has its X-E4 landing page available on its website, both B&H and Adorama list the camera as either discontinued or "temporarily not available." It is still purchaseable on Amazon, but the kit version is no longer an option.
On that note, a look at historical pricing for the X-E4 shows that outside of one moment last December, the camera's value stayed relatively consistent at $850 since it became available. Strangely though, it jumped to well over $1,000 on December 3, which perhaps is why Amazon proudly displays the current price is actually 23% off. What a deal!
PetaPixel reached out to Fujifilm for comment or confirmation regarding the state of the X-E4, but the company did not respond ahead of publication.
The X-E4 was billed as a camera with a "rangefinder design" and was also the lightest and smallest camera body in the company's lineup, tipping the scales at a paltry 0.80 pounds. It featured Fujifilm's fourth-generation sensor and processor as well as a tilting rear LCD screen that was built to not protrude from the rear of the body very far so as to keep the camera as small and compact as possible.
Fujifilm's design choices were clearly optimized for simplicity and ease of use. The control dials were concentrated on the right side of the camera and the command dial featured a prominent Program Mode option, which differs from other cameras from the company's line that can be difficult to ascertain how to enter Program Mode.
In a hands-on first impressions review, Ihor Balaban was positive regarding the camera's performance.
"With its compact rangefinder styling, and performance that is nothing to scoff at, the X-E line lives on, and ought to be pretty popular amongst Fuji faithful, and new photographers looking for a feature-packed retro-looking camera," he wrote.
Those photographers who have been on the fence about the X-E4 should consider picking one up where available, as it's not clear if any new stock will be on shelves for much longer.