Mercedes' New E-Class Has a Selfie Camera for Photos, Videos, Zoom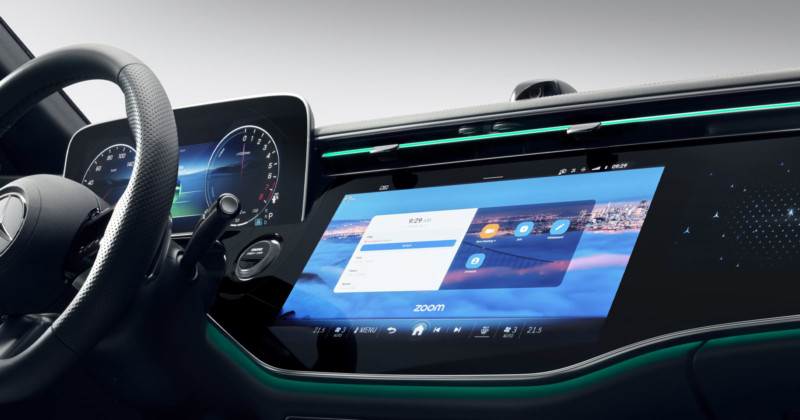 The new Mercedes-Benz 2024 E-Class sedan is laden with technology in the cabin, including a dashboard-mounted selfie camera that allows owners to use their vehicle like an in-car office.
As part of what Mercedes-Benz bills as significant digital innovations in the new E-Class interior, the new luxury car will feature an "immersive entertainment experience" that is powered by a powerful central onboard computer. The company says that this forms a better networking experience with improved performance that can transmit data extremely quickly.
The new E-Class, therefore, acts more like a computer than what is typically expected of a car's "infotainment" system to the degree that Mercedes-Benz believes it can function like a mobile office.
Thanks to a built-in selfie camera and a communication module that allows for 5G cellular connectivity, the company indicates that it would be possible to use the car to take conference calls as seamlessly as an office desk experience. In a promotional video, below, Mercedes-Benz shows a user downloading a conference calling service (both Zoom and Cisco WebEx are shown) and answering a call using the built-in dashboard camera.
The specifics of that camera — such as its resolution and image sensor size — were not shared in the company's official press materials, though it probably will provide an experience that is similar to what is available on most computer laptops — and will be perfectly serviceable for most video calls.
Mercedes-Benz does seem to indicate that a driver would want to use that camera for more than just video calls though, as the company says that it is available for standalone photos and videos and it also shows the ability to fire up TikTok on the dash. For those worried about safety, Mercedes-Benz says the camera can only be activated when the E-Class is stationary and in park.
Additionally, while the infotainment system can be used to watch streaming video, the company says that it has implemented an "advanced camera-based visual shield function" that it claims reduces the screen's brightness and thus reduces the risk of distraction for the driver. It is likely assumed that the content being streamed isn't by the driver, but by a passenger.
The 2024 Mercedes-Benz E-Class Sedan will arrive at dealerships in the United States "later" in 2023.
---
Image credits: Mercedes-Benz. European model shown.