SmallRig's RC 350 and 450 COB LED Lights Look Like a Huge Improvement
SmallRig has been aggressively pushing into the video lighting market with its series of LED RC lights and shows no signs of slowing down with its RC 350 and RC 450 COB LEDs.
These new lights come hot off the heels of the RC 220 and takes aim at the more high-end professional market by offering a much more powerful system that employs an "AstralTech" optical system which the company says provides over 35% greater output than comparable competitors. The B-series (Bi-Color) of the lights offer color temperature control from 2,700K-6,500K, and the D-series (Daylight) produces a "critically precise" 5,600K output.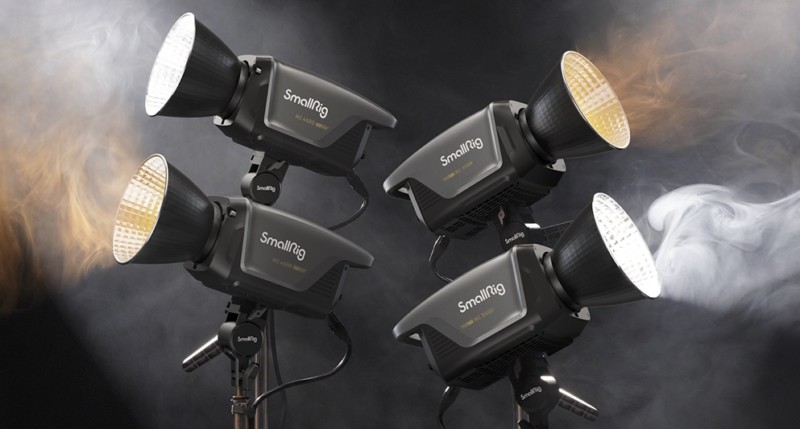 According to the company, the new "AstralTech" optical system combines larger, higher powered LED chips with a custom-made 97% high transmission multi-coated front glass and a COB bead design arrangement to provide better and even color mixing. The new, more aerodynamic shape is inspired by aircraft and features a metal housing and fire retardant materials to make the lights more aesthetically pleasing, and durable, and the arca-swiss quick release design for the mount makes storage and packing fast and easy.
Comparing these new lights to the previously reviewed RC220, the output of the RC350 and RC450 is noticeably quite different and output 350W and 450W, respectively. Additionally, the new system comes with an upgraded "Control Experience" due largely in part to the expandable control panel/DMX control unit.
The new lights can connect to an external control panel that allows users to have easy access to critical settings without having to readjust their lights on set during a shoot. Additionally, users can also connect the new Lights to the SmallRig "SmallGoGO" mobile app and control the lights through there should accessing the physical light or its controllers prove difficult.
SmallRig says the new lights weigh 18.83 pounds (8.54 kilograms) each and offer an accurate color rendering CRI of +96 and TLCI of +97 with power outputs at 115,000 lux and 149,000 lux for the RC 350 B and D respectively, and 121,000 lux and 172,000 lux for the RC 450 B and D respectively (tested at 1 meter / 3.3 feet with hyper reflector).
The system also boasts the ability to ensure noise-free video recording with its dual ultra-quiet cooling fans. The company says that the loudness of sound tops out at between 28 and 32 decibels.
It appears the company has taken most criticisms of its previous generation of lighting to heart with the massive improvements made in the RC350 and RC450 lights, including an improved light stand mount and power AC adapter with gallium nitride chip that improves overall power efficiency for less heat generation and more compactness.
Pricing and Availability
The new RC 350 and RC 450 Lights from SmallRig are available now starting at $799 for the RC 350D and $1,099 for the RC 450B. The Light Control Panel is available for $79.