Fjorden Grip Review: Convenient One-Handed iPhone Photography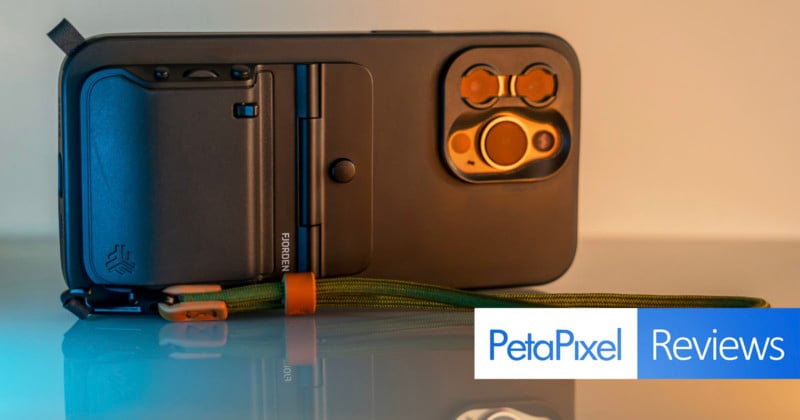 The smartphone is the most common camera anyone holds across the world, yet it's also the most unwieldy in one hand. That's where the Fjorden Grip steps in.
Fjorden is a Norwegian startup that first launched the Grip on Kickstarter in 2021, and has since begun selling it on its own website starting at $180. The debut iteration has a case for the iPhone 12 Pro and Pro Max and up to the current iPhone 14 Pro and Pro Max, although it works with older iPhones, as long as they're running iOS 15 or iOS 16 since the Grip can be attached to these older iPhone models with the Adhesive Adapter plate that's included with the Fjorden Grip.
At first glance, the Grip may appear basic in both purpose and practicality, but this system proves versatile in a variety of situations. Plus, there's a Fjorden app to shoot with that focuses on manual controls along with support for other key third-party apps.
Design and Build
As its name implies, the device is a grip made up of two parts with the intent to simplify one-handed shooting with an iPhone. The case has three cutouts: one in the middle for the Grip to latch on, plus two in the lower corners to anchor the grip in place. While the case supports MagSafe accessories, the Grip itself doesn't magnetically attach because the spring-loaded latch already does that. Just release it when you want to take the Grip solo.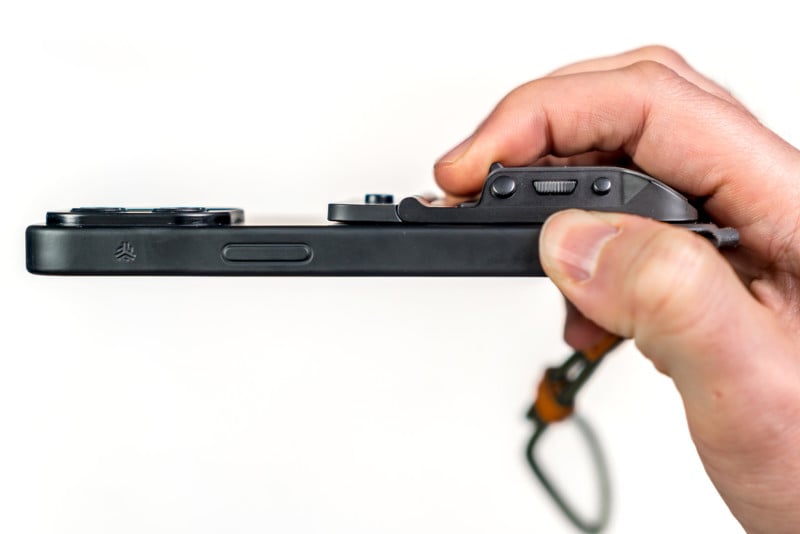 The Ultimate bundle will include a MagSafe Adapter that adds a thumb rest, tripod screw mount, and detachable cold shoe slot, along with the ability to mount the Grip on any MagSafe case, like one from Apple, Moment, and Peak Design — not just Fjorden's. The Pro bundle includes a choice between the adapter and case, but not both.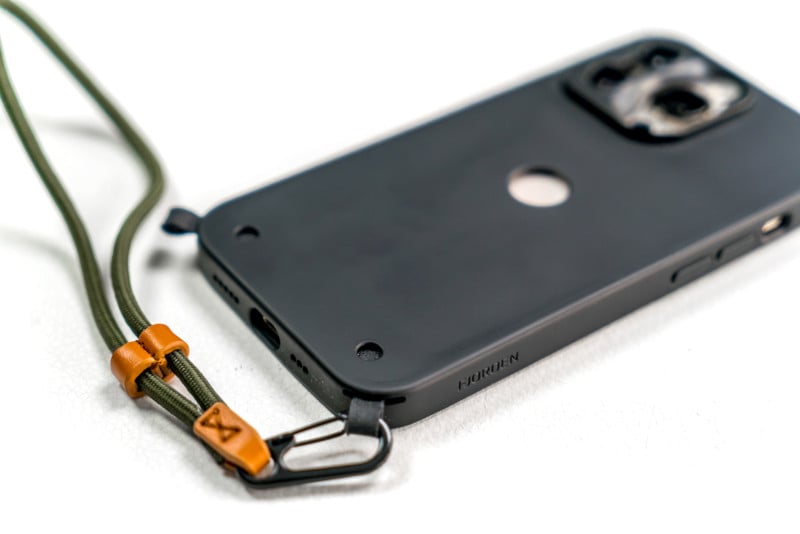 It's not what I would consider a rugged case — the word "sturdy" may be more accurate, though it's not one I would trust to cushion a rough fall. Thankfully, there's a wrist strap for that. Fjorden includes one (either green or black) in both the Pro or Ultimate bundles. It attaches to either corner nicely, except I'm not sure how much punishment the fabric loops can take in the long run. As a low-cost insurance policy to keep the phone from descending to unforgiving ground, however, I was glad it was there. I also appreciated the IP54 protection knowing the Grip wouldn't crap out with a little rain or snow. The Pro and Ultimate bundles also come with a protective case for the Grip that's small enough to pocket or latch on to a belt or bag.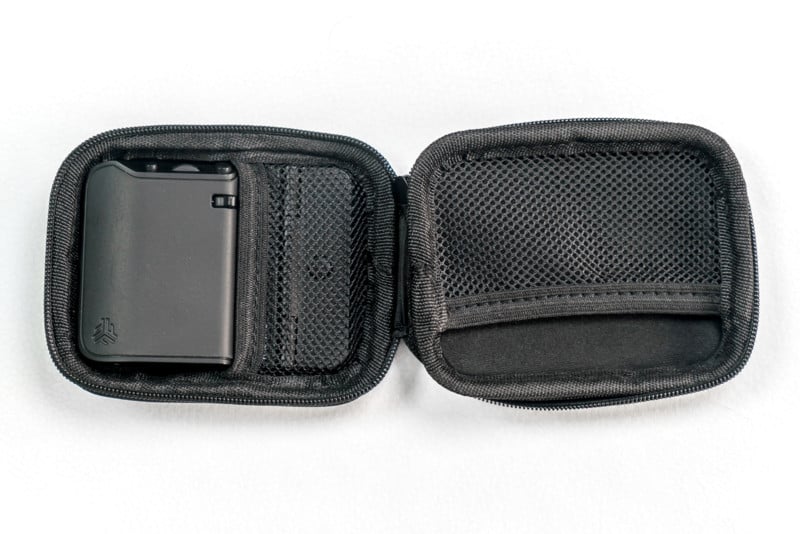 In any case, Fjorden put some thought into both ergonomics and button placement for the Grip. A two-stage shutter feels like a real camera, where you half-press to lock in focus and fully press to snap a photo. A dial lets you adjust manual settings, like shutter speed, ISO, exposure, white balance, and focus. Click the dial and you can cycle between those settings without having to touch the screen.
The smaller multifunction button acts as a shortcut to launch or disable a specific feature. For instance, it defaults to switching between the rear and front cameras, but you can also set it to toggle either the grid, focus peaking, or RAW on/off. A small lever below the shutter controls zoom, easily letting you switch to the ultra-wide or telephoto lenses without using your other hand.
Surprisingly, the Grip doesn't have a rechargeable battery, so there's nothing to plug in. Instead, it runs on a 3V CR2032 coin battery that Fjorden founder and CEO, Victor Henning, says will last up to 12 months. I grew to like this approach because it gave me one less thing to worry about charging before going out to shoot. Replacement batteries aren't expensive, and a year's worth of usage is pretty good value.
Setting Up to Shoot
The Grip pairs with the phone via Bluetooth, a simple and straightforward process. It's also how the Fjorden app sends firmware updates to squash bugs and add new features. I mentioned earlier how the Grip can go solo, if necessary, and the Bluetooth connection is exactly why. If you've got the phone in a tight angle, on a tripod, or you want to steer clear while taking a long exposure, the Grip effectively becomes a remote shutter.
That also means it has limited functionality with Android phones. There's no Fjorden app on Android, but using the standard camera apps on those devices should let you at least capture an image using the Grip remotely. I tried it with a Google Pixel 7 Pro and it worked. I couldn't control anything else, mind you, but at least it could do something.
Another cool element is compatibility with other accessories. Fjorden's case uses the same type of insert Moment does, and having one in hand, I swapped it out for Moment's drop-in lens mount and took some shots with its lenses. I could charge the phone using a MagSafe or wireless charging pad. With the Grip off, I attached Shiftcam's SnapLight, which I could see working well for selfie photos or video, since holding down the shutter can start a video in Apple's camera app. The only issue is you have to keep holding the button down to keep recording, so it's not practical for anything other than very short clips.
App integration is key, and should get better if Fjorden finds some success with the Grip. ProCamera, Obscura, and Pro Camera by Moment already work with it, and you can assign full control to the manual settings in those apps. Fjorden says that while it has been collaborating with Moment on compatibility with their lenses/lens mounts, unfortunately, the Moment Pro Camera app doesn't integrate with the Fjorden Grip and as far as it is aware, that isn't on Monment's roadmap.
That is not to say that Fjorden's app is lacking. You can shoot in Auto but with manual settings available, you probably wouldn't want to. There are no special modes — though a Portrait one is coming down the line (as of the publication of this review) — so you won't get the kind of bracketing common in night and low-light shooting. Settings offer good flexibility, like shooting in RAW or Apple's ProRAW as well HEIF or JPEG. Shooting in those formats will produce results on par with Apple's app in the standard photo mode.
There is also focus peaking plus a few different grid line options. A more recent firmware update added EV step size settings to customize how much the EV shifts (0.3, 0.5, 0.7) each time you rotate the dial. There were other tidbits Henning had to point out that I didn't realize were there at first. For instance, long-pressing the function button toggles between manual and auto, while long-pressing the dial will set whichever setting you're on in manual mode to auto.
Raise Your Hand
It was a pleasure shooting with the Grip for the simple fact I rarely had to brace for a shot with my other hand. I could not only capture typical landscape and portrait orientations, but also was able to get creative with angles and perspectives. I'm tall, so extending my arm any which way gives me some latitude, like when taking shots from a distance at a concert.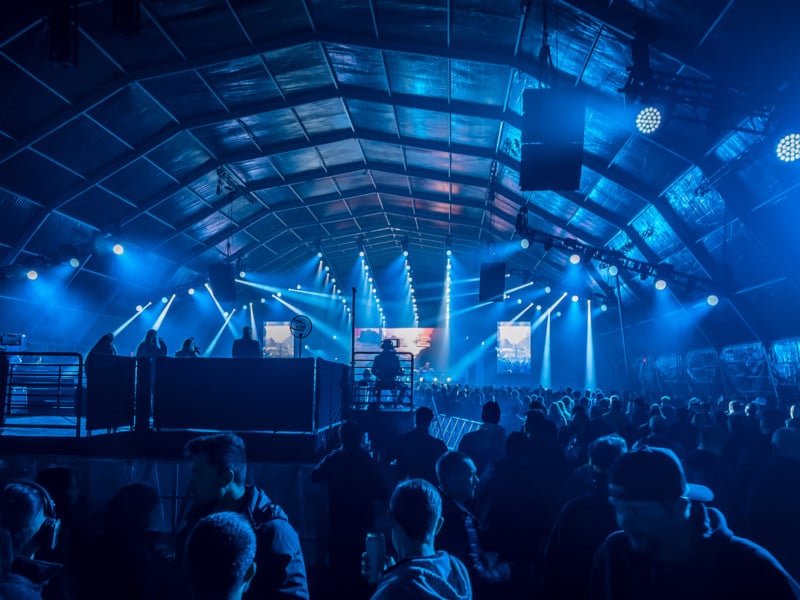 Focusing is still a two-handed affair, unless your thumb is long enough to reach out across most of the display, but that's fine if you've already locked it in. Quick snaps or composed images feel similar because the phone is almost like an extension of your arm when your hand is firmly on the Grip. It feels far more natural to single-handedly shoot in landscape over portrait, only because you have to twist your arm to go upright. I got used to it after a while, though it never felt completely natural unless I turned the phone upside down.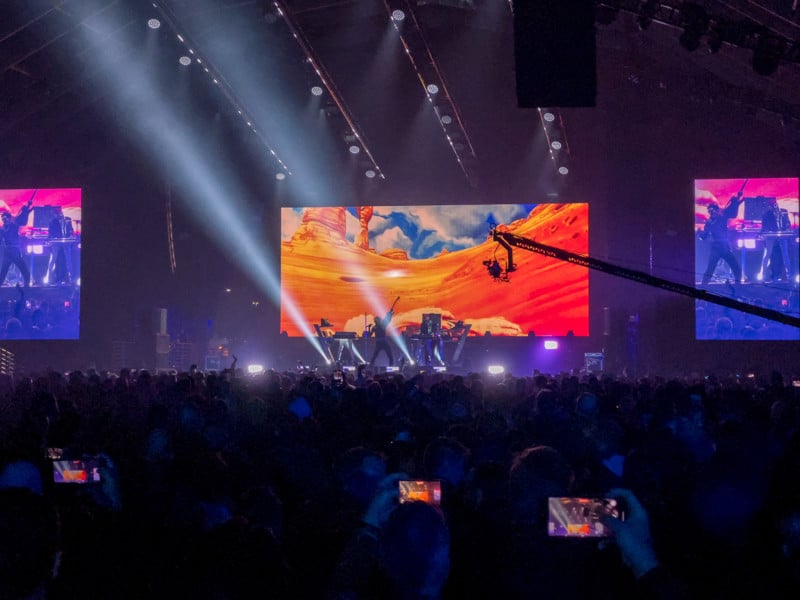 Despite that, it's not without its bugs, such as when the Grip shuts off on its own after five minutes of inactivity. Pressing the shutter is designed to wake it up and reconnect, but the problem I ran into is that the app wouldn't always respond after doing so. I could snap a shot in manual, yet not have any way to change composition settings because the dial wouldn't do anything. I tried closing the app and relaunching it, but that only worked when I also opened up the battery tray and closed it again, effectively rebooting both the software and hardware.
This problem didn't happen all the time, just often enough to render my "fix" an impractical solution, especially in the field. Fjorden will have to remedy that going forward.
At the same time, I'd like to see Fjorden consider allowing users to create and save their own manual presets as a means to speed things up. If I had good settings for certain conditions, it would be nice to at least start with those parameters on a shot later on. I too often had to fiddle with the dial to redo controls when I could've had a base to jump from.
What About Android?
Henning told me supporting Android was in the "longer-term road map" but that it's challenging to develop an app of similar caliber for a fragmented ecosystem. The features and APIs differ between the various manufacturers, which is also why Moment ceased working on its own Android camera app. It's hard to say if that will change anytime soon, but Google has acknowledged the problem and trying to make integration easier through the Camera HAL architecture.
Convenient, Useful, and Still Improving
The Fjorden Grip is a well-designed, useful tool for mobile photographers that delivers on the promises it made back when it first came to Kickstarter. It's easy to use, makes shooting one-handed much easier, and is adaptable to different workflows.
Fjorden is doing well by consistently updating the firmware, which is a very good sign and bodes well for what's to come. It's not as adaptable for video, but stills shooters and street photographers should feel this thing gives them a proverbial helping hand.
Are There Alternatives?
Shiftcam has two that stand out in the SnapGrip and more elaborate ProGrip. They're both MagSafe-compatible and play nice with cases. There are few mechanical elements involved, though you will need to recharge either grip and associated accessories when they run out of juice. They're also pretty agnostic, working just fine with Android devices, too.
The Pictar Pro takes a very similar approach, with a slimmer frame and understated form factor that conjures up some retro vibes. If you want to go cheaper, the Adonit PhotoGrip Qi keeps things pretty simple with a nice design and wireless charging to boot. It also comes with a tripod to help prop it up when needed.
Should You Buy It?
Yes, for those who find value in what it offers, even though it's a bit pricey in the $180 to $240 range.
---
Update 1/12: Corrected that the Grip will work with a wider range of iPhones and added clarification on app integration with Moment.