The Fjorden Grip Adds Full-Size Camera Functionality to the iPhone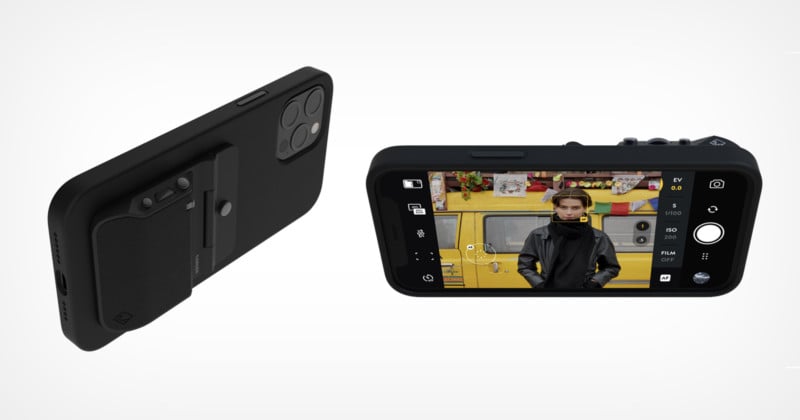 Drawing inspiration from classic rangefinder cameras and DSLRs, the Fjorden camera grip attaches to an iPhone and transforms it into a camera that mimics the feel of a full-size DSLR or mirrorless with more functionality.
While many iPhone camera add-ons either use hardware or software to enhance image quality, few — if any — products actually make the process of using the iPhone more like using a full-size camera. Fjorden is aiming to change that and is designed to make an iPhone into a more powerful compact camera.
Developed by Dr. Victor Henning, Fjorden is touted as the only pocketable and professional iPhone grip that, through a patent-pending design, provides all-day utility as a camera grip and as a fully adjustable kickstand. The concept of Fjorden leans heavily into the success of the iPhone as a photo capture device, as the company says that the smartphone is already capable of shooting professional-quality images. The problem though is the utility of the form factor which isn't as conducive to photography as full-size cameras.
Fjorden changes that with a grip that allows for what it says provides more speed and precision, grants fully customizable physical camera controls, is compatible with professional iOS camera apps and lenses, and has up to 12 months of battery life (through a standard CR2430 coin cell) and remote-controlled shooting via Bluetooth. Fjorden says it can offer all this in an "ultra-compact, pocketable form factor."
To add to that utility, the grip also serves as a fully adjustable kickstand for taking video calls and watching video content.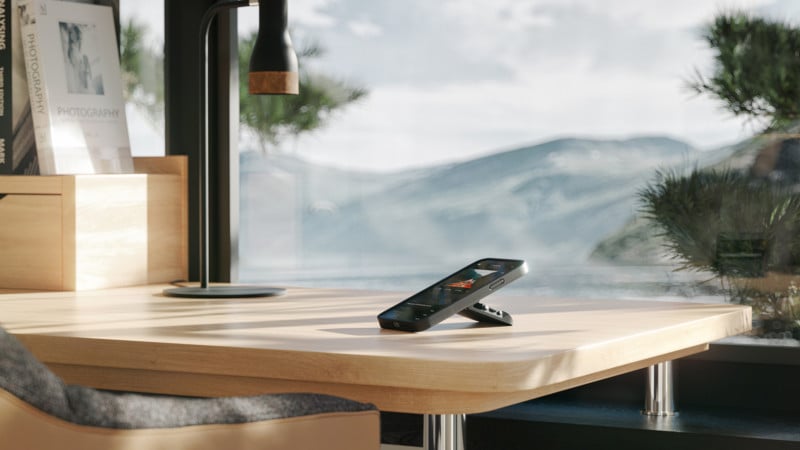 Fjorden's design is tightly integrated with the camera hardware and iOS software. Just like with full-size cameras, users can shoot in fully automatic mode or fully manual mode using the Fjorden iOS camera app. The company says that the app offers full-size camera focusing and object-tracking modes and lets photographers take manual control of every photographic parameter in a fully customizable interface. The Fjorden grip provides a two-stage shutter button — half-press to focus, full-press to release — a zoom lever, and customizable dial and function buttons to control shutter speed, ISO, white balance, Portrait Mode, and Film Simulations among other options.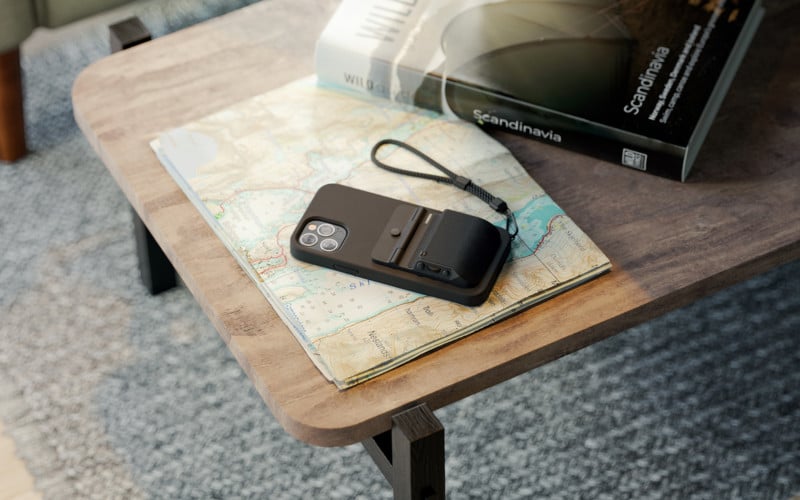 The Fjorden camera app works with all iPhones that run iOS 14 or newer and can shoot in RAW, ProRAW (depending on iPhone model), JPG, and HEIC. It also features Grids, focus peaking, timers, different flash modes, and its developers are working on more. The Fjorden isn't only compatible with its own app, but also the ProCamera app — rated as one of the best iPhone camera apps — as well as the Obscura app and Moment lenses.
It is 10.7mm (0.42 inches) deep and, when combined with an iPhone 12 Pro and a case, has the same depth as an Apple AirPods case. With its quick-release clip, Fjorden snaps in and out of the Fjorden iPhone MagSafe case and its universal adapter plate can be attached to the back of any iPhone. Fjorden says this design makes it a product that will retain its relevance even after users upgrade their iPhones.
The Fjorden iPhone grip has launched on Kickstarter with pledge options starting at $129 — which the company says is a discount of $50 off the final price of the Fjorden Grip and Back Plate Adapter. The Fjorden Grip and Fjorden iPhone MagSafe Case (iPhone 11/12 series) pledges begin at $149. All pledge options can be viewed on the company's Kickstarter page.
---
Disclaimer: Make sure you do your own research into any crowdfunding project you're considering backing. While we aim to only share legitimate and trustworthy campaigns, there's always a real chance that you can lose your money when backing any crowdfunded project.