Hobolite Mini and Avant LED Review: Uniquely Designed, Quality Lighting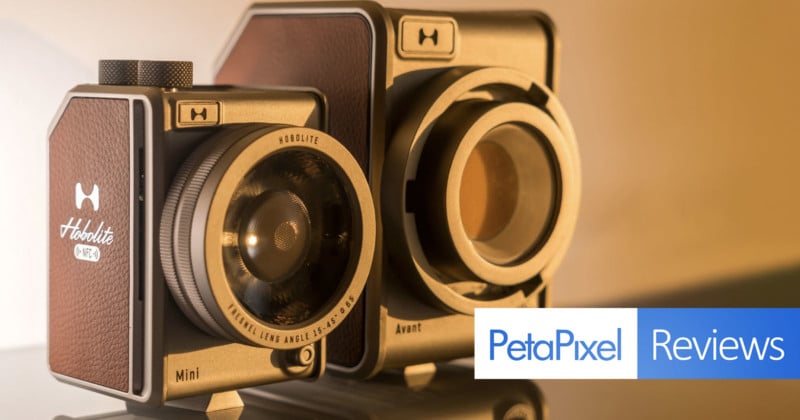 LEDs have changed a lot about how studio photography works, and Hobolite believes its lights can be equally accessible to both amateurs and professionals alike.
Studio lighting can be a mystery to photographers who either haven't learned or haven't used the kind of gear necessary for a decent shoot. I find myself somewhere in the middle — neither a beginner, nor a seasoned pro, despite being a photographer for many years. Part of my challenge has been finding both the equipment and studio space to use it in.
Hobolite's products address those things in practical ways. Starting with the Mini, a small 20W light with a built-in Lithium battery and fan cooling system, plus an LCD screen and knobs to control output and intensity. The Avant is a step up, hitting 100W with a quiet fan, larger LCD, and more mounting options. These were the two units I got to review, albeit pre-production ones that came with some bugs.
The Hobolite Pro — which I haven't yet had time with — is clearly aimed at professionals, with an equivalent 300W of light, a fan system, and even a detachable LCD screen that you can slide onto a separate battery. It appears to be more versatile and adaptable with other accessories, but having not tried it out, I don't know how extensive that is.
Design and Build
I haven't always associated style with lighting gear, but it was hard not to notice it with the Mini and Avant. Faux leather veneers meet aluminum and carbon fiber to form sturdy frames that feel like holding quality in your hands. The screens are vibrant with larger fonts for the main controls to complement physical dials to adjust settings. Given its size, the Avant also has buttons to shortcut to specific menus or features within the interface. The Hobolite app also plays a critical role with all that, which I'll get to further down.
Both lights use a V-mount to easily secure them onto the compatible handle, clip, and tripod that come in the kit with them. Well actually, the tripod has a standard 1/4-inch thread to use with just about anything. But put the V-mount handle in between, and it's easier to remove the light when you need to. Hobolite also throws in a V-clamp to hold the power supply so that it doesn't dangle and weigh down the cable plugged into the light.
The Mini doesn't come with the handle or clamp. Instead, it gets ballhead cold shoe and ballhead tripod adapters, along with a mini tripod, as part of the "Creator Kit." The "Standard Kit" for both lights include a barn door, diffuser dome, honeycomb, and color gel filters. The barndoors lock into place by tightening the onboard screw, enabling the others to magnetically attach to the front lens.
Battery life on the Mini was about an hour when set to 60% power — as you might expect, ask it to go brighter and it'll go for less, and set it dimmer and it'll last longer.
I can appreciate a 240mm tripod that collapses into a much smaller size, and is made with lightweight carbon fiber that feels nice and durable. Even the carrying case that it comes in is classy. The Creator Kit includes one with the Avant to go with the softbox that comes as part of that package. In effect, you're getting a whole light setup in one kit that takes little time to fully deploy.
Getting Started
Neither light is especially heavy or cumbersome, so they would fit in well in varying settings, be it expansive studio space or cramped quarters. Big or small subjects also don't really matter, either. The intensity coming from both lights can be deceptively low until you crank it up a bit using the dials. There's not as much of a learning curve here, as one dial controls intensity while the other handles color temperature (2,700 to 6,500K).
It was easy to set up the softbox and lock it into the Avant, but it did feel somewhat proprietary. I asked Hobolite about adapters or overall compatibility, and was told the Avant was built with a "mini-Bowens" mount to make it work and "maximize the optics of the light." A full-sized Bowens mount, on the other hand, will require an adapter that will be sold separately.
Forget using any adapters with the Mini — it's simply too small to handle them anyway. Hobolite confirmed there is a miniature collapsible softbox for the Mini, but I never got to see or test it.
The lights work independently, though pair them with your phone and the Hobolite app (iOS and Android), and you start to open up their potential.
They connect via Bluetooth, including via the NFC tag on the side of each light, and much like smart home lights can work in tandem to create a scene. The app does some of the work for you by offering effects as presets you can apply at any time. You can also choose to keep one light static, while applying the effect to the other.
For instance, if you wanted to put a red color filter on the Avant while using a strobe effect on the Mini, it's simple to program in the app. They can also emulate a strobe, but that appears to just be a visual effect. The company confirms that it doesn't sync with a camera to actually mimic a flash.
The simplicity brings out a lot of the fun in experimenting with what you can do, something I believe would appeal just as much to novice studio shooters as well. It doesn't hurt that the lights are portable enough to use in a wide array of photo shoots, be it modeling, food, product, or stock images.
It's also possible to select the effect you want from the lights themselves so that you're not beholden to the app and its connection. I liked that there was the option to turn off the cooling fans, though I have to say, they were much quieter than I expected. I used the lights to shoot video and the audio never picked up the hum of the fan.
The Mini has a lens attachment with telescoping that adjusts between 15 and 45 degrees in case you want to focus the light. I didn't see this on the Avant, though I'm not sure it needs it, considering how much more intensity it offers.
The app wasn't without its bugs along the way. Hobolite had to send me a second Avant because the first one wouldn't respond to app commands despite a successful connection. Other times, the connection would seemingly time out for both lights, forcing me to reboot both the app and lights. Pre-production units always come with bumps along the way, so I would expect Hobolite to smooth things out in time for people to get their units.
Below are some photos I captured that were lit with the Hobolite Avant an Mini:
Power and Color Accuracy
The Hobolite Avant and Hobolite Mini both promise a CRI of 96 and varying lux depending on distance, color temperature, or if it is used with a lens. As expected, the light performs its best when within one meter of a subject and significantly tapers off from three to five meters away — not uncommon for lights like this. As a point of reference, the Avant can measure 3,133 lux one meter away but that weakens to 193 lux at five meters. The Mini can produce up to 3,057 lux one meter away, which tapers off to 148 lux at a distance of five meters.
Both lights are most powerful when set to 6,500K and get slightly weaker as they get closer to the other end of the spectrum at 2,800K.
Quality Lights That Encourage Experimentation
I used the lights extensively for video projects I was working on, and both proved to be highly adaptable and effective in what I was trying to do. One light was fine, though I felt two were far better for video, but you could certainly get a lot of mileage and creativity out of one if it fits with what you have in mind.
As is, the system invites a lot of experimentation, and I could see creatives of all stripes feeling the same way. It's also evident to me the people who designed the lights and accessories have worked in the field and wanted to address their own pain points. Hobolite's Twitter account says "22 years of experience in R&D and manufacturing high-end lighting products" went into them, and it shows.
Are There Alternatives?
There is no shortage of lighting gear out there, especially from the likes of Aputure and Godox. When I saw the Mini, I immediately looked to the Aputure MC RGBWW Mini LED Light I had nearby. With a lot of the same features, including app control, the difference is that Aputure's light has fewer options for diffusing or angling the light. The magnets on the back are cool, but the Hobolite Mini has broader CCT control and four times the brightness.
As a point of reference, Nanlite's recently announced Forza 60B II is a comparable product that is similarly priced at $319 and has close to the same power output as the Hobolite Mini (2,529 lux versus 3,057 lux at 6,500K and one meter away, respectively).
For the Avant, the alternatives are numerous, so it really depends on what you're looking for. The advantage many of those have is their high output and standardized Bowens mounts — something Hobolite doesn't use — making them highly versatile when shooting anything. At the same time, the Avant is much easier to transport with its own accessories, as well as taking far less time to set up.
Should You Buy It?
Yes, but be prepared to pay for the quality you get. The Mini starts at $299 and goes up to $399 if you want all the accessories. Meanwhile, the Avant starts at $799 and can go up to $1,399 if you bundle all the accessories in the Standard or Creator Kits.