Costco Shuts Down Online Photo Center, Directs Customers to Shutterfly
After closing all of its physical Photo Centers last year, Costco has announced that it is fully exiting the business and shutting down its online Photo Center service as well, pointing customers to Shutterfly instead.
The company hasn't provided a reason for the shift, but informed customers of the change via email and published a notice on its website. Since Costco is a brand that is well-known for deals and discounts, it will continue that trend to Shutterfly where Members will get 51% off every Shutterfly order plus free shipping on any order over $49.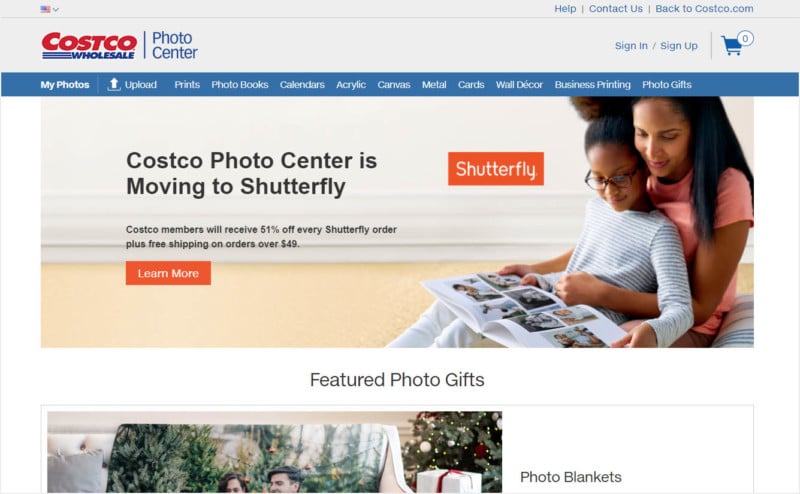 This offer is only being made available to current Costco members, and it's not clear if this discount will apply to future sign-ups, but the language in Costco's notice makes this seem unlikely. Costco also does not say for how long its Members will have access to this discount, and the fine print stipulates that Shutterfly may modify or replace any part of those terms and conditions without notice and at any time.
Costco Photo Center will still accept orders through its website, CostcoPhotoCenter.com, through January 27 after which point the website will no longer be available. Costco's sister sites CostcoBusinessPrinting.com and CostcoDVD.com will also be shut down.
Those who have accounts set up on Costco's website have the opportunity to opt-in to a transfer to Shutterfly, at which point their user information, address book, and all photos stored on the platform will be transferred. For those who do not want to shift to Shutterfly, Costco will provide an option to download photos directly to a home computer.
To opt-in to the shift to Shutterfly, customers will need to visit accounts.shutterfly.com/costco to transfer their CostcoPhotoCenter.com account information.
What isn't being made available on Shutterfly are Projects, which includes photo books, calendars, greeting cards, and collage prints.
"If you've started a project at CostcoPhotoCenter.com or would like extra copies of earlier projects, your order must be placed prior to this January 28th, 2023," the company says.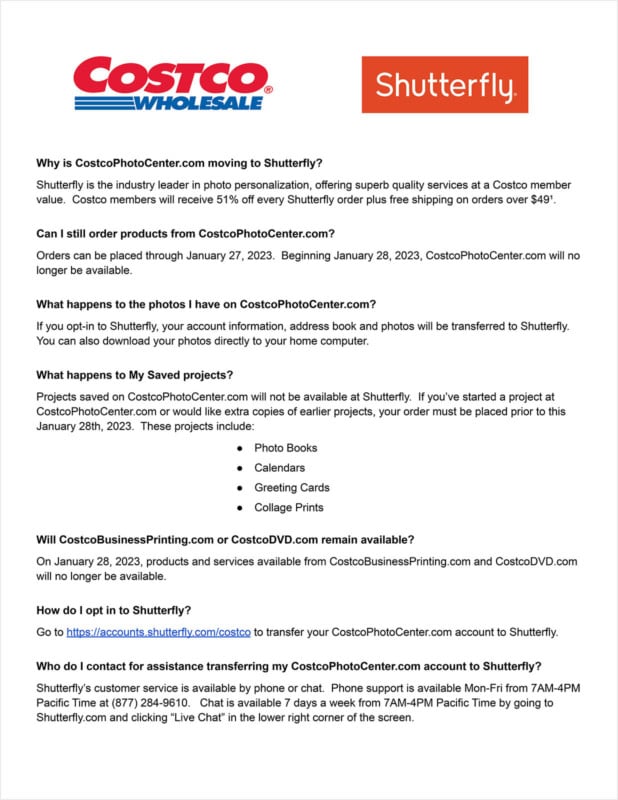 Costco has been slowly getting out of the photo printing market for the last couple of years. In 2019, the company started closing some in-store photo departments and got rid of its larger 40 by 60-inch canvas prints. Almost exactly a year ago in January of 2021, the company announced that it would shutter all of its photo centers.
It appears that now in 2023, Costco will complete its exit of the photo market entirely. Even the customer service associated with the transition to Shutterfly is not being handled by Costco, as the company is pointing customers to reach out directly to Shutterfly with any questions.