Shutterfly Gobbles Up Another Camera Company Photo Sharing Site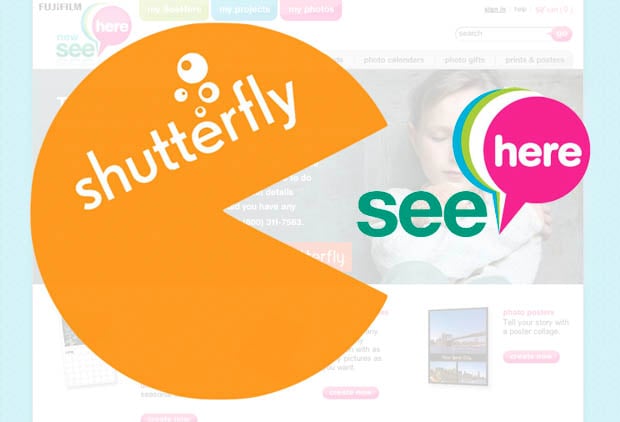 Shutterfly is making a habit of gobbling up photo sharing services that camera companies no longer want to run. Less than half a year after acquiring Kodak Gallery from Kodak for a meager $23.8 million, Shutterfly has now taken another photo site off the hands of a company very similar to Kodak: Fujifilm. The Japanese imaging company has agreed to dump its photo sharing and printing business SeeHere into Shutterfly's lap, shutting down the service on November 8, 2012.

Existing SeeHere customers (are there any of you out there?) will be given the opportunity between now and the shut-down date to transfer their entire collection of images over to the Shutterfly, just like Kodak Gallery customers have been doing in recent days.
SeeHere launched in October 2008, but, like a number of other upstarts, couldn't keep up with fierce competition from established players like Shutterfly, Snapfish, Blurb, and Mixbook.
Shutterfly, the 800lb gorilla in the photo-printing space, is apparently on a tear: Trefis reports that Shutterfly added 5 billion new images to its existing 10 bilion through the Kodak Gallery purchase, and is building a new $60 million facility in South Carolina in order to keep up with growing demand.