Deal Alert: Save Big and Up to 30% Off Peak Design Bags and Camera Gear
Peak Design bags are award-winning. The Travel Tripod is groundbreaking. When it comes to camera accessories, one of their products is usually a top choice. And now with the introduction of the Mobile ecosystem of products for your phone they have that camera in your pocket covered too.

Around this time last year, they had their Black Friday Sale, just like any year. In order to promote the sale they
unleashed a video
on the world that had us scratching our heads a little. That video took viewers on a 20-minute winding journey of discount madness. It was a perturbing way to tell everyone that
all of their products are on sale for an unprecedented discount: up to 30% off
. Great discounts, weird but effective marketing.
Well, this year their marketing team has decided to double down on the once-a-year sale video concept. Adam and Lawrence reprise their roles, but there's a plot twist. The deals have gotten loose. The sale is doomed. Or is it? Time to call in Deal Team Six to save the day. Will they capture the deals in time to save Black Friday? Will Adam recover fully from his deal-deprived delirium? Find out in Peak Design's Black Friday 2: A Friendship With Savings.
If you don't have time to watch the full film (although you really should if you want a quick laugh) we've gone ahead and summarized it for you here. The deal runs from Nov. 21st through Cyber Monday (Nov. 28th) on peakdesign.com and participating retailers worldwide. The Carbon Fiber Travel Tripod is just shy of $100 off, which is pretty amazing. Mobile phone cases and accessories, camera bags, organizers, tripods, camera straps, and clips—snag almost everything they make for up to 30% off.
Full disclosure: This article was brought to you by Peak Design.
Travel Tripod ($97 off $649.95 for Carbon Fiber, $52 off $349.95 for Aluminum)
Packs down to the diameter of a full sugar red can of Coke, but extends to a fully functioning stable eye-level tripod. You can get the Carbon Fiber Travel Tripod right now for almost $100 off (the Aluminum model is $57 off). It has all the bells and whistles including a lifetime warranty, fully carbon neutral, and a sweet carrying case. Don't miss this amazing deal.
Mobile by Peak Design (10% off iPhone 14 cases and accessories, 30% off all other iPhone models)
You never leave home without it and you've probably taken more photos with it than any of your cameras. Admit it, the phone in your pocket is the best camera you own. That's why Peak Design dipped their toes into the mobile accessory market. Since launching in 2020, their mobile mounts and accessories have been winning awards and gaining quite a bit of recognition. Wirecutter gave the case its editor's pick and said that there are "no flaws". High praise indeed. Grab 10% off anything in the line, or if you're not one of the fanatic every-year upgraders, grab a case for your older phone for 30% off.
Planes, trains, and electric vehicles. We're moving around again, and like never before. That means you're carrying your camera gear, or just your clothes and other fun toys all over the place. The Peak Design Travel Backpack 45L is the perfect bag for any trip. They make a great line of Camera Cubes and Packing Tools that can keep even the messiest of packers organized. A capable carry-on, but holds a heck of a lot more than you think, especially with its expansion zips undone. Fair Trade certified and 100% carbon neutral. Save $30 this week only.
While these bags might be on the Scandinavian-Modern end of the design spectrum, aesthetically speaking, don't underestimate their abilities. They're just as rugged, weather-resistant, and feature-rich as their bigger brothers. Great for a daypack, discreet travel, or everyday commuting. Just like the Everyday Backpack, you can access your gear with top or side access, and the same patented FlexFold dividers are on the inside which provides instantly customizable organization. Grab this deal before it's gone again.
Do you have doo-dads coming out the wazoo? Dongles, meese, memory cards, and batteries, oh my! We've all been there looking for whatsits and whatnots at the bottom of our bag. Goodbye messy accessories, and hello organized chaos! The Tech Pouch is here to save the day thanks to its origami-inspired 21-pocket design. If you can't fit all your jingle jangles in this thing, we don't know what will. Available in 4 gorgeous colors. On sale for 10% off.
Around Peak Design, they call this one old faithful. The first product ever designed by Peter Dering, the founder. Bring a cup of coffee and a cozy blanket over to his house sometime to ask him about the full origin story. We promise you he'll give you way more backstory, interestingly irrelevant details, and more fun tangents than you'd ever expect. This machined aluminum clip has become a must-have piece of gear for active photographers, and you can get it this week for 15% off.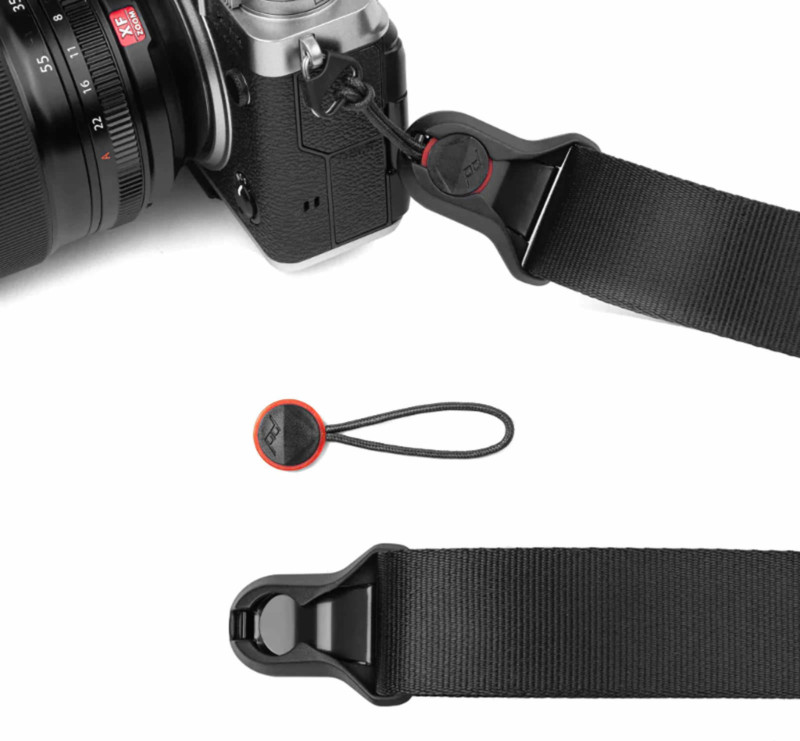 Peak Design straps are all about their Anchor Link quick-connection system. They can be attached, removed, and reconfigured quicker than you can download a new preset pack from an Instagram influencer. SlideLite works for anyone. Whether as a neck strap, shoulder strap, or cross-body sling strap, it's comfortable and easy to handle no matter how you wear it. Premium seatbelt-style nylon webbing glides over clothing, yet also has a grippy side that prevents slipping in shoulder mode. Dual quick-adjusters provide instant access and easy reconfiguration. On sale for 15% off.
---
Full disclosure: This article was brought to you by Peak Design.