A New Bag from Peak Design – A Travel Bag!
Check out the new Kickstarter that just launched today! That team at Peak Design doesn't sleep. This time they're going for something even bigger, both in size and scope. Their foray into the competitive "travel bag" space is bulwarked by a wealth of experience in making all sorts of bags, especially those designed for photographers.

Full disclosure: This is a sponsored post and the links found in the article are affiliate links.
What makes it a travel bag and what makes it unique? As a travel bag, it's meant to carry your clothes + your toiletries + your camera gear + your tech life. Perhaps one of the most unique things about it is you can bulk it up to 45L size as you pack at the beginning of the trip. Then, when you get to your destination and you dump some your clothes and toiletries in your room, it slims up to 30L and you can just carry your camera gear around.
Even though they say it's not specifically for photographers, everyone at Peak Design is pretty hardcore into photography, taking their gear with them all around the world. From the video on their Kickstarter page, you can see there is still a big emphasis on photographers.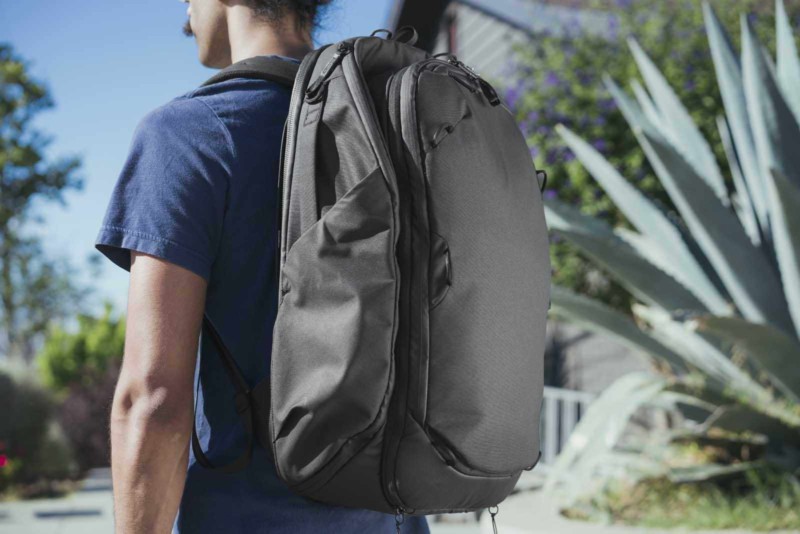 Attention to Detail
One reason their design team is so good is because of raw experience. This is their 8th Kickstarter. On a previous Kickstarter, they designed the Everyday Messenger bag which hauled in $4.8 million. Right on the heels of that, they released three more bag designs on Kickstarter which amassed $6.5 million. So, in other words, they have made A LOT of bags. I partnered with Peak Design on those two campaigns and I traveled to Vietnam to see how the bags were actually made in the factory. The type of materials they use are the best and the craftsmanship is unparalleled.
You may not understand their designers' attention to detail. The Peak Design team would sit there and caress different fabrics for hours. I should have started an ASMR YouTube channel for them. I may call it "Art Viger Rubs Various Substrates on his Manbeard."
Let's stop thinking about the needs of the ASMR community and instead focus on some of the best features of this travel bag.
My favorite feature is the expandability and versatility of bag. I love the idea of a single bag for clothes and camera gear. After arrival, I can store most of that in my room, and the bag can collapse into a day bag that carries all my camera gear and maybe a few other goodies. This meshes nicely with my minimalist ethos. Plus, I like the clean lines on all of the Peak Design products, and this bag follows that tradition.
Since the Peak Design team and tens of thousands of people around the world have already used and abused their existing four lines of bags, they have learned a lot. All of that learning has gone into this bag. Also please note that I'm not partnering with them on this one, as this product and design is 100% theirs. I'm just a fanboy and will continue to be!
There are so many zippers and clever parts to this bag. There's a place for everything, and it would be pedantic for me to list all of them. But I will talk about access for a moment.
One of my favorite features of their backpack is how, if it was on one shoulder, you can swing it around in front and access it from the side. This is very handy when you want to change lenses or just access the bag. But now there are more access points. For example, you can completely expose it from the rear if you're into that sort of thing.
There are many other features I like about it this system too. I'll go through them in no particular order.
Camera Cubes and Packing Cubes
First, I've been a fan of the modular system since I used the F-Stop bags ages ago. They call it an ICU system, but Peak Design is calling them "cubes" instead. Modular systems are such a good idea and I am glad to see them used by Peak Design here with a few new twists. Peak design has broken them down into Camera Cubes and Packing Cubes.
As for more differences, inside the Camera Cubes are little movable, stretchable pockets that are pretty nifty. Furthermore, the cubes themselves can come out of the bag and join you on a journey by attaching Peak Design straps to those little black niblet things on the cube. So, the cube can become a bag of its own!
Below are examples of many ways to configure your gear. Look at that Mavic, snug as a bug in there.
Furthermore, the cube approach is one of thinking about clothes versus camera gear in your cubes. There's a 3D element to the Packing Cubes as they can be stacked inside if you wish. Also quite nice is the shrinkability/expandability element of the Packing Cubes. They can shrink down to half size.
The Wash Pouch
Also fitting nicely into this modular system is the "Wash Pouch" where you keep all your toiletries. There are two tiny but smart things I like about it. First, I like how you can hang it anywhere. Handy. Also, I like how you can put your toothbrush in an outside pocket so it doesn't, you know, get stuff all gross on the inside.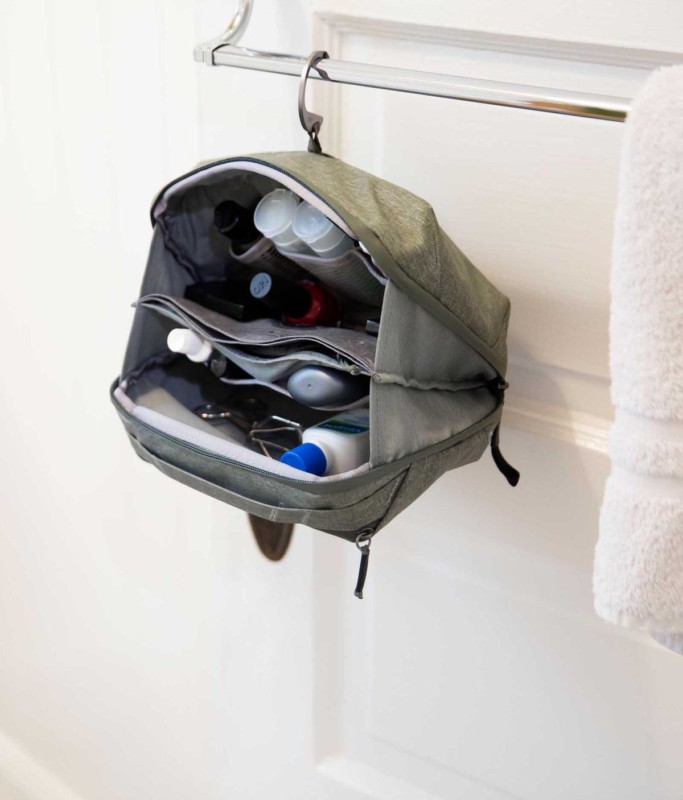 The Tech Pouch
Finally, a slick little origami-like pouch to hold all the little bits and cords that complicate my life. I like that it sits upright, so I can set it right by my computer. I also like that it has cord passthroughs to make charging as clean and simple as possible.
Other Features
One other meta-feature of the bags is how light they are. The backpack is only 2.64 kg or 4 lbs 8.8 oz. I mean, not that it matters too much after you throw in a ton of DSLR equipment, but every little bit helps! I'm about to do a 7-day hike in the Spain on the Camino trail with this travel bag, so every little pound certainly adds up.
Also, I quite like the way the backpack straps tuck away. It's maybe a bit of an aesthetic thing, but I like not having straps flapping about and getting hooked on things like airplane seats and children.
Why Kickstarter?
I remember seeing several complaints in earlier Peak Design campaigns, wondering why a successful, proven, profitable company would use the crowdfunding method to fund a product that clearly doesn't need funding. I see three gigantic reasons, reasons with which you are certainly allowed to disagree.
First, Peak Design is successful because of Kickstarter. They truly, absolutely, love their Kickstarter backers. They made Peak Design successful. The Kickstarter ecosystem is amazing and getting stronger all the time. By staying on Kickstarter to launch products, they make the entire ecosystem better, which helps everyone.
Second, they can continue to give great discounts and deals to their original backers, way back from seven Kickstarters ago (which I discovered them with the Capture Clip!). Kickstarter backers really feel like they are part of the company, and if you ask anyone at Peak Design, they feel the same way.
Third, the Kickstarter community is very giving to other members of the community. Go ahead and watch the comments blow up for this new campaign. People ask questions; others answer. Some people have new ideas. The Peak Design team responds. It's like having an intense focus group give feedback for 60 days, and this inevitably further shapes the design of the product and the design of future products.
I asked the Peak Design founder and CEO Peter Dering about this, and he said definitively, "Our Backers aren't just customers." He went on describe the intense connection and continued, "that's something that no 'buy now' button on Amazon could ever produce."
Discount on Kickstarter Now
If you go over to the Kickstarter page for the Travel Bag now, you'll see there are significant discounts. I know some people like to wait until the product is widely available in stores all around the world, but then the price gets jacked up a little bit because of local retailers. I understand, as they have to make a margin too. But, by going direct and joining their growing Kickstarter community, you simply get a better deal (and you get your bag before the general public).
I know some Kickstarters don't deliver, but Peak Design has delivered for the last seven in a row. So, don't worry so much. Also, these bags come with a lifetime warranty, and you don't see that much nowadays.
Lastly, if you have any questions, pop over to my Live Facebook Show on my page that is happening right at the launch. I'm not sure I can answer every question, but I'll try!
---
About the author: Trey is kind of a hack of a photographer, which is okay because he doesn't take himself too seriously. One can see this on his blog, Stuck in Customs. He also has some new tutorials and presets in his store. If you'd like to see his portfolio of photos, jump over to his portfolio at StuckInCustoms.SmugMug.com. You can also find me @TreyRatcliff on Instagram, which seems to be getting popular.