Peak Design Offering Up to 40% Off in Huge Sale, Donating Tripod Launch
If you've been eyeing Peak Design's highly acclaimed line of bags, straps, and accessories, now may be the time to pull out your wallet. The company is holding a huge "Weird Times Sale," offering up to 40% off the vast majority of its products.

All V1 Everyday bags are discounted 40% while supplies last, bringing the price down to $156 from $260.
The Peak Design Everyday Messenger Bag V2 is currently $165 instead of $220, or 25% off.
The Peak Design 45L Travel Backpack Pro Photo Bundle is $330, or 23% off $430.
The Peak Design 20L Everyday Backpack V2 is $208, or $52 (20%) off $260.
The Peak Design Slide Strap is currently $52, down $13 (20%) from $65:
The Peak Design Capture is $56, down 20% from $70:
You can find much more discounted products by shopping for Peak Design over at Adorama.
Tripod Launch and COVID-19 Relief
Peak Design is also launching the Travel Tripod that it raised more than $12 million for on Kickstarter. It'll be available on April 7th, 2020, with price tags of $350 for the aluminum version and $600 for the carbon fiber one.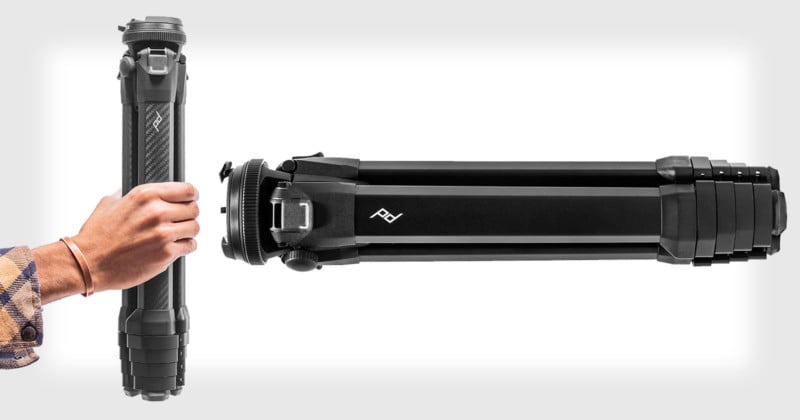 Peak Design has pledged to donate 100% of profits from every single tripod sold during the launch (both from its website and retailers worldwide) to COVID-19 disaster relief as well as to combat climate change. The pledge covers three days of sales from April 7th through April 10th, and the funds will be passed to the CDC Foundation and Climate Neutral.
You can pre-order the Peak Design Travel Tripod today over at Adorama.
---
Update on 5/14/20: Peak Design has announced that it sold 2,265 tripods during the 4-day launch and ended up donating $218,150 to coronavirus and climate charities.