Strap In For a Fly-Through Tour of DJI's Expansive New 'Sky City' Campus
DJI opened its new Shenzhen, China headquarters it calls "Sky City" this past September, but just this week released a fly-through style video that takes viewers on a tour of the massive new complex.
A Massive New Campus
DJI's new campus is designed to look like a set of floating cubes, which plays into the "Sky City" theme. It was designed by award-winning architectural team Foster + Partners, features two towers that are 44 and 40 stories tall each and are positioned as a prominent and "sustainable" new landmark in Shenzhen.
The new complex is large enough to host all of DJI's Shenzhen employees which had previously been scattered across several buildings over the last few years as the company experienced massive, quick growth due to the popularity of its drones and gimbal systems.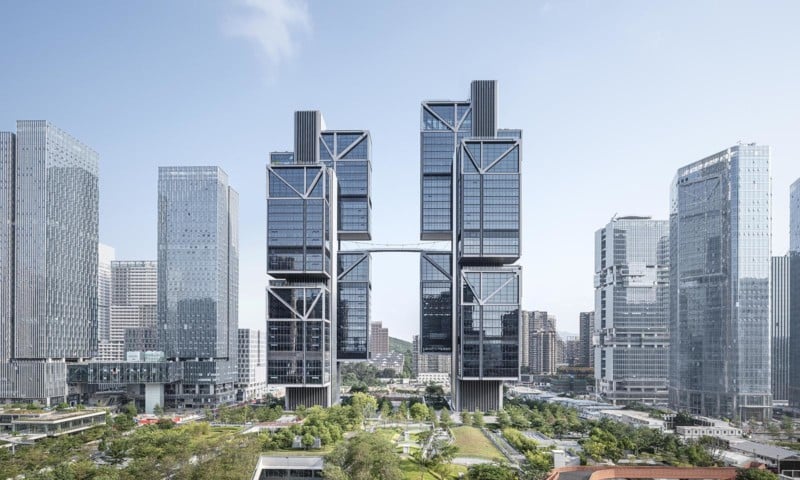 Many of the spaces shown in the fly-through video were revealed in the set of photos announcing Sky City's opening, but the new video now provides some perspective about how the areas are connected, how they look now that the building is full of workers, and overall gives a more exciting look at DJI's new facility.
The FPV Flythrough
The fly-through video is DJI's take on the popular single-take, first-person-view (FPV) style drone videos that have become enormously popular over the last year thanks to the wild success of filmmaker and drone pilot Jay Christensen, of Minnesota-based Rally Studios, and his bowling alley short film released in March of 2021.
Christensen's style has been replicated multiple times over in the year-plus since his video went viral and several companies have used it to show off their offices and manufacturing facilities. For example, Manchester City's soccer club, HBO's Hard Knocks, and Tesla have all released videos that mimic the style.
The very first fly-through videos were shot with a Cinewhoop Quadcopter, but since DJI announced its own FPV drone, aptly named the DJI FPV — and it released a follow-up earlier this year called the Avata — it is very likely this video was shot with the company's own products, though DJI doesn't say what drone it used to film this flythrough.
---
Image credits: DJI