DJI Avata Review: A Durable, Easy-to-Fly, Entry-Level FPV Drone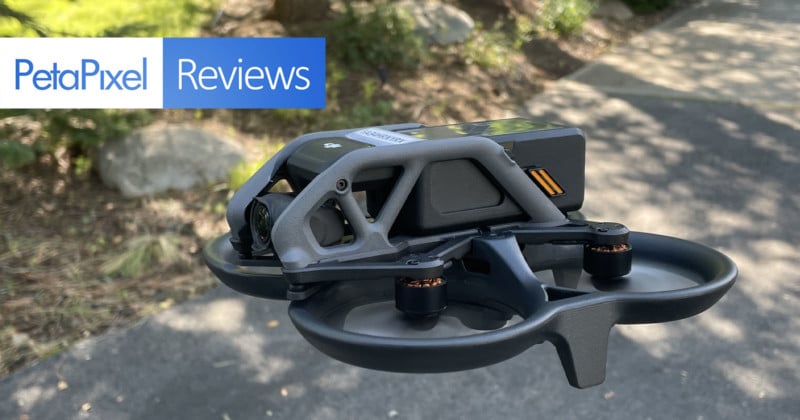 DJI is known for innovating and pushing the drone market forward, but with the Avata, the company is instead doing the opposite and paring down features into a drone that works best for an entry-level pilot.
With the DJI FPV drone launch last year, DJI created something new in its lineup. This year with the $629 Avata, that's not really the case. Instead, it's a simpler and easier-to-use entry into the first person view (FPV) drone market, and while it might not be seen as a "necessary" or impressive addition to the lineup, it still does a few things that stand out.
Design and Build Quality
The design of the Avata is new to the DJI line but nothing new to the drone world. It is built out of decently rigid plastic and feels solid due to the interconnecting prop guards molded into it, which do contribute to a sense of security when flying through tight spaces.
The top exoskeleton-style body does feel a bit on the flimsy side. When you have a battery installed, it doesn't feel too bad; however, when the battery is not connected the whole body feels like you could snap the "cage" pretty easily. I would have loved to see a more of a homogenous style design to help with the rigidity.
That said, in flight it appears to be a durable little drone. I actually simulated a crash to see how it would respond, and aside from a few scratches and scuffs, it took back to the air with no issues.
The only other gripe I have with the design is the SD card and USB-C port placement. Those are located just on the inside of the prop guard and I feel this could have been placed on the actual body under the camera or the top side of the drone for ease of use.
That said, a nice addition to the drone is that it comes with 20GB of internal storage, so you'll be ok if you want to pop up and fly real quick or if forget your SD card before leaving the house.
As always, the biggest question with any drone is, "How long can I fly?" In testing where I flew calmly and smoothly, I found the battery to last just barely 18 minutes, which is in line with what DJI states to expect. But as an avid FPV pilot who has flown custom drones, I'm used to just pushing them to their limits. In doing so with the Avata, I got maybe five to six minutes of flight time in full manual mode. That's not great, but it's not horrible either. It's perfectly average, and definitely enough time to have some fun.
A New Camera
The Avata uses a new Type 1/1.7 sensor (9.5 x 7.6 x 5.7mm, 4:3 aspect ratio), the same size that is found in the Huawei P20 Pro, Canon G10, or Pentax Q7. It boasts an impressive 48-megapixel still photo capability and the quality is very close to competing with the best action cameras you can get.
A 155-degree frame of view lens provides ample space for whatever you are filming. The Avata also offers plenty of resolution options from 4K at 60 frames per second (FPS), 2.7K at 100FPS, and 1080 at 120FPS, you should have no problems finding the right framerate for the job.
The color quality and sharpness are what you'd expect from DJI: clean, bright, and sharp, at least in the standard color mode. The option for D-Cinelike is also available for more production-level filming to get the most out of your shots. With the internal electronic image stabilization (EIS), you get very smooth shots which is nothing new for DJI.
Horizonsteady mode is excellent for keeping your shots looking level in most situations, and the Rocksteady mode is fantastic for everything, including the full manual mode with flipping and rolling. The camera does allow for full tilt up and down as well. The issue with this particular feature combined with the new prop guards is that when the camera is looking fully down, you see those prop guards entirely in the shot.
This all but completely rules out the Avata for actual professional filming, which is unfortunate, though I do admit it's unlikely that DJI ever intended it to be used for that.
Controls
Whether you like the traditional FPV controller or the new motion controller, you'll be happy to know that they both work with the Avata. The drone ships with the DJI Motion controller which allows you to fly in Normal and Sport mode to capture smooth, clean shots.
Of the two options, I'm glad DJI chose to ship the motion controller with the Avata since it is a solid choice for beginners due to the much more intuitive movements with your wrist. I prefer the traditional flight controls, so I immediately bound the DJI FPV controller to unlock the full Manual flight mode. Doing so opens the total amount of fun this drone offers and does it well. It responds quickly and precisely, allowing for a gratifying flight experience.
The Avata also sports a "Turtle mode," which allows you to flip the drone over if you land upside down. It sounds great on paper, since landing upside down can happen more than you might think, however, I was unable to get this to work in my testing, which was a disappointment.
A Clear View
In addition to the Avata, DJI announced a new set of head-mounted goggles, the DJI Goggles 2. I'll say it straight up: these are my favorite set of goggles I've ever used.
With the size being more in line with traditional analog FPV goggles, they felt right at home. One of the significant changes is the diopter options: the ability to adjust both eye distances and focus on each eye independently creates one of the most strain-free viewing experiences I've ever had with FPV goggles. That, along with the new micro-OLED displays, creates what I can only describe as superb.
The visuals produced by the goggles are crystal clear; seeing each little branch and blade of grass helps give you the confidence you want when flying fast, low, and aggressive. The DJI Goggles 2 also feature the O3+ transmission, which offers a transmission delay of 30 milliseconds and 10-kilometer range, allowing for impressive flights with zero worry.
Software
The control software for the Avata is not anything new: it's just the typical DJI Fly app. However, the new DJI Goggles 2 has a really intuitive user interface and experience.
Swipe down for recording, up for camera settings, and forward for the main menu; if you can use a smartphone or laptop trackpad, you'll have zero issues navigating the headset. From the initial walkthrough to switching menus, I had no problems navigating with the touchpad on the side of the goggles. They also have a lock option for the touchpad to prevent accidental changing options when positioning the headset.
A Solid Entry-Level FPV Drone
The DJI Avata is a really good drone, you just need to go into it expecting that it's not the best at anything and the features aren't particular spectacular on paper. I suppose that's why it is probably best positioned as an entry level product, and its $629 price reflects that.
Does it have a great camera? Yes. Does it fly fast in Sport and manual mode? Sure, fast enough for most. Speaking of that, it's worth noting that the DJI FPV maxes out at a blistering 87 miles per hour (MPH), while the Avata caps out at 60 MPH.
If you've been in the market for a simple-to-operate drone with solid construction or if you are brand new to drones and want something you can fly around without any worries, then the Avata is basically perfect for you.
In addition to the standalone price of $629, the Avata can also be paired with the new DJI Goggles 2 for $1,388, which I think is worth it: the Goggles are that good.
Are There Alternatives?
DJI has the market cornered when it comes to plug-and-play, reliable drones, and the best alternative to the Avata that I can offer is the DJI FPV, especially since that drone is less than $1,000 now.
Outside of that, you might consider building your own FPV drone and equipping it with a GoPro Hero10 Black Bones.
Should You Buy It?
Yes. The DJI Avata is a fun little drone that can get great shots in all three flying modes. It's durable, the flight times are decent, and it provides an excellent flying experience that DJI always seems to nail.
The DJI Goggles 2 are an absolute home run and I wholeheartedly recommend them.