DJI's New Headquarters is a 'Creative Community in the Sky'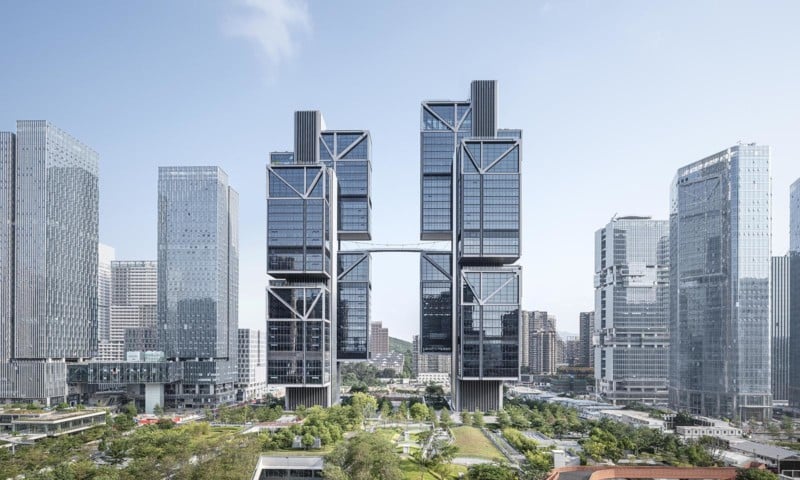 DJI has opened its striking new Shenzhen, China headquarters which it describes as a creative "community in the sky."
Called DJI Sky City, the company characterizes the new complex as a cutting-edge innovation hub that matches its philosophy of being a creative community for the skies. The architectural structure of the building is particularly notable as DJI says that it has never been seen for a high-rise building of this scale.
Sky City, designed by award-winning architectural team Foster + Partners, features two towers that are 44 and 40 stories tall each and are positioned as a prominent and "sustainable" new landmark in Shenzhen, China.
DJI says that these two new towers will unite the DJI employees in the area who were before scattered among several Shenzhen buildings over the last few years that saw DJI grow from an upstart drone company into one of the biggest names in filmmaking, both on the ground and in the air. The company says that the 200-meter tall duo of towers exemplifies how DJI has matured from a flight technology startup to a global innovation leader.
As shown in the photos here, provided by DJI, the company's office and research and development areas are arranged in floating cubes that it says are cantilevered from central cores by large mega trusses that, when viewed from a distance, give the impression that they are buildings suspended in the air.
"The first use of an asymmetrical suspension steel structure in high-rise towers of this scale, the innovative structure reduces the need for columns, thus creating uninterrupted working spaces that express 'Innovation Without Borders' in architectural terms," DJI says in a press release which was spotted by DPReview.
DJI says that the structure also houses drone flight testing labs that exist over four stories made possible by the unique V-shaped trusses that give the towers what the company calls a "distinctive identity" against the backdrop of other buildings in Shenzhen.
About halfway up the towers, 105 meters high to be exact, the two buildings are connected by a 90-meter-long suspension bridge.
On the ground, the buildings are surrounded by greenery via a sloping garden that is open to the public.
"It took us six years to build the new DJI Headquarters, which is the result of the wisdom and determination of DJI and our valued partners," Frank Wang, Founder and CEO of DJI, says.
"We see Sky City as a product unlike any we've ever made: our real home. At the beginning of a new era for DJI, we pay great attention to the growth and well-being of every employee. This starts with a work environment that is both practical and delightful. I hope that Sky City will inspire all of us to work together and scale new heights of progress, wisdom, and possibilities to develop solutions that benefit society."
---
Image credits: DJI