DJI Just Opened a Flagship Camera Drone Retail Store
Since its birth a decade ago in 2006, the Chinese company DJI has rapidly grown into the world's leader in consumer camera drones. Now the company is soaring to new heights with the opening of its first shiny retail location where consumers can get their hands on the drones in person, directly from the company.

The flagship store is 800 square meters in size (~8611 square feet) and is located in Shenzhen, China, the same city as the company's headquarters. It's a store that lets customers not only see and buy drones, but experience flight as well.
"The DJI flagship experience is an important touchpoint to connect people with our cutting-edge technology and get a sneak peek into the future," says DJI founder and CEO Frank Wang. "Whether you are curious to learn how to fly or a professional looking for the latest aerial imaging technology to create your next big idea, the flagship store will provide you with the opportunity to really experience the DJI brand up close and in person."
"More importantly, it will allow us to engage our customers in a deeper and more meaningful way."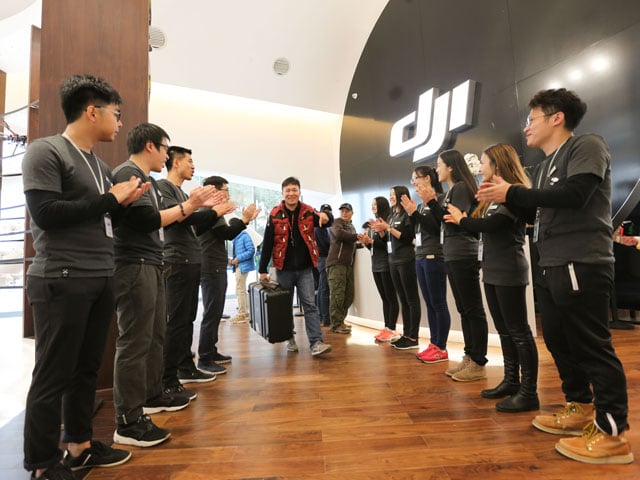 In the store, you'll find DJI's latest products, from the Phantom 3, Inspire 1, and Spreading Wings line of drones, to the company's three-axis gimbal line, to the new Osmo stabilized handheld camera.
DJI says the store's interior architecture is based on the Chinese word "yuan" (圓), which means circular. It's designed to reflect drone propellers that look like a circle when a drone is in flight. There's a large interactive installation in the center of the store, as well as a theater (with inspiring drone imagery on display), flight area, lounge, and repair counter.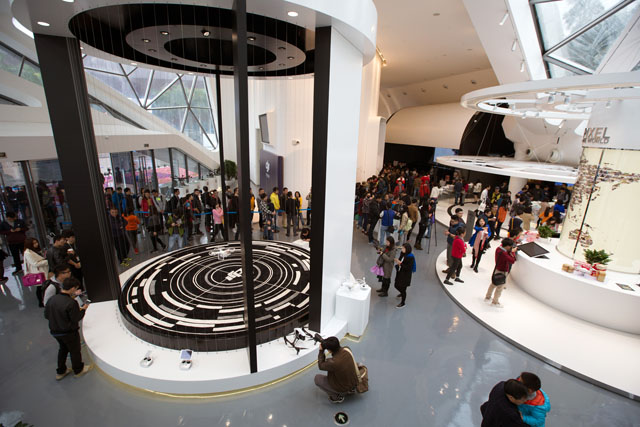 If you're ever in Shenzhen, you can pay a visit to the new store at the Shenzhen Tourist Information Center, OCT Harbour, East No.8, Baishi Road, Nanshan District.