FPV Drone Offers Stunning Tour of Tesla's Massive Gigafactory in Berlin
Tesla has published a detailed first-person view (FPV) drone flythrough of its new European manufacturing location to promote what it says is the most advanced, sustainable, and efficient facility ever.
Called the "Gigafactory Berlin-Brandenburg," Tesla's new Germany-based manufacturing facility is its first in Europe to manufacture battery cells, part of the company's goal to transition to sustainable energy. Tesla says that the Gigafactory will focus on producing "hundreds of thousands of Model Y vehicles" and million of battery cells.
"To achieve the transition to sustainable energy, we must produce more affordable EVs and energy storage, while building factories faster and with far less investment," Tesla says.
"The key to this is terawatt-scale battery production and far more affordable battery cells. At Tesla, we build cars and factories from the ground up. Now we do the same for batteries."
Tesla recently celebrated the first Model Y cars to be shipped out from its new Berlin facility about a week ago to much fanfare.
While the drone flythrough video, which was captured by pilot Ferdinand Wolf from Skynamic, shows a fully operating facility, Tesla says that the Gigafactory won't be completed fully until later this year.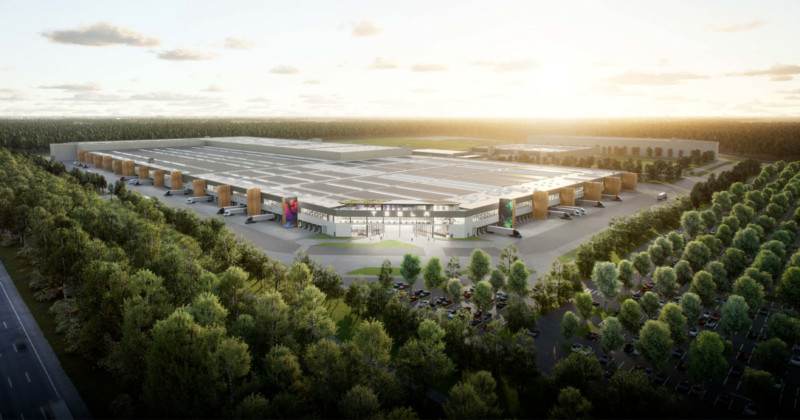 The company is in the middle of a hiring surge and the drone video is part of a campaign to recruit talent. In fact, Tesla has been pushing its Gigafactory heavily on its social accounts, with two additional videos that were recently published to its Instagram that are designed to recruit talent for the manufacturing facility.
Ever since filmmaker and drone pilot Jay Christensen went viral with his bowling alley single-take drone video, FPV drone flythrough videos have become increasingly common as a method to showcase new facilities or excite prospective new hires. Soon after his first successful video, Christensen was hired to produce one for the Mall of America and very recently he shot a recruitment video for Axon, the makers of the Taser. The format has been widely adopted by other pilots, and both Manchester City's soccer club and HBO's Hard Knocks used FPV drone shots to show off sports facilities.
While Tesla's video isn't a seamless single take like many of the others, it's still impressive given the number of angles and hazardous flying locations that the pilot had to navigate.