The Huion Inspiroy Giano is a Bigger, Better Bluetooth Tablet for Artists
The $199 Huion Inspiroy Giano is one of the largest Bluetooth 5.0 pen tablets currently available, and it has a drawing surface area of 13.6 by 8.5 inches (16 inches diagonally) making it an ideal tablet for creatives who need a larger area to work with while retouching or digitally painting on larger 4K and 8K displays.
---
Full Disclosure: This Showcase was sponsored by Huion.
---
The company says that since more and more creatives are using much larger monitors than ever before, the Giano G930L was specifically designed to match the large working area of modern large and high-resolution displays so that artists could have a more accurate drawing experience. Additionally, they say the Bluetooth 5.0 functionality was added to "provide a stable and fast connection within effective distances and save the trouble of bulky cables on users' desks and greatly facilitate the connection between G930L and laptop/Android phone/tablets."
Having gotten to spend a few weeks working with the device, I can honestly say that it did exceed my expectations compared to the previous models I was able to use in both accuracy, quality/performance, and even battery life, leaving me just wishing I had a larger desk to better accommodate it with my day-to-day workflow. As photographers and retouchers, we tend to stick to smaller tablets and keep the range of motion smaller by limiting the amount of space on the tablet used to cover edge to edge of the screen, so using this as a full scale for my monitor was a bit of a challenge at first, but something that inspired me to get a little more creative with drawing and actual general use of the tablet for my day to day computer usage even.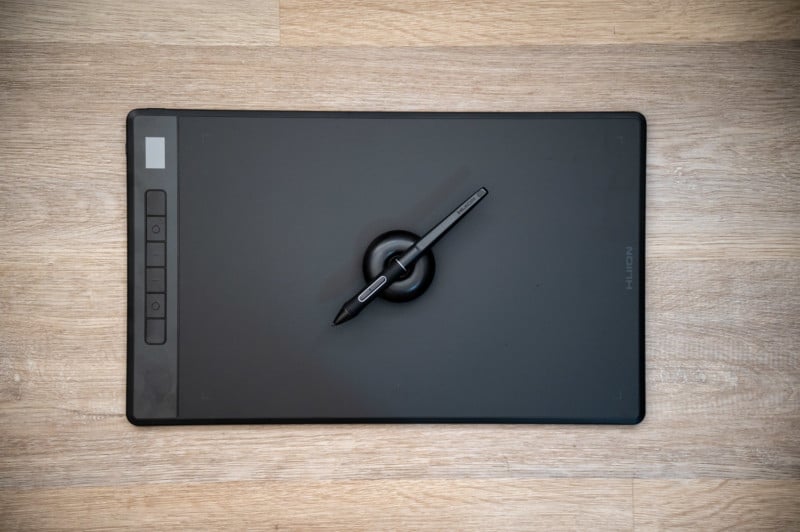 Design And Build Quality
Out of the box, the device shows off a minimalist design with a smooth surface that includes a set of six customizable buttons along the left-hand side of the device and a small LCD screen at the top which can be used to check the status of the battery level and cable/connection status.
Included with the tablet are the pen and its base (which contains additional nibs and the removal tool), the USB-c cable, a "glove" to help avoid any smudges and streaks on the tablet surface, and a quick-start guide with instructions on how to download the drivers/software and get the tablet up and running.
On the flip side of the tablet, we are treated to a more metallic design with an aluminum backplate that includes four rubber pads in the corners to prevent slips on most surfaces, keeping the tablet firmly in place when in use. The large rubber-like strip across the top of the table is meant to provide users with more grip when carrying the tablet by hand.
The top (working surface) of the tablet is made with a smooth plastic that feels high quality, durable, and is even rather scuff resistant (I actually did purposely try to scuff the surface with the pen and even my own fingernails without any success). As a whole, the tablet is much more rigid than I expected from a device of its size, alleviating me of any worries of accidentally breaking anything on the inside of the tablet when transporting it in my backpack and during general usage. Yes, despite the tablets large size, it is still designed to be able to fit in most standard computer backpacks and shoulder bags allowing you to travel discreetly.
The LCD screen on the top was a bit distracting at first, but it was actually easy to get used to and nice to have access to (even though it isn't really needed) to be able to check the battery level and connectivity status when in deep-retouching mode and not having to open the app or look through the computers system menus to find the Bluetooth devices.
In addition, it can display the pen/key activation, if the tablet is in sleep mode, an icon to differentiate its connection to either a computer or mobile device (yes it can connect directly to Android devices also), and after extended use, the tablet can even remind you to stand up and take a break. Effectively, it is a nice little piece of additional flair when in use.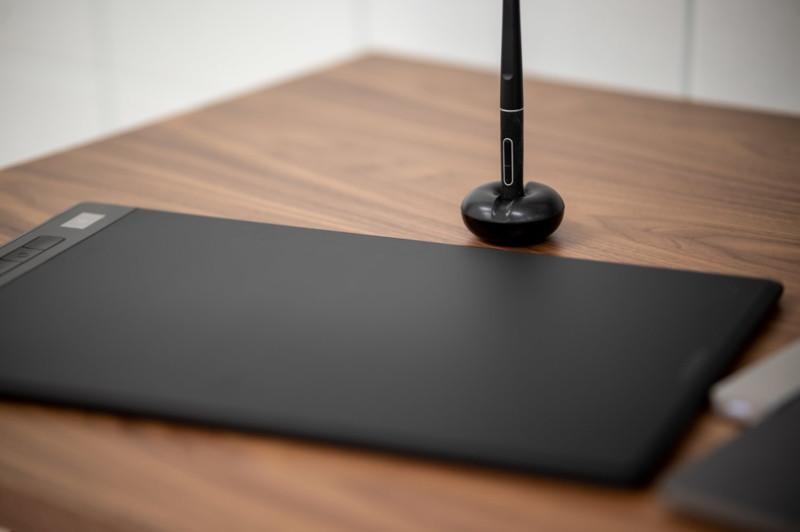 The six programmable buttons are built into the side panel and actually slightly "sunken" into the tablet ensuring that most users will not accidentally press them when in use. The left side of the tablet also features a power or "wake" button that can bring the tablet quickly back to life if left idle for more than 15 minutes (default setting to save battery life) and the Bluetooth pairing button.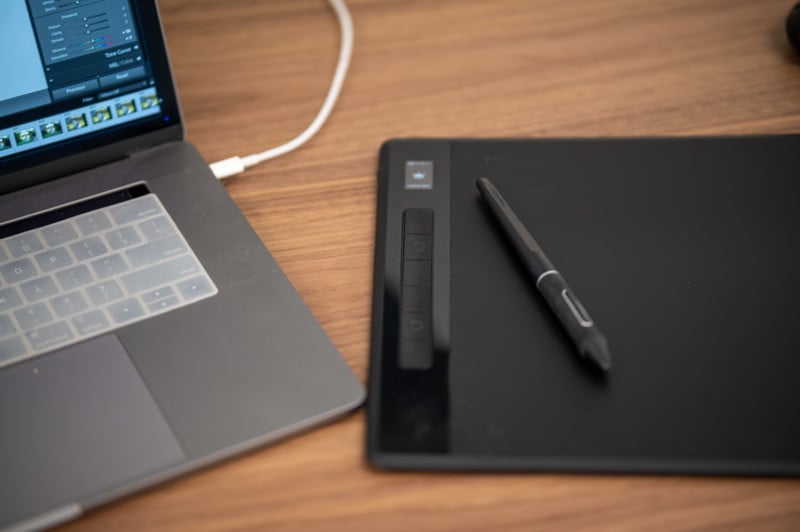 According to the product specifications, the Huion Inspiroy Giano G930L offers a familiar 8192 levels of pen pressure with a ±60° degrees pen tilt, 5080 LPI (Lines per inch) of tablet resolution and under 300 reports per second (low latency) stylus report rate. While you can use the tablet connected via a USB-C cable, the tablet includes a 2500 mAh battery that can last for about 18 hours of continuous use before needing to be reconnected and recharged.
Overall, (and especially compared to its siblings) the Huion Inspiroy Giano G930L looks and feels sleek and professional and should pair well with creatives using larger-than-average displays. Basically, anything larger than a standard 15 or 16-inch laptop display works great with this tablet. If you connect to something smaller than this, you might actually have to mess around with some customization to ensure your drawing area matches the dimensions of the actual screen.
The Software
Setting the Giano up was rather straightforward like most tablets are these days. Simply install the drivers provided by Huion and connect to your computer (PC/MacOS/Android/ChromeOS) either by the provided USB-C cable or Bluetooth and start creating. (Depending on your system, a reboot might be required for the Bluetooth to connect properly). Once you open the software, the application has a step-by-step guide on each of the settings available for users to customize their tablet experience.
Each button can be customized with a variety of features ranging from a specific key command, mouse click, program launch, precision adjustments, pan/scroll controls, system commands (like a screensaver, sleep mode, power down, etc.), and even controlling multimedia applications like listening to music. In addition to these button controls, users can also make adjustments to the Working Area of the tablet, leveraging every single millimeter of the surface area allowing for a more realistic drawing experience, or scaling it down to accommodate multiple screens, regions, or even a small section of the tablet to cover the entirety of the display.
You can even find a "left-handed" mode that will allow the tablet to be rotated to accommodate their drawing style. Customization should feel familiar for those who have used professional pen tablets in the past with options to adjust the sensitivity and angle of the pen, as well as customizations specific to individual applications, so a button can adjust the brush size in Adobe Photoshop, but in Lightroom can be used to toggle the crop/rotate command.
It is also in the "Device" section where users can find the settings for adjusting the "sedentary reminder", low battery warning, sleep timer, and LCD screen brightness (lowering this does help save a little battery life just FYI). Additionally, users can find the tools to troubleshoot their tablet, backup and restore custom settings, and even uninstall the software and related drivers from your systems should they ever need to.
The Pen & Tablet – Ergonomics & Performance
The Inspiroy Giano tablet comes with a battery-free PW517 Stylus (pen) that works on electromagnetic resonance (EMR) that powers the pen through coils located beneath the tablet surface. Since the pen is battery-free, it is very lightweight and easy to handle and manuever.
Most of the weight (as expected) is found at the base of the pen with little to no "components" on the inside at the end of the pen for increased stability and surprisingly smooth weight distribution that leaves the pen falling and feeling naturally positioned in your hand when in use. The pen grip features a wider surface area with grippy silicone material to ensure it doesn't slip out of your hand even in situations with "slippery fingers"
There are two buttons on the stylus (a common design at this point) that are easy to reach and control when in use and can be completely customizable using the tablet's software. The stand for the pen is designed to let users place the pen in it like an old-fashioned inkwell, or lay it across the grooved center to keep it safe when not in use.
Ten Extra Pen Nibs and the Nib Tool can be found inside of the stand (rotate it counter-clockwise to open) which includes five standard nibs for a smooth low-friction behavior and five felt ones for a more aggressive level of friction, giving more of a pen-to-paper feel.
Drawing with the tablet was incredibly pleasing. The PenTech3.0 allowed for a very smooth, accurate, and responsive pen-to-tablet experience, allowing for a much more natural feeling retouching experience. The tablet easily recognized shifts in pressure, speed, and even the angle of the pen (as you can see above) with no visible jitters and no instances of lag or hiccups whatsoever.
Lines can be drawn with barely even making contact with the tablet, tapering easily with pressure adjustments and can easily maintain smooth strokes without worry of inconsistent thickness. Even using the pen/tablet for general computer usage like a mouse was impressively accurate. I may not have the most stable of hands so its nice to know I'm not accidentally going to click/double click the wrong tool/application when working on a 4K or 8K display. Retouchers and graphic designers/artist/illustrators can breath easy knowing this tablet will work great for professional artists.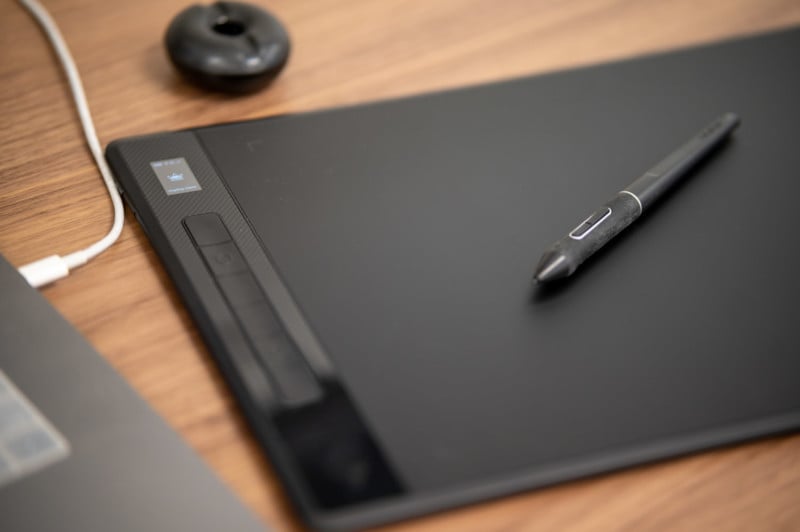 Bigger and Better
To put it simply, this tablet isn't really for beginners looking for their first tablet. Those looking for something more discreet and cheaper may be better suited getting one of the smaller sibling tablets from Huoin, but for the professional creatives out there that need a tablet that can match their large displays, giving them the freedom to "draw" naturally with pinpoint accuracy, this tablet has everything they would need for the most challenging of workflows.
Smooth wireless connectivity with an impressively long battery life can give artists more freedom to create than they have ever had before, and at a lower price than most of the competition.
If you're a professional photographer, retoucher, or advanced graphic designer, animator, or artist, the $199 Huion Inspiroy Giano is a very solid choice that you won't regret. It will provide an extra large surface area with an impressively accurate and responsive workflow in addition to the ability to enable a more "pen on paper" like feel for old school artists.
---
Full Disclosure: This sponsored story is brought to you by Huion.