Mirrorless Continues Its Inexorable Rise At the Expense of the DSLR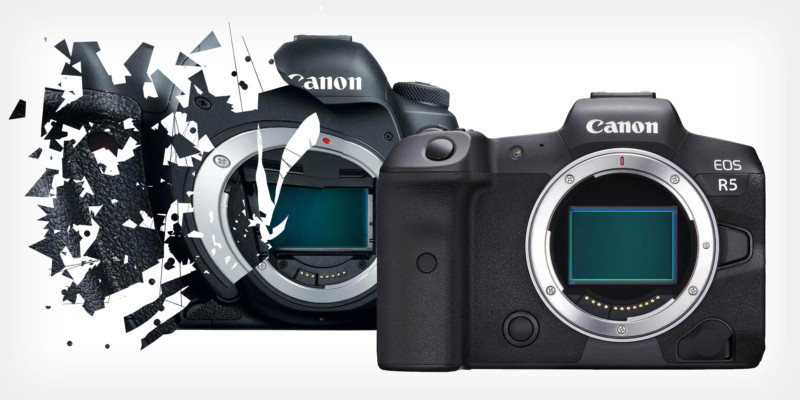 The death of the DSLR was always in the cards – as soon as Nikon and Canon entered the mirrorless fray in 2018 it was not a case of if, but when. However, what was perhaps not expected was the rapidity with which the sales rug would be pulled from beneath DSLR consumers' feet. It's all or nothing when it comes to mirrorless.

The maxim goes that the "proof is in the pudding" and the camera pudding – at its simplest – is the number of unit shipments (as recorded by the industry body CIPA). We can see the monthly view of this below for the last five years. Besides the irregular waxing and waning of shipments, we also get a sense that 2017 was a much better year than 2021. It was, as 25 million units were shipped, compared to just 8.4 million last year. Perhaps, to everyone's surprise, 2022 (green line) has actually been worse than last year.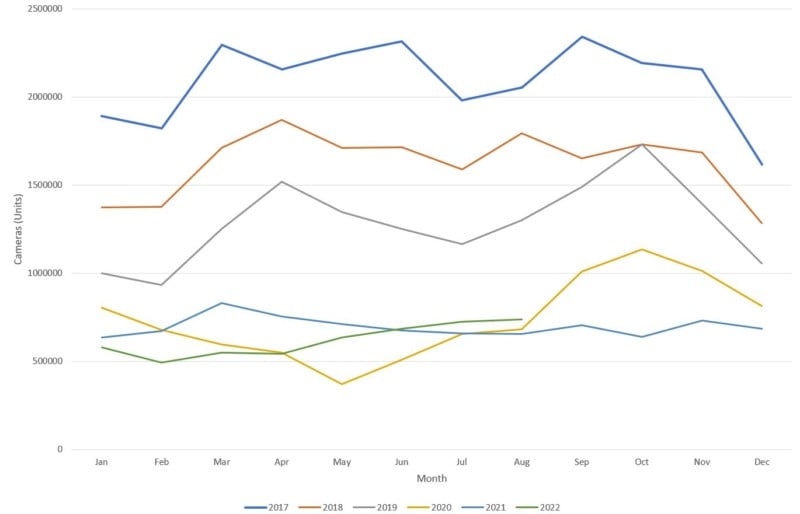 This is easier to see if we look at cumulative shipments through the year (below) where we are pretty much at parity with a COVID-fraught 2020. That said, 2020, 2021, and 2022 all look to be at similar levels, which suggests shipments might hit around 8.3 million units this year. At face value, that doesn't seem particularly great given that we are meant to be in an economic rebound with factories open and demand outstripping supply.
So while the proof may well be in the pudding, that tasty morsel is complicated by the interplay of its ingredients. In this case, integrated cameras, DSLRs, and mirrorless. We can see this complexity in the chart below which shows shipments (dotted) and value (solid).
What's clear from this is that integrated cameras and DSLRs are both shipping similarly low numbers, each broadly equivalent at around 20% of the total. In stark contrast, mirrorless models have streaked ahead over the year.
It's the interchangeable lens camera (ILC) segment that has been the engine of the pro-market and so the focus for manufacturers. Last year, shipments hit 5.3 million, with CIPA predicting a similar number for 2022 while Canon was more bullish suggesting it might grow to 5.6 million. So far this year, Canon looks to be on the money and – indeed – this might be an underestimate. If we expect a Christmas "bump" in shipments then 5.8 million seems likely and 6.0 million potentially achievable. It would seem that the demand is there and the more pertinent issue is whether supply can match it.
Regardless of the above, it's the solid lines in the chart below that are critical. These are the value of those shipments, which is ultimately the bottom line for manufacturers driving how much money they take and profit they make. In fact, if we look at the year to date, mirrorless represents 50% of shipments, compared to 24% and 26% for DSLRs and integrated cameras respectively. However, when you look at shipment value this changes to 76%, 14%, and 10%.
It's clear that the vast majority of income is being driven by mirrorless shipments. Perhaps more telling is that the number of shipments and their value are very similar for DSLRs and integrated cameras.
2022 and Beyond
The figures above highlight three strong trends in the industry at the moment which are manifesting themselves more rapidly than might have otherwise been expected.
Firstly, shipments are being driven by mirrorless models because manufacturers are switching their production lines over to these models and consumers are wanting to purchase them. More than that, Canon and Nikon are expanding their mirrorless ranges which means they need to be deft in switching production lines to new models and ramping up production.
The suspicion is that they are under capacity at the moment and that it is a delicate balancing act in closing DSLR production to make way for these new models. However, their hands have been forced to a certain extent by COVID and the contracting sector, so they are also having to permanently close and move production to new sites.
If – and it's a big if – Canon and Nikon are able to ramp up their production then it is conceivable that ILC shipments could head back toward 8 million units, last seen in 2019. This might seem like an overly positive outlook for an industry that has been in decline, but it's a unique moment in the industry and the pivot to mirrorless, combined with COVID, has created change at an unprecedented level.
Secondly, integrated cameras remain an active (and we must assume) profitable segment, albeit a relatively small one. This is being driven by low-volume, high-value, products that are aimed at the travel, second camera, and vlogging markets. So while Canon may well have closed one of its Chinese factories, this reaffirms the shift away from low value, low profit, models.
Thirdly, DSLRs retain as much value as the integrated camera segment. This – in stark contrast – represents products that are dropping in value as they age and likely have low-profit margins. As I've noted above, it's also likely a casualty of the change of production lines toward mirrorless models.
Nikon has openly stated that they expect DSLRs to make up just 5% of their camera shipments by 2025. There is no firmer precursor of intent than that and it seems less a factor of capability (of the technology) and more a simple business decision. When you are scaling back the business as it naturally reduces in size, simplifying the product lineup for the medium term minimizes costs.
If there was one word to describe the DSLR going forward then it is this: obsolete. By the end of 2022, we should have a much better idea of the scale of this and so the direction and speed of travel for 2023.