The Story Behind the 1990 'Teenage Mutant Ninja Turtles' Movie Poster
1990 marked the release of one of my all-time favorite movies: Teenage Mutant Ninja Turtles. I was nine years old and that warm fuzzy feeling of nostalgia is burned deep within me whenever I re-watch it.

I recall the feeling I got when seeing it for the first time and it's easy to dismiss in today's CGI-saturated movie industry the sense of awe from witnessing a live-action version of my favorite cartoon characters.
To many, the quote on the poster "hey dude, this is no cartoon" is very reminiscent of the 1978 Superman movie poster that stated, "You'll believe a man can fly." An indication that the motion picture takes the viewer on a cinematic journey to a level none had seen before.
Even after I became a photographer, I didn't give much thought to who would have photographed the famous poster or how it was shot. That is until I was cataloging my magazine collection and came across the September 1990 issue of Studio Photography Magazine that featured a man named Chip Simons, the photographer behind the iconic movie poster.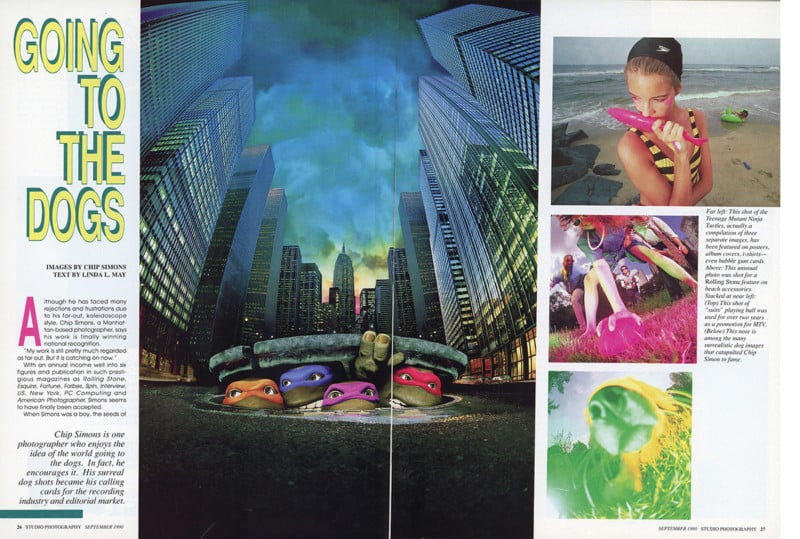 Even though Simons was a very well-known photographer at the time who had been published in Rolling Stone, Fortune, Forbes, Esquire, and Spin, to name a few, with an income that was, as the Studio Photography article put it "well into the six figures," in my initial online research I found almost zero ties between his name and the poster.
In fact, if it weren't for this 1990 magazine interview, I'd have no way of knowing who the photographer behind it was.
I reached out to Simons with some questions about how this image came into existence and was very surprised to get a reply and detailed answers. I'm very eager to tell you what I've learned because I don't think this information is available anywhere else online.
As mentioned, Simons was a huge influence on photography during this time. In addition to the publications I already mentioned, he also worked with Nickelodeon, MTV, The Tonight Show, and others. He also worked on album covers like this one for Cyndi Lauper's A Night To Remember.
The Camera Gear Behind the Photo
First things, first, let's talk about gear. To me, one of the fascinating aspects of learning the history of any photo is what it was taken with. What camera? What lens? What film?
After thirty years and ten thousand photography gigs, it'd be hard for anyone to pin down precisely what camera and lens combination was used in the days of film. Though a couple of possibilities came up like the Hasselblad 500 ELX, after cross-referencing with what was available at the time, and through conversation and process of elimination, it would almost certainly have been a Hasselblad 500 C/M that captured these images.
I say "these images" because this poster is a composite — a fact some of you may not have known. More on that in a bit.
We do know for certain which lens was used: a Carl Zeiss F-Distagon 30mm f/3.5 Fisheye.
"It's really that lens that made the look of the 80s and 90s with my dog photos and MTV and Tonight Show stuff," recalls Chip.
The film was also much easier to nail down: it was Fujichrome 100D RDP, a slide film.
"It was the warmest and best film for a decade," Chip tells me.
How the Poster Was Shot
Of course, even more fascinating was the process of how the poster was made.
When I asked Chip how he got the job of shooting the poster, he had this to say:
"I was pretty big from my dog photos being published by Andy Warhol, and I was already shooting for all the mags, like Rolling Stone and Spin. I think this job came through a lady at one of the magazines… I think Esquire."
Armed with his Hasselblad, fisheye, and a bagful of Fujichrome, Simons set off on his bicycle around Manhattan at sunset and at night over the course of a week in what was likely the late summer or early fall of 1989. "NYC was a free for all. I just rode my bike around and laid in the street, trying not to get run over."
By the end of the week, he had shot 60 rolls of film! That's over 700 photos.
Now in case it wasn't obvious, the Ninja Turtles were not shot on location.
"They flew in the heads and hand from London, and I shot them on seamless paper with the same lens, and some with a 40mm lens, in the studio. The hand was positioned by an assistant through the seamless paper."

The manhole cover itself, and the hole from which the turtles are peeking out are computer graphics.
As the 1990 article in Studio Photography points out, the image is actually a composite of three images. But according to Simons, it's actually more than that.
The company that hired him for the job was based in LA and was in charge of all the scanning, compositing, and graphics. While Simons doesn't recall the name, he does remember that it was the same company that hired him for the movie poster of The Pest.
The street is real and was shot in the rain, and it was either in the West Village somewhere or possibly 43rd street looking down Fifth Avenue.
The Empire State Building in the background is around 38th and 5th and the buildings are at 6th avenue around 44th, 46th, and 52nd Street looking north, then flipped for the other side.
If you look closely, you can see the buildings on the right don't reflect what is on the left. You can see open sky. Also, the sky itself is modified (though to what extent is unknown).
What we end up with is one of the most iconic posters of the early 1990s, and considering this image is a composite of so many different elements, it has held up very well over the last 32 years.
Humble Earnings from an Iconic Image
By now you might be thinking that Chip Simons is a millionaire from the royalties of this image alone. Unfortunately, that is not the case.
"I got paid a studio day for the heads, and costs of film and I billed like four days and made about $2,000," the photographer says. "No contract and they owned everything, and I never made another penny."
In 1991, Chip moved back to New Mexico to raise his kids and started focusing more on stock photography. In 2003, his stock photos brought him $200,000 dollars. By this year, that number dropped to just $529.
He states that a shift in how the industry started running itself was the reason for the rapid decline in his work.
"Anyone that made jokes about their ideas, or the assignments, or casting, was excommunicated. I am a comedian, so I have been blacklisted since 2000."
As of a year ago, Chip is retired from photography besides photographing his pugs, landscapes, and food, but he is still active on Twitter and posts images that are ethereal, dreamy, and beautiful on the regular, and sometimes ridiculous stuff like this corn dog.
Learning about all the ins and out of this famous movie poster and being able to have a back-and-forth with the photographer has been an amazing experience for me, and I hope you found it as interesting as I did.
---
A big thanks of course to Chip Simons for answering all my questions over the last few weeks, and being patient with me as we work out the details. Also, huge thanks to those New Yorkers on my Discord for helping me verify shooting locations.
If you'd like to see more of Chip's work, you can follow him on Twitter @chipsimons.
---
About the author: Azriel Knight is a photographer and YouTuber based in Calgary, Alberta, Canada. The opinions expressed in this article are solely those of the author. You can find Knight's photos and videos on his website, Twitter, Instagram, and YouTube.