Harry Styles Fan Has BeReal Photo App Freeze at the Worst Moment
Photo-sharing app BeReal has seen a surge in popularity in recent weeks. However, the demand for BeReal has meant that the app frequently crashes at the crucial moment when users try to upload their daily photo — as one woman found out during a Harry Styles concert.
Cara McManus posted a viral video on TikTok of the chaotic moment a bystander in front of her, desperately tries and fails to post a BeReal photo of Styles as he stands directly ahead of them on stage.
In the clip, the woman's fingers are seen frantically pressing the "Take your BeReal" button on the app so she can get the perfect shot of Styles for her BeReal photo of the day. She repeatedly presses the button, furiously trying to get the app's camera to work as Styles walks towards her and gives the crowd a thumbs up. But despite her fraught attempts, the BeReal app has seemingly crashed and the woman fails to post her dream daily photo.
The amusing clip amassed over 5.4 million views — with thousands of TikTok users relating to the woman's predicament in the video.
One viewer writes "Bereal is the buggiest app, she was brave for attempting one then."
"Gives me reassurance that it's not just my Bereal app that takes ages," writes another viewer.
Another TikTok user, who understood the woman's struggles with the app, comments "BeReal is super stressful when it won't open."
BeReal managed to top the Apple App Store U.S. charts this week, despite the app reportedly receiving numerous complaints that it crashes when users try to upload their daily photo.
However, University of Buffalo School of Management's Professor Arun Lakshmanan tells the Los Angeles Times that it's common for the infrastructure of social media apps to come under strain when demand suddenly surges.
BeReal's boom echoes the early success of Instagram and Twitter, when platform glitches were frequent because of an overload of users.
"The faster an application is able to ramp up, the more likely it is to become popular and stable," explains Lakshmanan.
In total, BeReal has been downloaded over 20 million times. It had 1.7 million downloads during the week of July 11, the biggest weekly gain ever, while this past Saturday was the app's best day ever for downloads, according to data shared with Fast Company by digital analytics platform Sensor Tower.
What is BeReal?
Set up as the antithesis to Instagram, BeReal only allows users to post one photo per day and only at a randomized specific time. The app wants users to focus on sharing authentic posts that does not use editing or filters. Furthermore, users do not get to decide when they share a photo. Instead, they receive a notification to post a picture in their current surroundings and receive a two-minute timeframe to do so.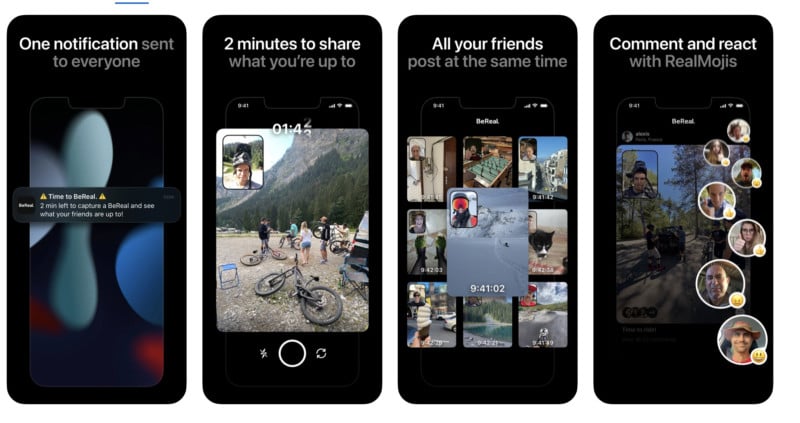 When the shutter button is pressed, BeReal captures using both a front and rear-facing camera making it impossible to hide behind the main camera. This bi-directional capture feature means that viewers get a complete snapshot of what the poster is up to at that moment.