BeReal is a Photo-Sharing App That Limits You to One Photo Per Day
A new photo app has surged in popularity thanks to an unusual premise: it only allows users to post one photo per day and only at a randomized specific time.
Set up to be the "anti-Instagram," BeReal wants users to focus on sharing authentic posts that don't use editing or filters. Furthermore, users don't get to decide when they share a photo. Instead, they receive a notification to post a picture in their current surroundings and receive a two-minute timeframe to do so.
So whether the user is working in an office, watching Netflix in bed, or having lunch, they will have to post an image to the network within 120 seconds of receiving the push notification.
"Everday at a different time, everyone is notified simultaneously to capture and share a photo in two minutes," reads BeReal's website. The company says it is a new and unique way to discover who your friends really are in their daily life.
When the shutter button is pressed, BeReal captures using both a front and rear-facing camera, making it impossible to hide behind the main camera. This bi-directional capture feature means that viewers gets a complete snapshot of what the poster is up to at that moment.
Users can share reaction selfies to their friends' posts rather than "liking" them, and uploaders can change the caption on their posts and interact with RealMojis.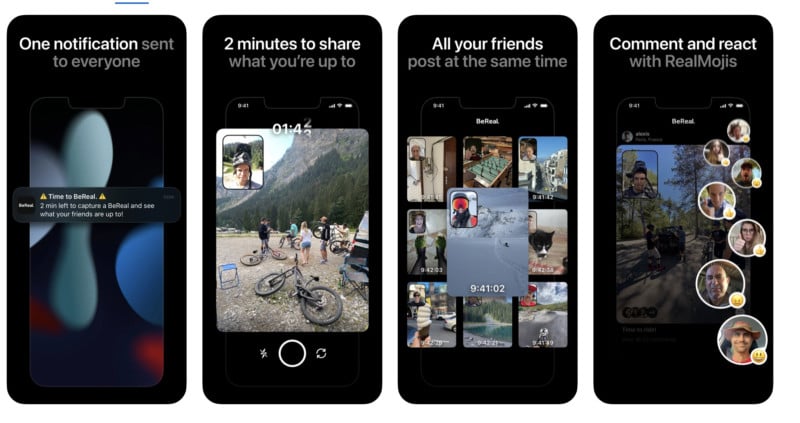 The Anti-Instagram
BeReal proudly claims that its app won't "make you famous," and "if you want to be an influencer then you can stay on TikTok and Instagram." The app is also ad-free, and some users have said it makes them nostalgic for the halcyon days of Instagram.
The alternative social media app is said to be particularly appealing to the younger Gen Z audience, as the genuine and less-frequent posts appeal to the post-millennial generation, Axios reports.
This year, the venture capital-backed app is currently the second-most downloaded social networking app on the App Store, just behind TikTok, according to Vox. It launched in December of 2019 but only started surging in popularity this year when 75% of its total downloads occurred.
However, despite its current success, photo-sharing apps that are offered as an alternative to Instagram rarely stay the course. Last year Dispo was hailed as the new zeitgeist offering a classic disposable camera type experience but a scandal quickly quelled the buzz.
Poparazzi was also popular on the app store last year and encourage users to take paparazzi-like shots of their friends and gained some traction on TikTok before the hype subsided.