Geometric Photo Series Inside a Squash Court Was Shot with a Drone
Australian aerial photographer Brad Walls has captured a visually compelling photo series that turns a squash court into geometric art from the perspective of his drone.
Squash Court as the Perfect Canvas
Walls specializes in depicting symmetry from above and uses plenty of negative space and leading lines. Synchronized movements, like swimming, pair perfectly with his style, but he has also worked on more conceptual ideas which tap into his thoughts on the experience of isolation and time seemingly freezing during the pandemic.
His latest project, "Vacant" is also a conceptual piece and draws inspiration from surrealism and geometric art. Walls got the idea of using a squash court for his project after visiting one he used to play at in high school — the vast empty space and linework of the court immediately drew him in.
"As an artist, you are trying to push your work to the next level, finding the new scenes, testing the limits," Walls says. "A 20 square meter box using a drone was the next challenge. I was bound to crash."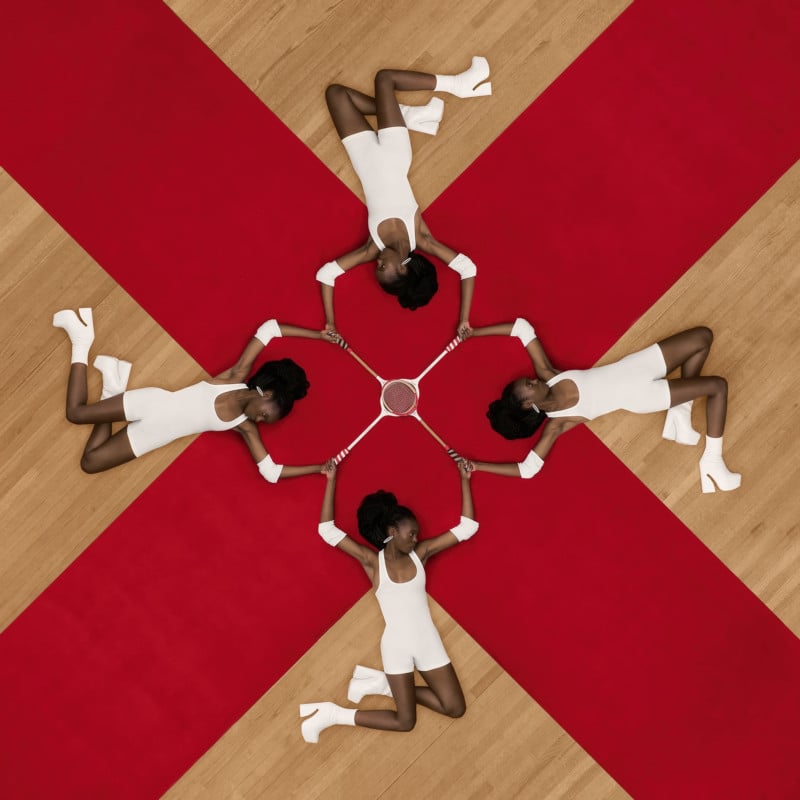 Walls had always wanted to do what he calls a retrofuturistic photoshoot because of being drawn to "the tension between the future and the past," he tells PetaPixel.
"For me, the most prolific element of the 80s was the squash court, so I started there. I knew I could use the lines of the court to my advantage in strategically breaking up my scenes into halves, thirds, etc., which provides a great foundation compositionally."
He used the carpet to the same effect, while all choreography was planned to show mid-movement poses. For Walls, the models' poses added to the sense of detachment from the scene, with dissonance like this being something he enjoys in his work.
"It seduces the viewer to wanting more," he explains.
Shooting Indoors with a Drone
Walls shot the photos in an actual squash court, which he had scouted ahead of time to make sure he could use his drone. The biggest challenge was space — although Walls was surprised by how much height he could use for the shoot, the difficult part was shooting diagonal frames.
"20 square meters is not a lot of space with a 24mm lens," he says. "The drone had prop guards on and was definitely touching the corners of the court to have enough frame. I even flew outside the court and over the glass entry doors for many of the shots."
Even though it's a conceptual body of work, the project seamlessly fits in Walls's broader portfolio. It shows his trademark compositing techniques, like duplicity, symmetry of figures, and negative space.
"Geometry provides a hint at consistency in an ever inconsistent world," he says. "Innately, humans are drawn to it. Me, maybe more so".
More of Walls's work can be found on his website and Instagram.
---
Image credits: Photos by Brad Walls.