Nikon Z30 First Impressions: A Camera with a Clear Target User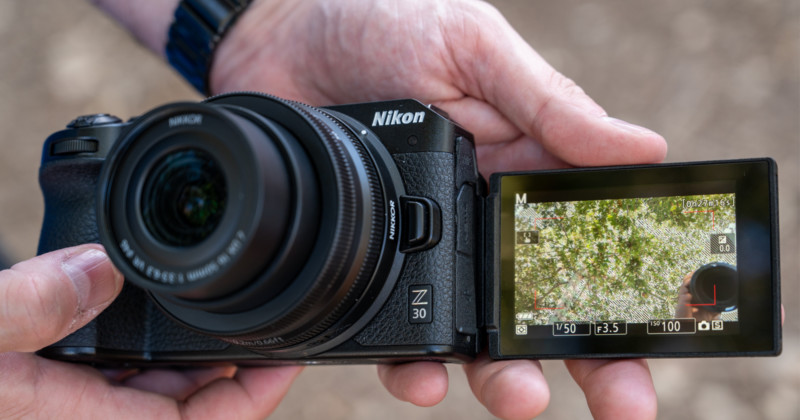 As much as photography purists don't like it, vlogging and streaming are not only a real desire, the demand for cameras in this segment is considerable. After seeing the success of the Sony ZV-E10, Nikon wanted a piece of that pie and aims to get it with the Z30.
The recently announced Nikon Z30 is a 20 megapixel (MP) APS-C mirrorless camera designed entirely with vloggers and content creators in mind.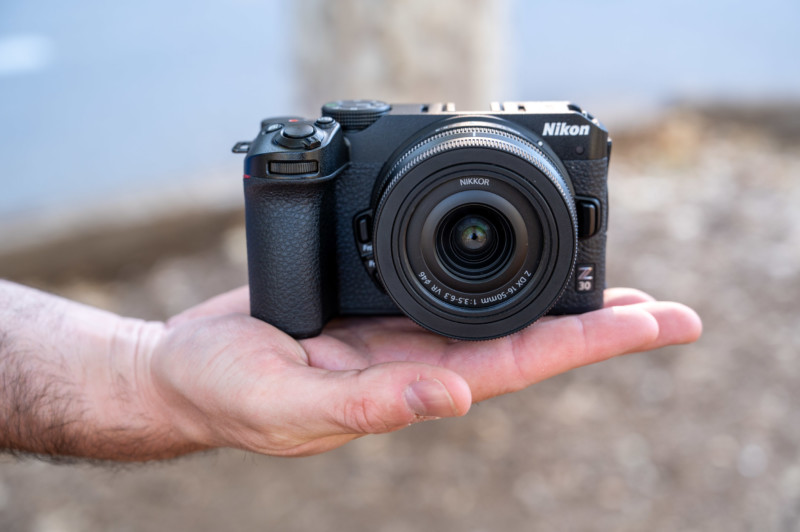 The $710 nearly pocketable camera from Nikon has almost everything existing DX users are familiar with, however, this system has put most of its emphasis on self-shot (selfie) stills and videos that can be produced solo. As such, Nikon has offered this camera as part of a bundle with the "creators kit" including a microphone, tripod grip, and Bluetooth remote.
I was able to get a hands-on demo with the camera last week and have a few thoughts on it after that experience.
While there have been previous generations of APS-C cameras from Nikon like the Z50 and Z fc that were targeted towards the more enthusiast and content creator markets, the Z30 takes things a bit further with some subtle and not-so-subtle changes to the system's design. Things like the addition of two stereo mics built into the camera (with optional "fuzzy" wind noise reducers) as well as the "recording in progress" tally lamp built into the front of the camera. That latter feature is actually more common on large pro camcorders, so its inclusion here is both unexpected and welcome.
Nikon opted to remove the electronic viewfinder, pushing users to treat the system like that of a point-and-shoot where you do everything through the pivoting touch screen display. While many of these changes make the camera smaller, more affordable, and more user-friendly for vloggers, there are a few things I noticed missing.
Primarily, the lack of a headphone jack feels like a big miss. Along this same line of thought, there is some wonkiness with the self-portrait mode. In its current state, to check your audio levels you need to turn that mode off as once it's enabled and the camera is recording you cannot keep tabs on audio. Hopefully, this can be changed by a simple firmware update down the road.
Users already familiar with the Z mirrorless cameras will feel right at home as the menus and back of the camera buttons are all almost exactly in the same positions as they were in previous models. This also includes the front and rear jog dials, which I honestly wouldn't have expected to even make it onto the design of a camera this small.
With the firmware currently on the camera, the Face/Eye autofocus works as well as you would expect, and this includes following the subject while moving around on camera, a great feature for someone filming themselves, freeing them from worrying about the camera missing focus for an entire shot without a 2nd pair of eyes.
The camera itself, with the entire creator's accessory kit attached, is quite lightweight, and other than the mic, is quite discreet, making it ideal for creators looking to shoot content in the streets without getting in anyone's way or causing too much of a scene.
Despite the missing EVF, the ergonomics of the camera are very familiar and it has a very comfortable grip with well-placed function buttons on the front (I was also surprised those were included on this tiny body). It is worth noting that the system does only have a single memory card slot. While for many this isn't a big deal for everyone, I have hit a point where I always prefer and feel much better when I have a backup slot available. I am not even asking for support for higher-end CFexpress cards. Even if it is just dual SD card slots, I'd rather have it and not need it, than need it and not have it.
What the system does get right compared to the Z50 is the ability to record video for longer and the choice to go with the "vari-angle" screen. These two features alone should entice the creators in the vlogging market alone, which is precisely the targets Nikon has in mind with this camera. For now, I believe Nikon is at least moving in the right direction with a camera like this, at least for its intended audience. I think for people thinking of getting into the vlogging world, or already doing so with bigger/clunkier systems, this might actually be a good choice of a "creator" to invest in.
We'll be taking a much closer look at the camera in a future full review. For now, make sure you don't miss our full coverage of the camera here.