Nikon Z30 Review: A Travel Camera That's More Than Just for Vloggers
The Z30 mirrorless camera is Nikon's third APS-C (DX) system that takes advantage of the Z-mount. While clearly marketed at content creators, vloggers, and social media influencers, the compact system has everything a solo-operating content creator needs to get up and running for video and photo.
The Z30 is arguably more focused on video creation as the camera doesn't have a viewfinder. Instead, it has an articulating touchscreen that allows you to see and control everything while simultaneously being in the frame yourself. While Nikon says the Z30 is aimed at Vloggers (which that particular market has shown massive growth in recent years), it can also be presumed the "pocket" camera is also targeted as a replacement for the discontinued consumer DSLR cameras from the D3500 and D5600 series lineups. No matter what market the camera is aimed at, there's no denying the little system is actually pretty dang useful and packs an impressive punch.
The Nikon Z30 camera is capable of shooting video in 4K at up to 30 frames per second (fps) and leverages its own "flat" profile (instead of an actual log format) which may be more simplistic, but it does make it much easier for new video editors to work with in post.
While the camera lacks a headphone port, which means you will have to monitor the audio using the on-screen display which is no ideal. That said, it does leverage a stereo microphone built into the top plate and can also use the shotgun mic and dead cat windscreen that comes in the creator kit. What makes this camera truly stand apart from its other APS-C siblings is its ability to record over two hours (approx 125 minutes) of 1080p footage in a single file whereas the Z50 and Zfc cap off at about 30 minutes (4K can record for about 35 minutes). This gives content creators the ability to just roll with one long take instead of having to create multiple files throughout their sessions, making it easier for them to keep track of where their content is when they get back to their computers.
The system is unexpectedly at its best when used with the kit 16-50mm lens as a sort of vlogger's all-in-one system for creating content and just capturing everything that happens to happen around them while traveling.
Nikon Z30: Design and Build Quality
The Z series cameras keep a lot of similar design features between the different versions. For example, the Z30 is pretty much the Z50 with the viewfinder cut off. While many (including myself) will find this a frustrating design point, the company says this was done on purpose to help save some space, battery life, and make things easier for single shooter operation when capturing selfies and vlogging on your own — which, as mentioned, this camera is designed to support. In addition to the missing viewfinder, the Z30 has a fully-articulating touch screen display so you can see what is happening from behind and in front of the camera.
This also gives shooters a little extra leverage when trying to capture images at very awkward angles and in tight spaces, since they can rotate and swivel the screen in ways other systems in the Nikon world cannot achieve.
The camera itself is pretty small, which could make it harder to grip for folks with larger hands to handle and navigate smoothly, but that's a small trade-off for a system that is so compact and travel-friendly. Holding the camera one-handed for vlogging and selfies can be a little awkward (without the creator accessory combo) but still surprisingly easy to manage, and the included 16-50mm f/3.5-6.3 kit lens made fitting myself in the frame when holding the camera at arm's length pretty easy as well.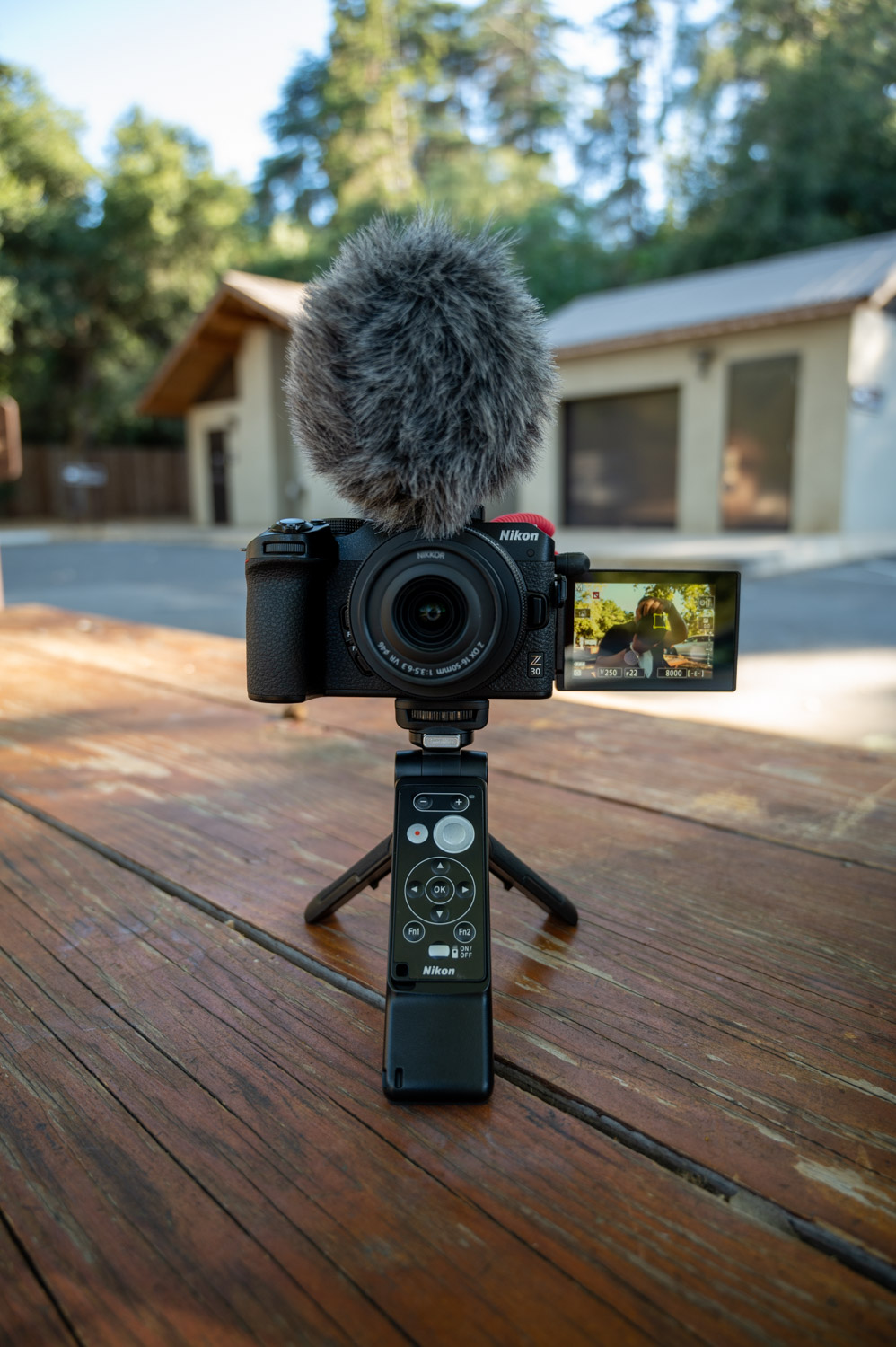 The body material of the camera is similar to most of the other Z mirrorless systems and it also has a mostly familiar menu and button layout along with a plastic back for the touchscreen display (which felt a bit odd). The side of the camera has a USB-C port, micro HDMI output, and microphone input. Micro HDMI isn't the best, but at least there is an output option. Also, like the Zfc, the SD memory card slot is housed in the same area as the battery which is accessed from the bottom of the camera.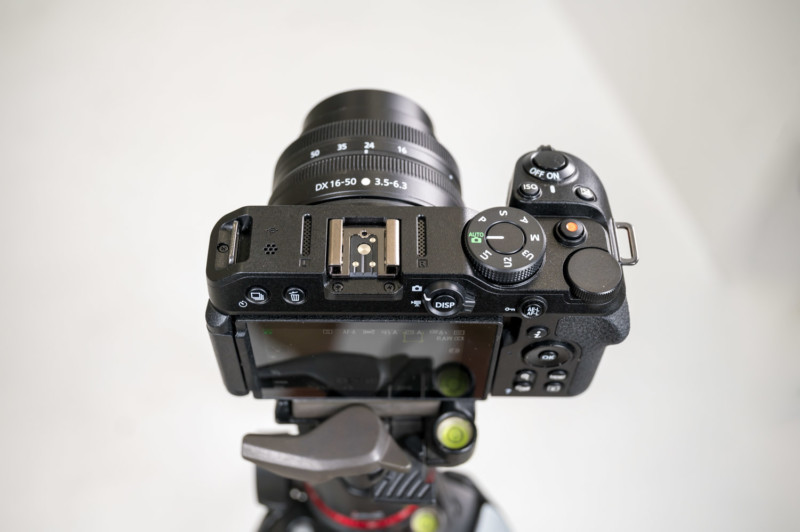 The three-inch display is pretty much identical to the Z50 and Zfc screens, but while it has a slightly higher pixel density than the Z50, the colors and refresh don't feel quite as snappy as the Z6/Z7/Z9 models. Even so, for what it's meant for I think it is more than good enough. This really isn't a "pro" level system despite offering many pro features, so the trade-offs still feel worth it.
The menu system will be very familiar to any shooter who has used a Nikon camera in recent years. The buttons and dials on the Z30 should feel familiar as well. There is an easy-to-access toggle switch for swapping from photo to video modes, with most of the zoom, play, delete, and navigation buttons in similar positions as the rest of the Z30 siblings with the adjustments made mostly to accommodate solo video creators. The top dial features a scaled-down mode dial that has Auto, Program, Aperture Priority, Shutter Priority, Manual, and two custom User Modes available.
Finally, the camera has a small "tally light" on the front of the camera body so solo users can tell when their video is actively recording.
The whole Z30 with the 16-50mm kit lens is quite small. While it won't fit in a jean pocket, I can totally see it as pretty "pocketable" in other circumstances. The compact size makes it a viable option for travel photographers who want something better than their phone but not much larger. It is also worth mentioning that even though this system is a DX (crop) sensor, every lens compatible with the Z mirrorless cameras can be used with it. So existing mirrorless users (or even those with the FTZ adapter) can leverage any existing lenses they have in the ecosystem.
Nikon Z30: Performance
Despite this being more of an "intro" camera body, the autofocus for both stills and video is incredibly impressive. In each mode, (including face/eye recognition) the focus was accurate and surprisingly fast, almost more reliable than the Z6 and Z7 systems. I found that in busy scenes the AF in the "bigger sibling" cameras would often grab onto something in the background or foreground and need correction, but the Z30 seems laser-focused on staying locked in on the person closest to the camera, which for this system is pretty much what you always want.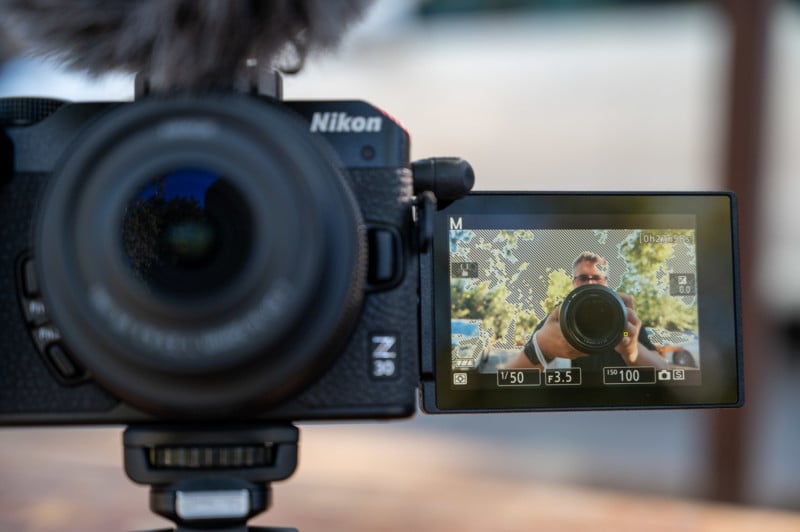 Like all recent Nikon cameras, the Z30 can be connected to your smartphone (and some tablets) using the Nikon Snapbridge app which allows you to control the camera remotely which gives one-person-operations like vloggers a lot more freedom to move and be "hands-free" when recording videos or stills without the accessory kit (or even in addition too). This is especially valuable when recording on your own as even though you can see everything captured on the rotating screen and access the play/pause/delete/menu buttons are all still on the back of the camera.
Capturing images and video in low light (high iso) was impressive and made pretty clean shots all the way up to ISO 25,600. Beyond that, things get visibly noisy but still passable, which is something my original Z6 is definitely not capable of.
The company says the battery for the camera is rated for about 330 shots, but in my testing, I was able to use the camera for much more than that number, almost double in fact. Granted when capturing the odd video in 4k, that 330-frame lifespan gets much more accurate. Shooting just video, you can get about 70-80 minutes of recording time out of a full charge. The even better news is you can plug in a USB-C power supply (either a battery pack or even a wall outlet) to keep the system running longer while in use.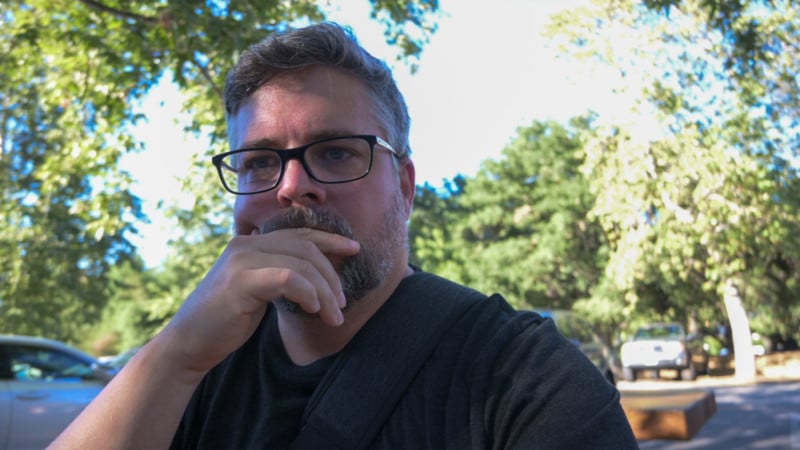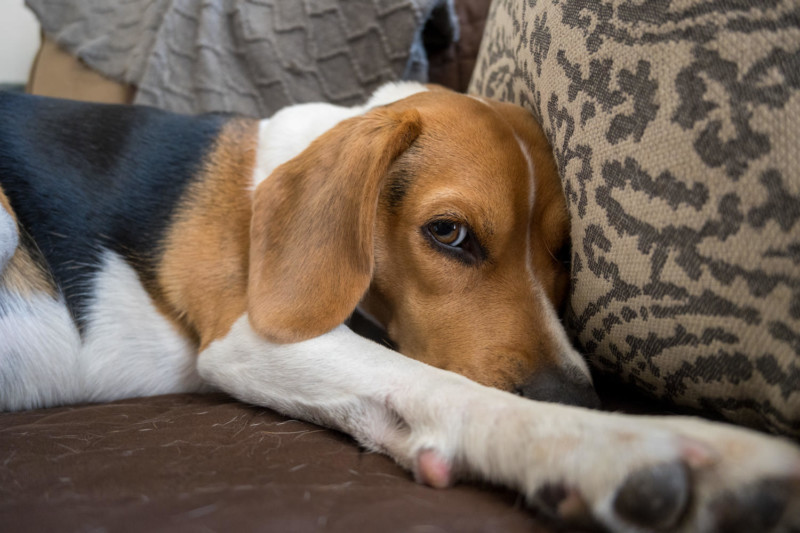 As for image quality, the Z30 uses the same 20.2-megapixel sensor that is found in the Z50 and Zfc system, and even in low light, performed surprisingly well with some pretty clear and vibrant images from both RAW (edited) and JPEG straight out of the camera.
Shooting content backlit by the sun (directly into light sources) left very minimal haloing or fringing, and despite being a "kit" lens with a variable aperture, the bokeh was actually kind of nice, as long as you had a little separation between your subject and the background. I just wish there were more wide-angle options available to the system in DX-format. Hopefully, Nikon will add more to its roadmap in the coming years.
Below are more sample shots captured using the Nikon Z30 and the kit 16-50mm lens: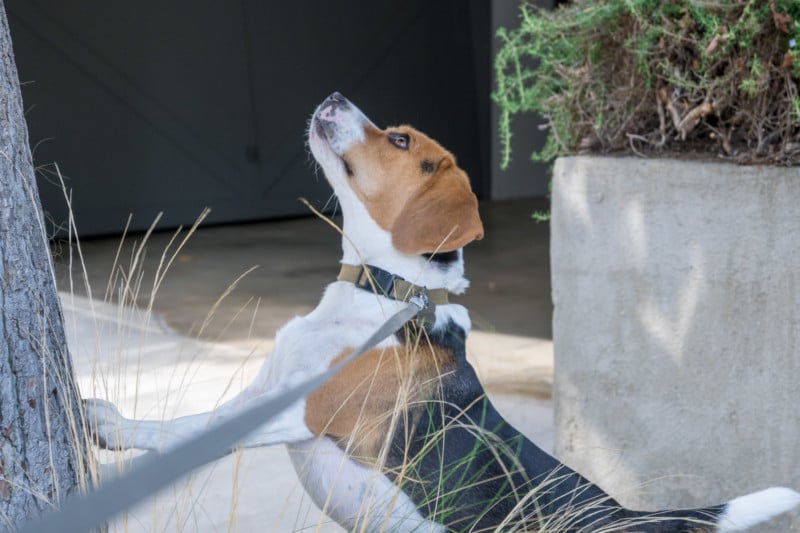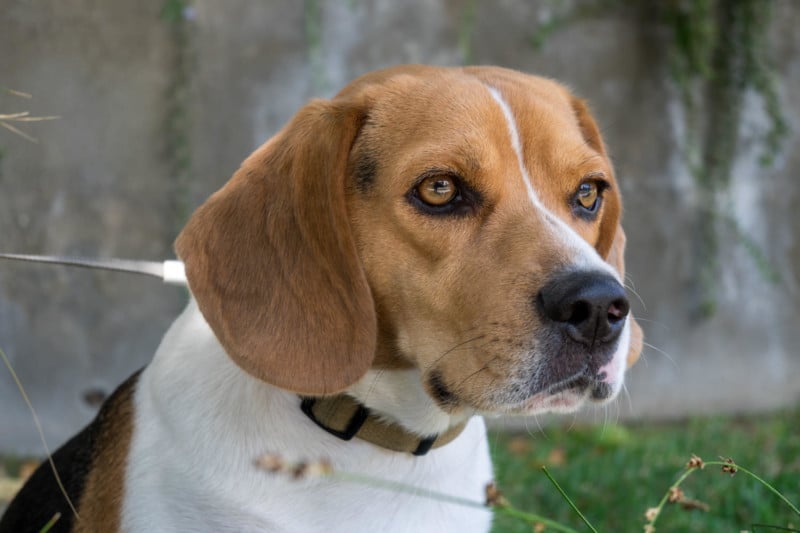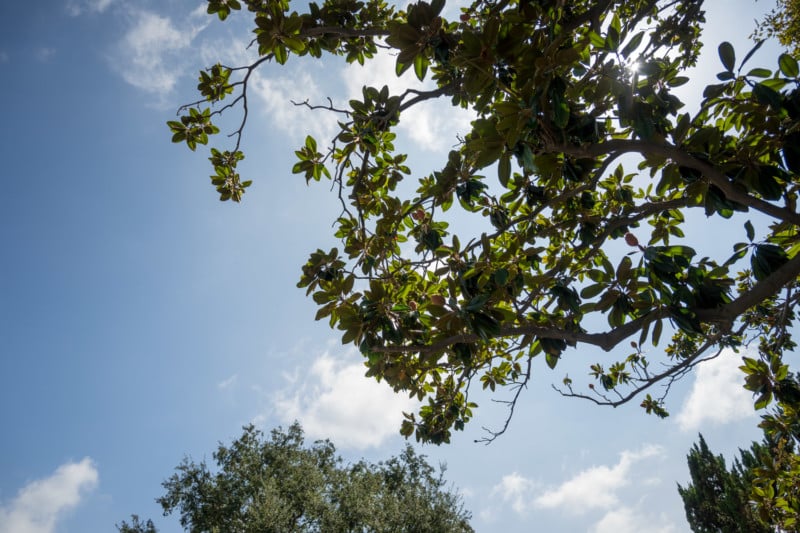 A Solid Choice for Beginners, Travelers, and Vloggers
While the Nikon Z30 actually does make an amazing camera for travel and vacations, the system is clearly aimed at influencers, educators, and content creators who are looking for something better than just their smartphone for capturing video but who also don't want to invest heavily into high-end setup. Since the little camera is so easy to use as a "one-man" operation, it really is a great choice for vloggers/TikTok/YouTubers who need to document their daily adventures and normal lives while keeping the footprint small enough to fit in a very small bag.
The system is very beginner friendly but still offers enough "professional" options that it can, and likely will, remain in a content-creators arsenal even after they upgrade to one of Nikon's larger camera bodies.
The Z30 is available body-only for $656.95 or as a bundle with the 16-50mm F/3.5-6.3 VR lens for $796.95. Additionally there is a two-lens kit that adds the 50-250mm F/4.5-6.3 VR to the setup for $1,046.95, and finally, the "Creators Accessory Kit" that includes a Røde shotgun mic, ML-L7 Bluetooth remote control, and mini tripod/selfie grip is $146.95.
Are There Alternatives?
This style of camera has gotten popular over the last few years, so there are several options on the market. Sony has a vlogger-focused ZV-E10 with a similar lens for $798, Panasonic has the DC-G100 for $548, and finally Fujifilm's X-T30 II and the X-S10 for $999 and $1,399 respectively are all solid choices.
Should You Buy It?
Yes. It's small, simple to operate, has some impressive autofocus in both still and video formats, and is seriously easy to travel with.