Sony's New Shotgun Mic Brings High-Quality Sound in a Compact Design
Sony has announced a new compact shotgun microphone, the ECM-B10, that it says collects high-quality sound in a compact form factor thanks to its three-in-one super-directional signal processing.
The new microphone is an update from the previous ECM-B1M and features what Sony touts as industry-leading sharp directivity and digital signal processing in a "remarkably" compact form factor.
Sony says the ECM-B10 applies digital signal processing to the sound collected by four high-performance microphone capsules using beamforming technology which allows the user to customize how the audio is recorded by enhancing the microphone's sensitivity from different directions.
For detailed setting operation, a comprehensive range of audio settings are available on the back of the microphone. The ECM-B10 has three types of directivity in its single compact form factor, which lets users switch between super-directional, unidirectional, and omnidirectional sound capture.
When set to super-directional, Sony says the microphone collects sound from a narrow field in front while suppressing sound from other directions. The company recommends this setting for interviews of a single individual.
Unidirectional capture suppresses sound from behind but widens capture from the front, which Sony says is best for capturing audio from a group of people.
Finally, the omnidirectional setting picks up sound equally from all directions and is recommended to capture environmental sounds.
Regardless of which sound setting is selected, Sony says that the ECM-B10 provides "crystal clear sound collection" along with "effective" suppression of noise. It does this through digital signal processing in the microphone itself that Sony says effectively reduces noise for clearer sound collection which creates a more efficient post-production workflow since audio that is collected doesn't require as much editing.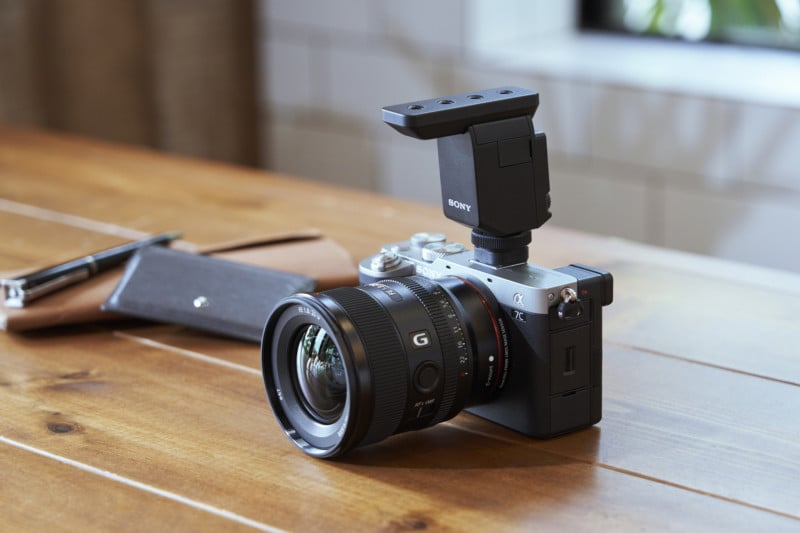 The microphone also has a shock and vibration suppressing design that Sony says effectively suppresses low-frequency vibration noise, while its cable-less design eliminates noise transmitted via cables.
The ECM-B10 pairs with Sony cameras that use the digital Multi-Interface Shoe (seen below), but can also work with any camera through an analog connection.
Sony says that it works best with the former though, as when it is connected to cameras with a digital audio interface it can transmit audio directly as a digital signal to deliver high-quality sound recording without degradation.
The Sony ECM-B10 will be available in August for $250.