Powerful Photos Taken by Ukrainian Soldier Show Last Stand in Mariupol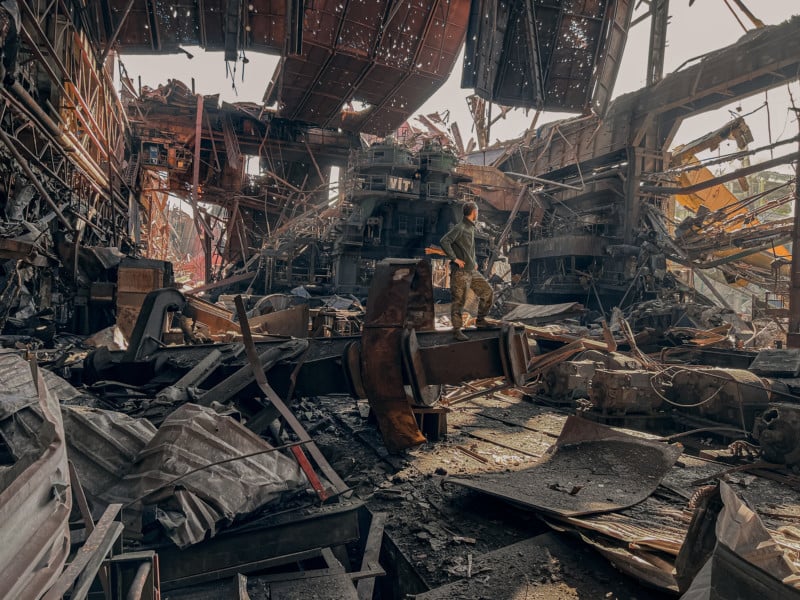 Dmytro Kozatsky, an Azov Regiment fighter and photographer, has shared the pictures he took during the last days of the siege of Mariupol before it was captured by the Russians.
Kozatsky's powerful images are taken from inside the grim Mariupol steel plant where his regiment was the last of the Ukrainian military that was still holding out against the Russian army in the pulverized eastern port city.
The photos show the gruesome nature of war and depict battle-hardened and injured soldiers, some with limbs missing, in the destroyed Azovstal steel mill.
While some of the images show some of the grisly injuries the troops have sustained fighting against the Russian invaders, other pictures show men and women candidly relaxing as the war rages around them.
One poignant image shows a bespectacled man engrossed in a crossword, another shows a female fighter staring solemnly into the fire.
A Final Act
Kozatsky uploaded the pictures to Google Drive and left the folder on Twitter with the caption: "Well that's all. Thank you from the shelters of Azovstak – the place of my death and my life.
"While I am in captivity, I will leave my photos in the best quality, send them to all journalistic awards and photo contests. If I win something, it will be very nice after I'm released. Thank you all for your support."
Ну от і все. Дякую з прихисток Азовсталь – місце моєї смерті і мого життя. pic.twitter.com/uPa7bKyP1B

— Орест (@Kozatsky_D) May 20, 2022
For almost three months Kozatsky's garrison has clung on as the last defenders of Mariupol. They used the tunnels nad bunkers underneath the ruins of the mill to hold on so the Russians were unable to declare absolute victory in the city.
However, the Ukrainian high command told Kozatsky and his comrades to save their lives as they had already fulfilled their mission to hamper the advancement of Putin's army, according to Mercury News.
Nearly 2,000 soldiers surrendered according to Russian Defense Minister Sergei Shoigu. But not all the fighters submitted and some brave men and women remain in the labyrinth mill.
Now they are in Russia's hands, the fate of Kozatsky and his fellow soldiers is unknown. Russia is in full control of a city that has been flattened by shelling.