Sony's Xperia 1 IV is the World's First Smartphone with True Optical Zoom
Sony has announced the Xperia 1 Mark IV, a smartphone packed with features that put the needs of video shooters first but doesn't hold much back for everyone else. It's also the first smartphone with a true optical zoom lens that can shoot between 85mm and 125mm.
The Xperia 1 IV is specifically tailored for content creators. Speaking to PetaPixel, Sony explains that most smartphones are designed to do everything ok, but few are made to do a subset of specific tasks extremely well. That latter smartphone is what Sony is trying to make, and the Xperia 1 IV is designed to perfectly fit a niche of photo and video content creators thanks to its impressive array of cameras, high-end camera features, and live streaming capability.
Three Cameras, Three Sensors, True Optical Zoom
Sony's new smartphone has three rear-facing cameras, all of which feature 12-megapixels. The first is a 16mm ultra-wide that features an f/2.2 aperture and is in front of a 1/2.5-inch sensor. The second is a 24mm wide camera with an f/1.7 aperture and a 1/1.7-inch sensor that also has image stabilization in the form of Sony's Optical SteadyShot. Below that camera is a 3D iToF sensor (time of flight). The last camera is a periscope-style camera that features an 85-125mm f/2.3-f/2.8 lens in front of a 1/3.5-inch sensor that also features Optical SteadyShot.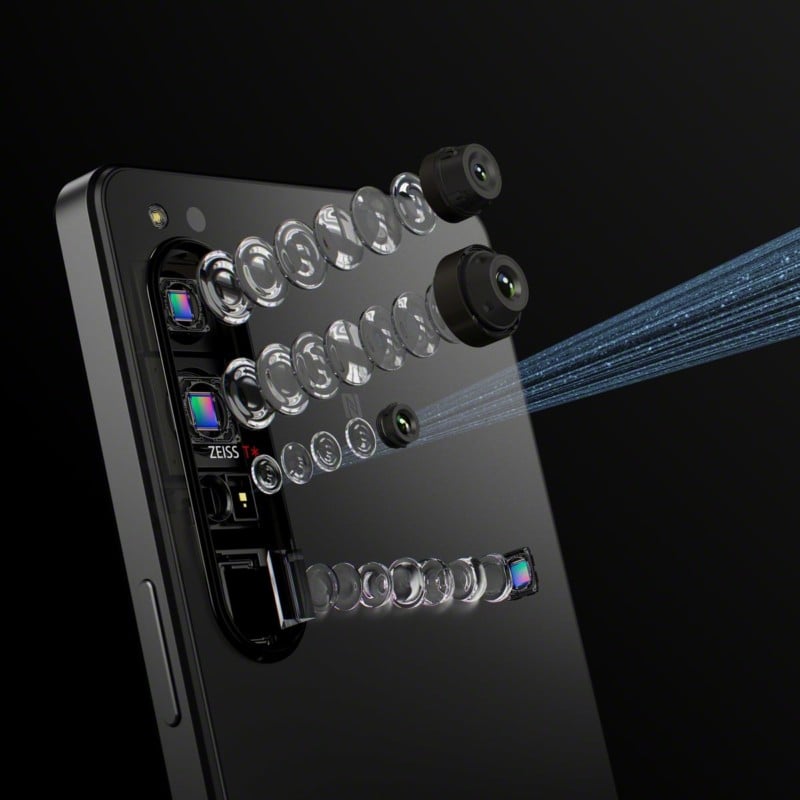 That zoom lens allows for any focal length between 85mm and 125mm and works just like a full-size zoom lens. Sony says it is the first of its kind and while it shows how the optics are arranged, the company is keeping the mechanism that moves the optics under wraps, which somewhat underscores the technological achievement.
In addition to all three cameras featuring the same 12-megapixel resolution, they all also share the same 120 frames per second (FPS) high-speed readout, which means all rear-facing cameras are capable of recording 4K at up to 120 FPS.
The three cameras are also equipped with Sony's Real-time Eye Autofocus (AF) and Real-time tracking capabilities, technologies seen in recent Xperia smartphones that was originally developed for the company's Alpha line of cameras. Sony says that it uses the 3D iToF sensor and artificial intelligence-based subject detection to allow for precise and accurate AF and tracking in low light. Finally, Sony says that the Zeiss optics have been calibrated specifically for the Xperia 1 IV and the T* coating contributes to accurate rendering and contrast by reducing reflections for all rear camera lenses.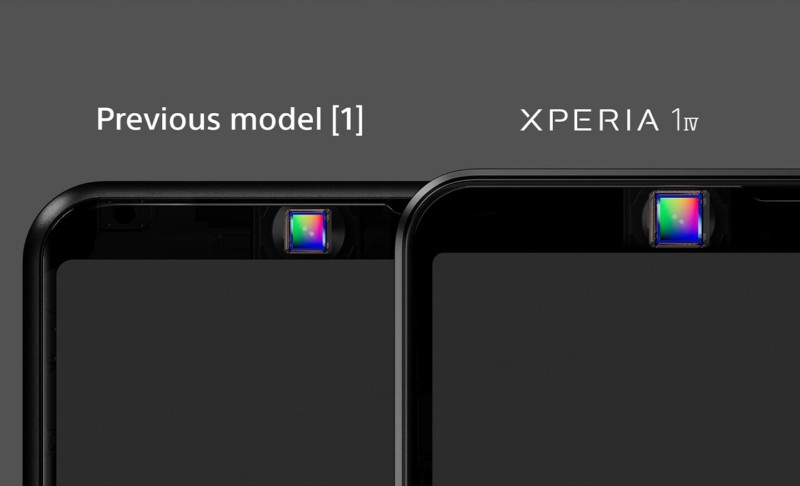 In addition to the rear cameras, the front-facing camera has also been improved. It too has a 12-megapixel resolution in front of a larger 1/2.9-inch sensor that has increased in size without impeding on the OLED display. Thanks to this sensor, the Xperia 1 IV can shoot 4K HDR video and 12-megapixel photos from the front-facing camera.
For Photography
Sony says the Xperia 1 IV combines that powerful optical telephoto zoom lens with both bokeh and advanced autofocus technology to deliver high-quality photos. IT can shoot up to 20 FPS while Real-Time Eye AF is active on any of the three rear cameras, a feature that works for both people and animals and even if they're moving quickly through the frame.
The 12-megapixel resolution is low compared to many other smartphones on the market, but Sony says that the content created with this smartphone tends to stay on screens. The company says the need for more than 12-megapixels is not often needed outside of printing, which isn't expected for subjects shot on this device. By keeping the resolution lower, the company was able to outfit all of the smartphone's cameras with improved speed and accuracy performance.
Xperia 1 IV enables Real-Time Eye AF and 20fps burst with AE (auto exposure)/AF in HDR on all three rear lenses to capture portraits for both people and animals. Sony promises it can continue to perform even when photographing fast-moving subjects and in challenging shooting conditions. In addition, the Xperia 1 IV uses AI white balance to capture and correct colors under challenging lighting conditions, which it says will deliver true-to-life results.
For Video
Sony has put significant resources into making the Xperia 1 IV video content creator focused. The company claims the smartphone improves the quality of live streaming while also simplifying the process. The device enables Eye AF and Object Tracking when using Videography Pro while live streaming to YouTube and other social media platforms.
It also works with Sony's bluetooth grip and Vlog monitor. For those who prefer to use a full-size camera, it can work in tandem with that use case as well. Users can stream high-quality video from a compatible Alpha camera while using Xperia 1 IV as an external monitor.
Improved OLED Display, Better Sound, Big Battery
That aforementioned OLED display is about 50% brighter than the previous generation Xperia 1 phone and is a true 4K display tht can refresh at up to 120Hz and display HDR 21:9 widescreen content. Sony says that the 120Hz display delivers exceptionally smooth graphics performance and the phone's 240Hz high-speed touch scanning rate supports the needs of a growing mobile gaming market.
That display is backed by a set of redesigned full-stage stereo speakers that Sony says has been tuned in collaboration with Sony Music Entertainment. The speakers have a new driver and enclosure design that puts out more power and improves the low-end. The company says that the speakers can also output its 360 Reality Autio sound, and hardware decoding optimizing quality when streaming music through services like Tidal.
The speakers are improved, but it's not the only aspect of sound that has been bolstered. Sony also improved the recording capabilities of the device and claims that its Music Pro feature up-converts vocal sounds in a way that mimics a recording in a professional studio:
"The cloud processing removes unwanted noise from the recorded sound using sound source separation technology. It then reproduces the frequency response of Sony's high-performance condenser microphones while producing reverberation similar to that of a professional studio."
If a recording is made that combines an acoustic guitar and vocals, the phone is smart enough to be able to separate those sounds and mix them at any balance. Sound recording and editing is free of charge, while cloud processing for high-quality sound is subject to a monthly fee in an amount that Sony did not disclose at the time of publication.
The phone features 12GB of RAM, 512GB of ROM, is powered by the Snapdragon 8 processor, and also comes with a microSD card slot to easily expand storage. It also features a 3.5mm headphone jack. Since it is a camera as much as it is a phone, it also has a dedicated shutter button.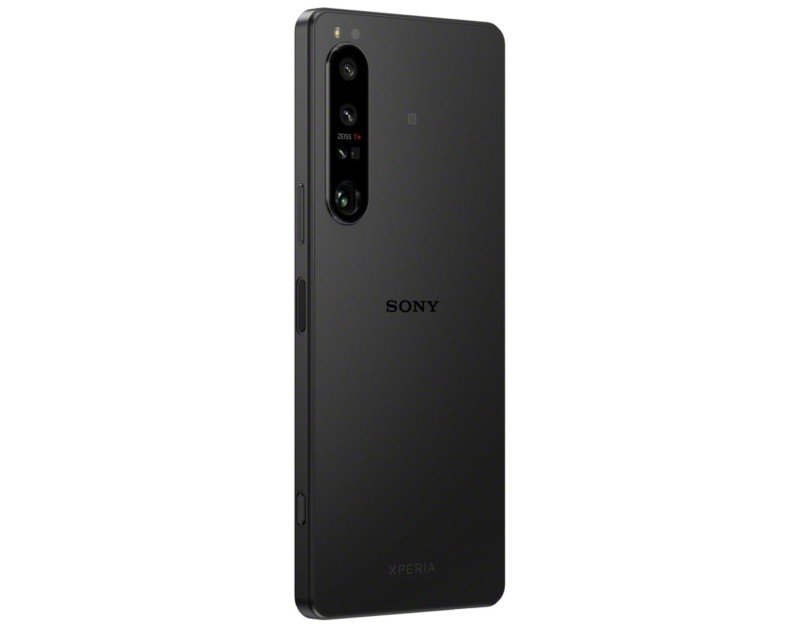 The battery is a robust 5,000 mAh, but Sony stops short of saying how many hours users can expect to get out of a full charge. That said, the battery has a promised three years of life and a quick charge feature that can get up to 50% charge in 30 minutes. The phone also supports wireless charging.
Pricing and Availability
The Sony Xperia 1 IV will be available in the United States on September 1, 2022 for about $1,600. It will be sold unlocked across the country, but the purple colorway will only be available directly from Sony. Pre-orders begin today.