Sony Unveils Xperia 1 V to Cater to Photo and Video 'Enthusiasts'
Sony has unveiled its latest flagship smartphone in the Xperia 1 V, targeting both photographers and video enthusiasts as it upgrades some of the hardware while finding other ways to optimize the software.
The changes certainly aren't skin deep, given this phone looks a lot like its predecessors. It sports a 6.5-inch OLED with 21:9 aspect ratio and 120Hz refresh rate. Only one configuration that gives you 12GB of RAM and 256GB of storage with the option to expand that up to 1TB via the microSD card slot. It runs on the Snapdragon 8 Gen 2 chipset to put it in line with several other Android phones coming out in 2023.
Camera and New Exmor T Sensor
Sony's triple camera array in the rear starts with a 52-megapixel wide camera (24mm equivalent) using a 1/1.35-inch image sensor, though Sony has yet to specify exactly which IMX sensor it is. There's an f/1.9 aperture with both electronic and optical image stabilization (OIS), plus pixel binning can kick in to make pixels larger for better light gathering.
The bigger piece of the puzzle is the new Exmor T, a tri-layer transistor pixel that's still a backside illuminated sensor, only with two-layer transistor pixel technology. The idea is that putting the photodiode and transistor on separate layers can theoretically double the amount of light getting to the sensor.
This is supposed to work in tandem with improved computational imaging, edging Sony away from a "purist experience", particularly in the Basic mode where images will be subjected to "Android-style" computational imaging. That will be reflected in a new Night mode, albeit with some user control thrown in since you will have a toggle to turn the feature on or off. The software is also designed to determine how many images (between two and 16) it's supposed to bracket together to produce the best possible result. Sony also quipped that it wouldn't be "utilizing AI to fake an image — we will not add moons or clips or something else into our images, but using it to enhance the performance of the device," in an obvious reference to Samsung's use of AI for its moon photos.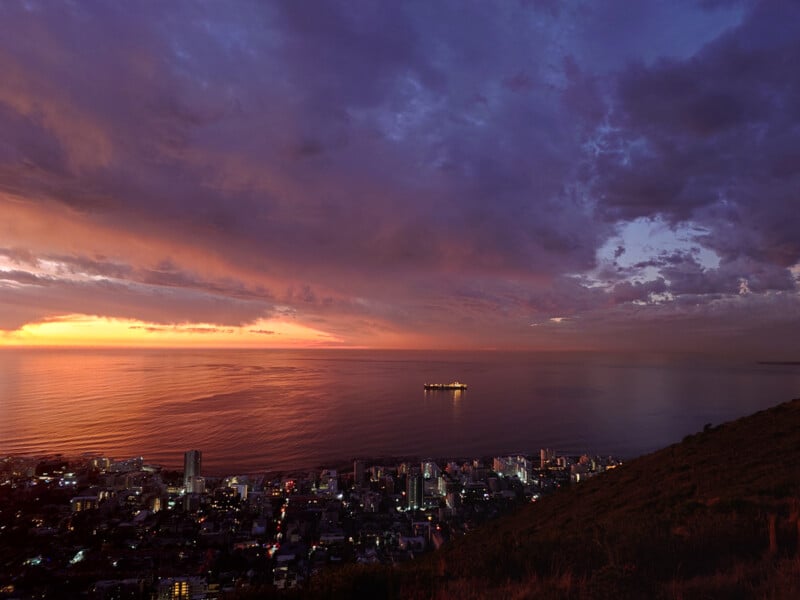 This will also apply to the 12-megapixel telephoto lens (85-125mm equivalent) that will use a Type 1/3.5 sensor with f/2.3-2.8 aperture and optical image stabilization. The 12-megapixel ultra-wide (16mm equivalent) will have a Type 1/2.5 sensor with an f/2.2 aperture. For the front camera, the phone has a 12-megapixel Type 1/2.9 sensor. Here, too, it's not clear which exact Sony IMX sensors these three cameras are using.
Video Recording
S-Cinetone plays its part in continuing the Sony's trend of trickling down features from its camera lineup to phones like the Xperia 1 V. Six color LUTs from some of those cameras will be available to shoot with here, especially for video. This carries a clear influence from Sony's ZV series, which the company markets for vloggers and content creators. Sony says videos will come out with beautiful skin tones without the need to color grade, partly because of triple the amount of saturation present in the new sensor.
Arguably the biggest addition is the ability to use the phone as a monitor (it weighs 187 grams), but also control settings and record content to the phone directly when using it with an Alpha camera. This was sorely missing in the Xperia Pro, but also may be a work in progress. External recording won't be as high as what you get on an Atomos, for instance, but you will get a 4:2:2 8-bit image.
There are multiple display options, like waveform and gridlines, or zebra lines with peaking to get it closer to what a professional monitor can do. For live streaming, an update allows for the chat function to work with YouTube. VLOGCAM mode also caters to content creators by adjusting focus on the product they're demoing and then using face detection to focus back on the presenter.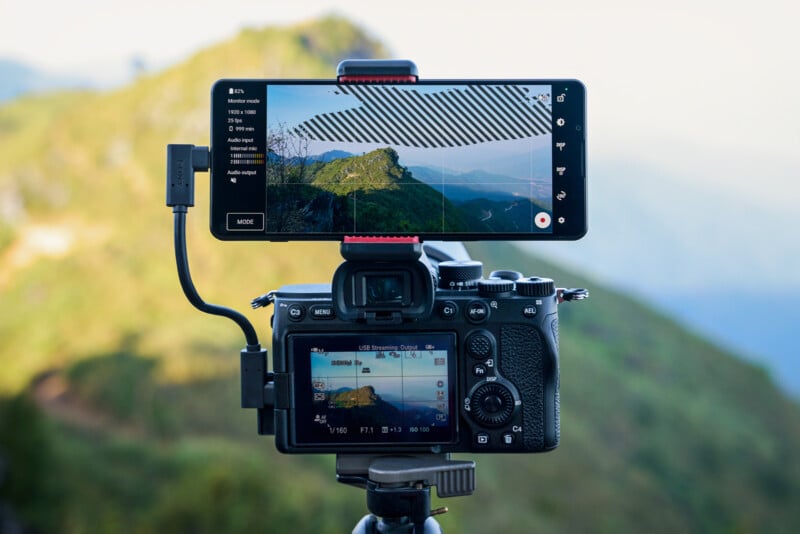 Orient the phone in portrait and the interface will shift to a vertical UI that now applies to all modes, not just the Basic one. You will also have the option to use the onboard microphones, either by having them record both in front and around to capture the wider environment, or just in front to isolate a voice. The headphone jack also comes in handy while using the phone as a monitor to listen to audio coming in during recording.
Coming Soon
The Xperia 1 V will come in black and khaki green, the latter of which will be a Sony retail exclusive. Sony will make it available on July 28 for $1,400.