One of These is a Photo and One is CGI: Can You Tell Which is Which?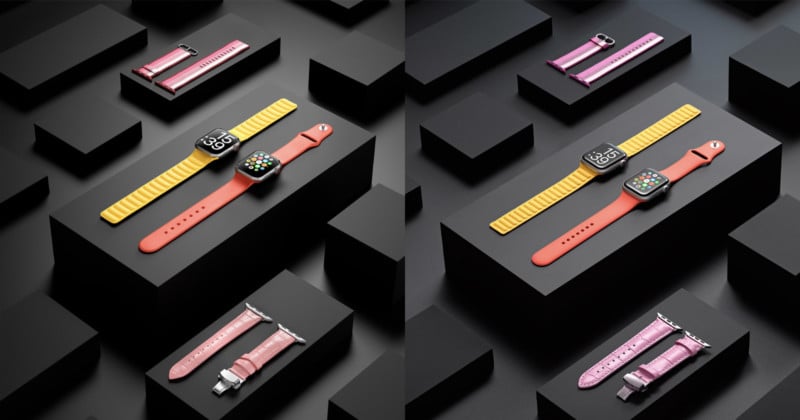 Photographer Karl Taylor and artist Ethan Davis both created the same still-life scene of an Apple Watch. Taylor used traditional photography techniques while Davis created one using only computer graphics. Which is which?

Computer graphics technology has become so powerful that many photographers often question if it has gotten to the point where it will make them obsolete. To address the issue, Taylor created
a series of lessons
that pit him and his skills against an extremely talented CGI artist in Davis. The lessons are designed to show when photography is more effective and when CGI is more efficient.
"In commercial and industrial photography, the age of providing purely stills photography services is quickly dying. Most photographers will have to adapt to CGI, filmmaking, and stills into a new sphere of visual multi-media to survive the next decade."
"Having worked in top-flight product and advertising photography for decades I've always had an interest in the development of CGI and its capabilities," Taylor tells PetaPixel.
"In the last decade, I became aware of its impact on car photography and then more gradually into the realm of product photography. It is, without doubt, something that product and advertising photographers of today are going to have to grasp if they want to remain competitive, especially as computer power has exploded and there is now highly capable 3D software such as Blender available for free."
Can You Tell a Photo from a CGI Render?
Even looking at the photos side by side, it can be challenging to pick which is CGI and which is a photo (click to enlarge):
The answer: the top images of the sets were photos shot by Karl while the bottoms were CGI renders created by Davis.
Taylor says that regardless of which discipline a client's demand might require, a strong understanding of light is critically important.
"Being involved in training and educating tomorrow's professionals, I felt it was time to introduce simple classes that would help photographers get to grips with 3D CGI from a studio photographer's perspective," he says.
"One thing I've learned from the process is that even the best CGI artists need photography and lighting knowledge to accomplish realistic renders."
More Examples of Photos vs CGI
Below are a few more examples of images shot by Taylor and some produced by Davis in a random order. Telling them apart continues to be challenging, but an astute eye should be able to pick between them correctly:
These six images were, in order of appearance, CGI, photo, CGI, photo, photo, and CGI.
Those interested in learning about CGI renders versus classic photography techniques can find Taylor's detailed tutorials on his website.