Photographer Shoots an Entire Wedding Using Only a Smartphone
While smartphones can provide great images in controlled environments, they're not considered to be as versatile as a dedicated camera. Wedding Photographer Jason Vinson decided to see how a Sony Xperia Pro-I would fare in an setting where he had little to no control: a full-day wedding.
Vinson says he has always wanted to challenge himself to see if he could shoot an entire wedding with nothing but a smartphone, from wedding prep, all the way through to the end of the night. But while he had the desire, he couldn't expect a paying client to go for the experiment let alone allow for these to be the only photos they receive. To make it work, he coordinated with colleagues and second-shot for another photographer. The clients were also aware of what he was doing throughout the event.
Something that surprised Vinson is that nobody gave him any strange looks or asked questions about his camera during the wedding, which is something most creatives would assume would happen should they act like a professional shooter but not carry a dedicated camera.
"It just goes to show you don't need a big lens and state of the art camera body to be perceived as a professional," he says.
The Xperia Pro-I is equipped with a one-inch sensor (though it cannot use the full size of that sensor due to space constraints) tied to a 24mm Zeiss lens that has an adjustable mechanical aperture can vary between f/2 and f/4 and can shoot in 12-bit RAW. These on-paper specs are impressive for a smartphone and ended up providing a solid system for which to shoot the event.
At the beginning of the day, Vinson used both available and continuous lights to experiment with scenes to capture some of his signature looks and was pretty happy with the results.
Once he moved to cover the ceremony, the images he shot were captured with just the available light and he says he spent most of the time looking for interesting compositions and angles to capture with the.
Vinson points out that the phone's screen itself is bright and vibrant enough to use in full-blown daylight, however, when he tilted the phone at an off-angle, the glossy screen ended up reflecting a lot of the light which made it a lot more difficult to work with.
He also noticed that while the sun was out, it was pretty easy to capture worthy images, but once the light started to fade, the smartphone's ISO increased rapidly by default which forced him to manually reset the ISO to as low as he could to avoid a lot of noise in the images.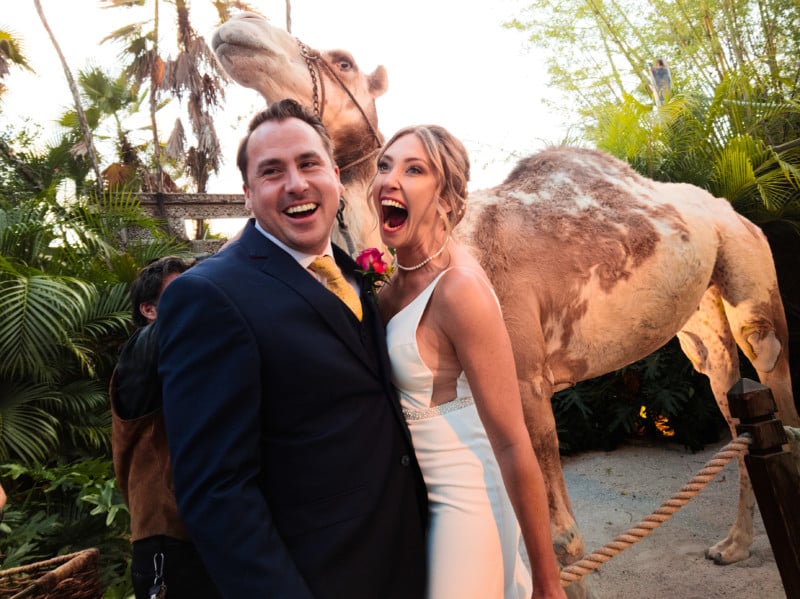 Once the sun was fully set and he had to rely on the lighting from the venue, videographers, and DJs, things got a little trickier. Vinson says that he had to work around when the lights would illuminate subjects just right, which made it very difficult for him to capture the images he wanted to. He adds that when some of the most interesting moments happened, unfortunately, the lights were pointed straight up into the ceiling and not on his subjects, which forced him to miss the shots.
Even with a few of the darker missed moments, Vinson says he is still quite proud of the images he was able to capture and include in the gallery for the bride and groom. While he would have captured more reception and portraits with his proper camera kit, the Xperia Pro-I managed to deliver some quality images given the circumstances of the shoot, proving at least for Vinson, the experiment was a success.
While he says he believes he has proven a wedding can be shot with nothing more than a smartphone now, he would never suggest giving up the professional camera gear to shoot full time on one. That said, his test shows that in an emergency, it is possible to capture gallery-worthy images on one.
More of Jason Vinson's work can be found on his website, YouTube, and Instagram
---
Image credits: All photos by Jason Vinson