Lexar's Upcoming CFexpress Cards Will Be the World's Fastest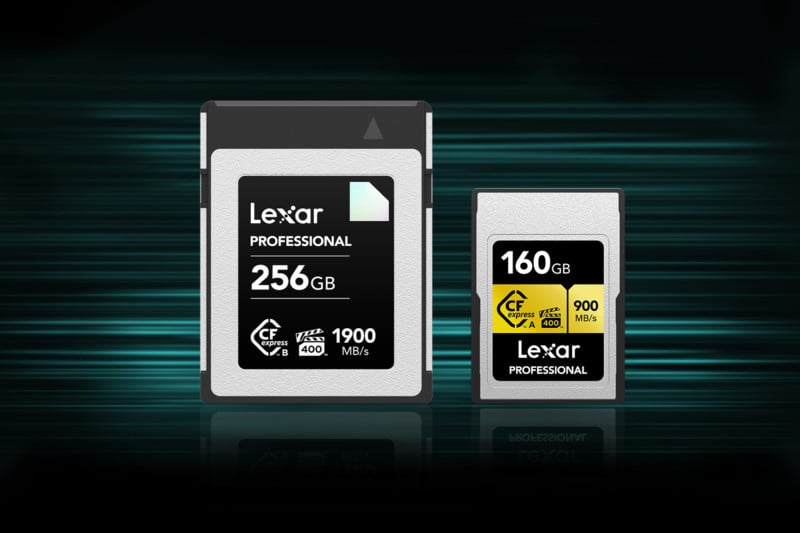 Lexar's new Diamond Series CFexpress Type B cards and Gold Series CFexpress Type A cards both will hit new speed marks that will make them the fastest of their type on the market.
Lexar, now a subsidiary of Longsys, says the new CFexpress cards will hit some impressive speed marks. The Diamond Series CFexpress Type B cards have a read speed of 1,900 MB/s, the fastest on the market that come in 150 MB/s faster than Angelbird's AV Pro cards. The Lexar cards don't quite keep up that speed for write performance, but still promise an impressive 1,700 MB/s, which is equal to what most other CFexpress Type B cards on the market promise for peak read speeds.
Lexar says that these new speed performance marks allow the card to smoothly capture RAW 8K, 6K, and 4K video with ease and, like all CFexpress Type B cards, the Diamond Series is backward compatible with XQD. The cards have also earned a VPG 400 specification which guarantees a minimum sustained write speed of 400MB/s without dropping any frames. Last week, Exascend became the first memory card company to launch a CFexpress Type B card with VPG 400 certification, but with the launch of the Diamond Series, Lexar now joins it.
Lexa'rs cards are shock and vibration proof as well as resistant to extreme temperatures from 14-degrees Fahrenheit (-10-degrees Celsius) to 158-degrees Fahrenheit (70-degrees Celsius) and non-operating temperatures from -4-degrees Fahrenheit (-20-degrees Celsius) or 185-degrees Fahrenheit (85-degrees Celsius).
Lexar has also launched its CFexpress Type A Gold Series cards which promise up to 900 MB/s read speeds and 800 MB/s write speeds, making them faster than both the ProGrade Digital and Sony cards of the same design. The company plans to launch a new CFexpress Type A reader in the coming months as well.
It should be noted that the quoted read and write speeds for both CFexpress card types are defined as "peak" speeds based on Lexar's own internal testing. Sustained speeds are only promised to be 400 MB/s in both cases.
Both Lexar's Diamond Series CFexpress Type B cards and Gold Series CFexpress Type A cards are covered by a lifetime warranty.
Lexar did not provide any pricing information nor what capacity options to expect from either memory card type. It did say that the two CFexpress card types are still in development but will be available sometime in quarter two of 2022.