Angelbird Launches 4TB CFexpress Card, a New High Capacity Mark
Angelbird has launched what appears to be a new high mark for capacity in CFexpress memory cards. Its new AV Pro CFexpress Mark II Type-B card promises peak transfer speeds of up to 1,785 MB/s with a huge 4TB of capacity.
Largest Capacity CFexpress Card
Angelbird, an Austrian company, says its AV Pro CFexpress Mark II Type-B card not only boasts high capacities of one, two, or four terabytes, but also high speed. The company says the cards will peak at 1,785 MB/s read speeds and 1,550 MB/s write speeds but can sustain 1,300 MB/s to support consistent write performance for long periods of recording. These speeds are enough to maintain RAW video and 4K, 6K, 8K, and even 12K resolutions.
The company claims it can sustain that high-performance thanks to a tech it calls "Stable Stream." Stable Stream supports uninterrupted read and write performance that prevents frame drops for the entire capacity of the card. Below is a chart that it claims makes its card stand out versus the competition.
Angelbird additionally says its cards use a proprietary "super processor" that is designed specifically for RAW photo and video content creation by protecting against overheating as well as operating at a reduced power draw.
Angelbird offers a data recovery service with all its products and covers any card that has encountered physical or software issues like data or file corruption. The company will even sign non-disclosure agreements in the case that a card has sensitive footage on it. The service is free for three years after the purchase of a new card.
High Performance, High Price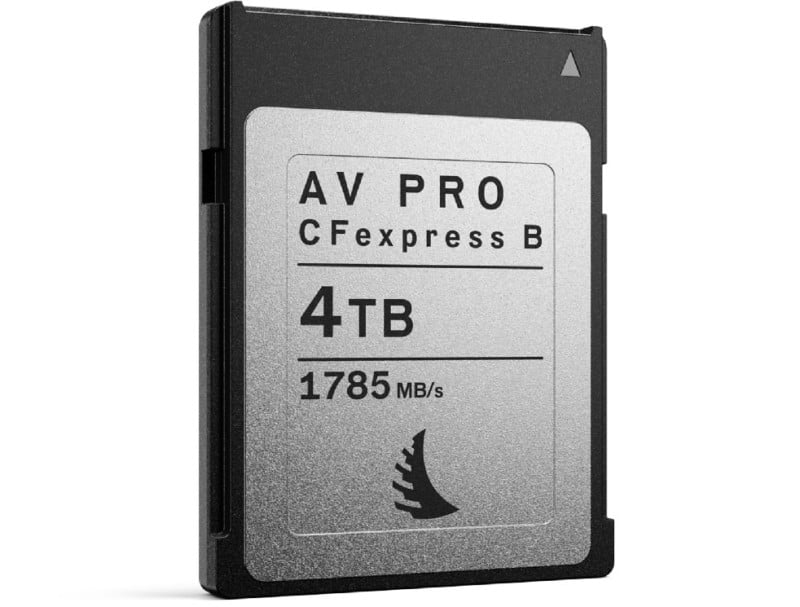 Angelbird's AV Pro CFexpress Mark II Type-B card looks impressive on paper, but those specifications come at a high cost. The 4TB card is currently available for pre-order for $1,800. That's a high asking price, but Angelbird's pricing at the lower tiers seems to indicate that ask is fair. ProGrade Digital offers a 1 TB CFexpress Type-B card that runs $780, which is a lot especially when compared to Angelbird's $480 for the same capacity and similar performance promises.
Some distributors are offering pre-orders for the Angelbird AV Pro CFexpress Mark II Type-B card, but orders can be placed directly with the company through its website.